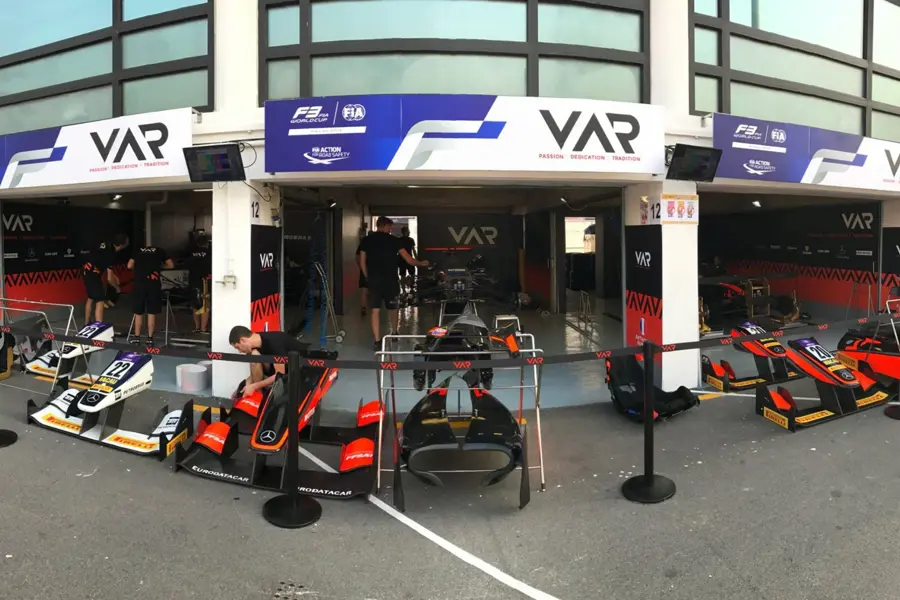 Macau amazing scenery for FIA F3 World Cup
17/11/2016
A demanding season of racing in Formula 3 gets a spectacular end for Van Amersfoort Racing (VAR) in the streets of Macau. Callum Ilott, Anthoine Hubert and Pedro Piquet will hunt for success in the FIA Formula 3 World Cup. The three Musketeers will have to deal with the high speeds, tight corners and uncompromising crash barriers at this unorthodox street circuit.
The 63th edition of the famous F3 race is going to be a special one. The Macau Grand Prix has been given FIA F3 World Cup status by motorsport's governing body. It gives the heroic race in the streets of the former Portuguese enclave even more status.
In their Dallara's powered by Mercedes-Benz Callum, Anthoine and Pedro will reach speeds as high as 275 km/h at the narrow 6.120 km track. This lay-out is often compared with racing the streets of Monaco, and then even more difficult as some say. The event has famous former winners like Ayrton Senna, Michael Schumacher and David Coulthard.
Last year Van Amersfoort Racing scored his best ever result at Macau when Charles Leclerc finished second in the main race. This year Anthoine (from France) and Pedro (from Brazil) will debut in Macau, while Briton Callum races the demanding street circuit for the second time in his career.  
The schedule contests two qualifying sessions, a qualifying race and off course the main race over 15 laps at Sunday 20 November. In all track time our three drivers will have to find the fine line between maximum speed and keeping out of the barriers. 
Simultaneously Van Amersfoort Racing has launched an all new website. The fresh layout represents our comprehensive approach of motorsport since 1975. At www.vanamersfoortracing.nl we share our vision, history and latest performances in both our Formula 3 and Formula 4 activities. The mission of VAR is to help young drivers build successful careers in auto racing. Such is written in its DNA and ideally reflected in its motto: 'Passion. Dedication. Tradition'.