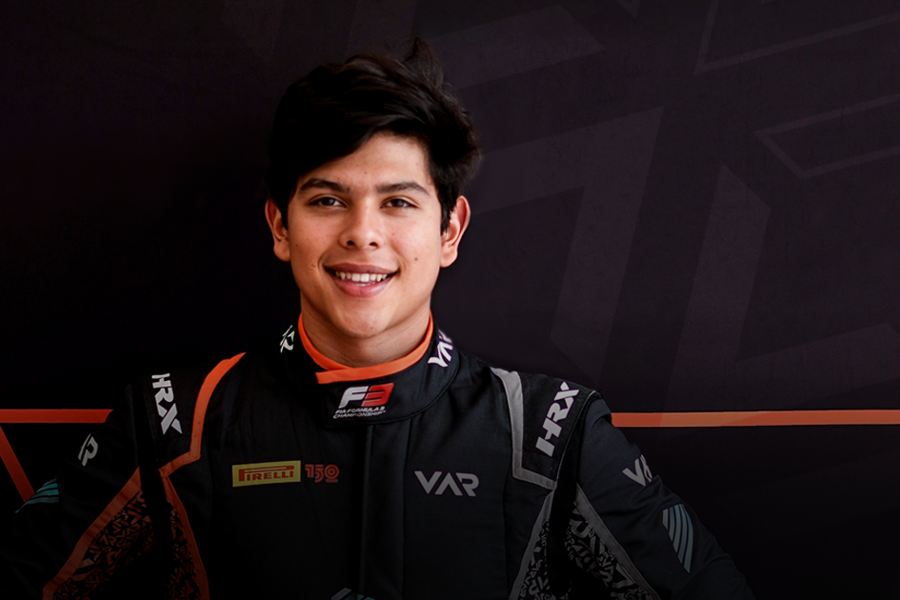 Rafael Villagómez rejoins VAR for 2023 FIA F3 Season
06/01/2023
Zeewolde, January 6, 2023 – Mexican racing driver Rafael Villagómez is set to continue with VAR in the 2023 FIA Formula 3 Championship. Looking to further develop his race craft, Rafael will be joining his recently announced teammate Tommy Smith.
Rafael Villagomez jump-started his single seater racing career in 2020 after winning the Richard Mille Young Talent Academy competition. In that year, the León, Mexico native competed in both the French and British F4 Series, before moving to the next level in Formula racing.
With only one season of single seater racing under his belt, Villagómez took a big jump in 2021, as he joined the FIA F3 grid. That year saw the young Mexican accumulating valuable track time as he, parallel to the FIA F3 Championship, also joined VAR for the Euroformula Open Championship and competed in the Asian F3 Series as well.
In 2022 Rafael joined Van Amersfoort Racing in what was the team's inaugural season in the FIA F3. It was a learning year in which great progress was made for both the team and drivers. Villagómez is now set to put his previous learnings to further use, as he rejoins the Dutch team for the 2023 FIA F3 Championship.
As part of his season preparations, Rafael will also join Van Amersfoort Racing in the newly established Formula Regional Middle East Championship (FRMEC), which already starts with pre-season testing on the 9th and 11th of January at the Dubai Autodrome.
With his experience in FIA F3, Rafael is now ready to take it to the next level. He comments: ''I am really excited about competing in Formula 3 again. Both myself and the team grew a lot last year and it's great to be able to continue working together in 2023. I have used the winter period to fully prepare myself physically, and I am really excited to be already racing in January in FRMEC. It feels like this is the best approach to get fully ready for the season and I can't wait for it to finally kick off again!"
The 2023 FIA F3 Championship sees two exciting new locations added to calendar; round two of the championship will take place at Albert Park, located in Melbourne Australia, whereas round five will see the grid line-up on Monaco's historical street circuit.  
''It is great to continue working with Rafael this upcoming season',' says Rob Niessink, CEO of Van Amersfoort Racing. ''Rafael is very dedicated to his goals, which makes him an absolute pleasure to work with. Having a driver in the team for multiple seasons has clear benefits. Due to the intense contact, you grow stronger as a team, which ultimately is key for performing well on track. Our crew is very committed to support Rafael in progressing both on- and off the circuit and all are fully dedicated to book strong results this season!"
Van Amersfoort Racing is a professional racing team based in the Netherlands. It was founded by Frits van Amersfoort in 1975. Since then, Van Amersfoort Racing has built a long tradition of supporting up-and-coming drivers on their way to higher levels. Drivers like Max and Jos Verstappen, Charles Leclerc, Mick Schumacher, Kevin Magnussen and Giedo van der Garde all raced for Frits van Amersfoort's eponymous team in the early stages of their careers before making it into Formula 1.