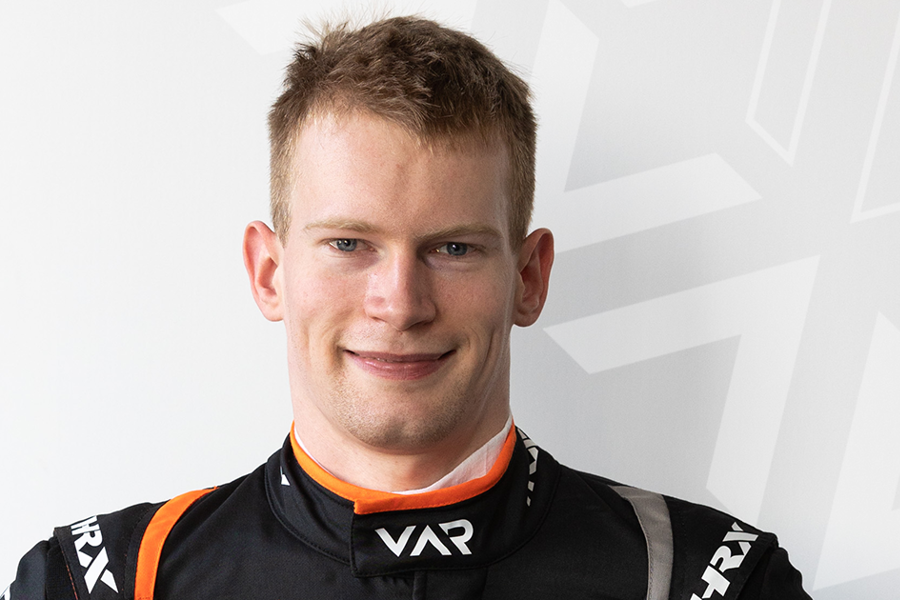 Dutchman Niels Koolen joins VAR for '23 FRECA campaign
15/03/2023
Zeewolde, March 15, 2023 - Van Amersfoort Racing is excited to announce that countryman Niels Koolen will join the team for the 2023 Formula Regional European Championship by Alpine (FRECA). Koolen completes the VAR FRECA driver line-up for 2023, joining Joshua Dufek and fellow Dutchman Kas Haverkort.
Niels is already a familiar face for Van Amersfoort Racing as he competed in VAR's alliances with Monlau and Pinnacle Motorsport. For VAR-Monlau, Koolen raced the penultimate round of the '22 Spanish Championship, as well as the two last rounds of the Italian F4 Championship. Under the flag of VAR-Pinnacle, the Dutchman from Vorden, Netherlands also made his grid appearance earlier this year in all but one round of the Formula Regional Middle East Championship. 
Before making the move to single seater racing last year, Niels successfully worked his way up the ranks in the international karting scene. As son of Dakar veteran Kees Koolen, who competed in the notorious rally on motorbikes, quads, cars and trucks, Niels was brought up in a racing environment. From a young age it was however clear that the Dutch racing talent, despite his interest in motocross and trial, preferred asphalt over sand and started competitively racing karts at the age of fourteen.
Now, the 21-year-old is ready to take on his first full season of Formula racing and does so by attacking the '23 Formula Regional European Championship by Alpine, together with Van Amersfoort Racing. The series is known to be a perfect step between F4 and FIA F3, allowing drivers to further mature in single-seater racing. This year's edition will be more competitive than ever, as the grid will count over forty eager racers, all aiming for success. 
"I am incredibly excited about joining Van Amersfoort Racing!" says Niels Koolen. "I already had the opportunity to get to know the team and I look forward to now take FRECA head-on with them. I know my experience in F4 and FRMEC will certainly help me, but I am also very aware that there is still lots to learn. Having that said, it is great to have two experienced drivers as teammates. We get along well, and I am sure the shared knowledge and experience will contribute to further developing myself as a driver." Clearly excited about the upcoming season, Niels continues: "The team shows an incredible amount of dedication towards helping me, which lets me step into the season with great confidence. I can't wait to get started later this week with our first pre-season test at Barcelona and I am especially looking forward to racing at Zandvoort later in the year!" 
The '23 FRECA season counts a total of ten rounds, all held at prestigious F1 tracks around Europe. The season start is held at the historical track of Imola in April. The championship then travels through eight different countries to see the season finale take place at Hockenheim, Germany in October.
"It's great to welcome Niels on board our FRECA team. He was able to prepare himself well in F4 during the closing stages of last year, but also his experience in the FRMEC series earlier this year will give him a rolling start into the upcoming season." comments Rob Niessink, CEO of Van Amersfoort Racing. "Niels is a down-to-earth, yet very ambitious racer. I believe that with the help of the team and his teammates, Niels will quickly adapt to the competitive environment of the FRECA grid and can start booking progress from the very beginning. Besides his on-track activities in the Middle East, Niels has spent the winter period with the team on detailed preparation for the upcoming season. We are absolutely looking forward to start of the championship and to helping Niels be competitive in it!" 
Van Amersfoort Racing is a professional racing team based in the Netherlands. It was founded by Frits van Amersfoort in 1975. Since then, VAR has built a long tradition of supporting up-and-coming drivers on their way to higher levels. Drivers like Max and Jos Verstappen, Charles Leclerc, Mick Schumacher, Kevin Magnussen and Giedo van der Garde all raced for Frits van Amersfoort's eponymous team in the early stages of their careers before making it into Formula 1.