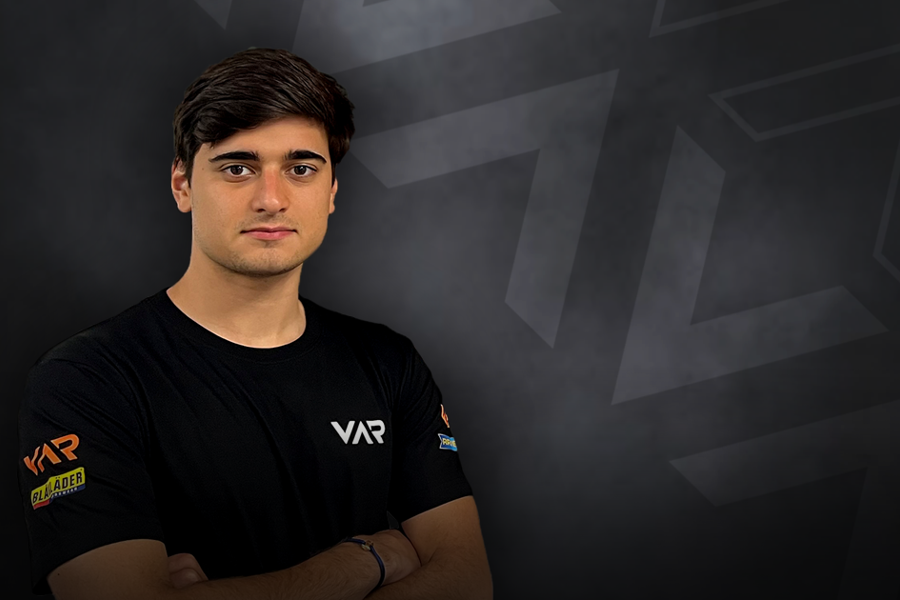 Caio Collet signs with VAR for '23 FIA F3 Championship
09/01/2023
Zeewolde, January 9, 2023 - Van Amersfoort Racing is excited to announce the signing of Caio Collet for the 2023 FIA F3 Championship. The Brazilian driver will join his recently announced teammates Tommy Smith and Rafael Villagómez, starting with pre-season testing at Bahrain already mid-February.
The-São-Paulo-born driver entered the world of single-seaters in 2018 after a successful international karting career. His talent showed immediately when he dominantly secured the French F4 Championship title in his maiden season of formula racing. He impressively claimed no less than eighteen top five classifications with eleven podium finishes of which seven victories.
Collet continued performing the next year in the Renault Formula Eurocup, where he scored a top five finish in fourteen out of twenty races and reached the podium six times. After competing in the 2020 edition of the Toyota Racing Series, Caio returned to the Formula Renault Eurocup in that same year, equaling his previous season's count of top five finishes. However, this time around he stood on the podium an impressive twelve times, earning him the runner-up position in the driver's championship standings.
2021 saw Collet promote to the FIA F3 Championship where he took podium finishes and scored points consistently throughout the season, becoming one of the highest-scoring rookies in his maiden season. The Brasilian racer returned to the same championship in 2022, performing strong and claiming his first FIA F3 race wins in Hungary and Zandvoort.
This year, Caio has set high goals as he returns to the '23 FIA F3 grid with Van Amersfoort Racing. The Dutch race team, founded by Frits van Amersfoort over 45 years ago, already claimed race wins in their inaugural FIA F3 season last year and is determined to improve further this season.
Caio is eager to get going with the Dutch outfit. He comments: "Exciting times are coming as I am extremely motivated to get started with Van Amersfoort Racing. During their first year in F3, the team proved to everyone how much potential they have. From my side, I am very confident going into the new season. I have used the winter period effectively and feel ready, more than I ever did. I have set high goals for myself, and the team is as motivated as I am to take the maximum out of this year, so let the games begin!"
After scoring multiple race wins and podium finishes during their inaugural campaign in the FIA F3 Championship, Van Amersfoort Racing is now ready to attack a second season in the championship.
"Caio has shown in the past how fast and talented he is, making it extremely exciting to have him as part of our F3 driver line-up this year", says Rob Niessink, CEO of Van Amersfoort Racing. "Caio brings valuable experience to the team, which will help us to grow at an even higher pace than last year. Clearly, he is determined to perform strong this year, and so do we as a team. Our motivation levels are really high, the least said, and our crew is very much looking forward to working with an experienced driver as Caio!"
Van Amersfoort Racing is a professional racing team based in the Netherlands. It was founded by Frits van Amersfoort in 1975. Since then, Van Amersfoort Racing has built a long tradition of supporting up-and-coming drivers on their way to higher levels. Drivers like Max and Jos Verstappen, Charles Leclerc, Mick Schumacher, Kevin Magnussen and Giedo van der Garde all raced for Frits van Amersfoort's eponymous team in the early stages of their careers before making it into Formula 1.