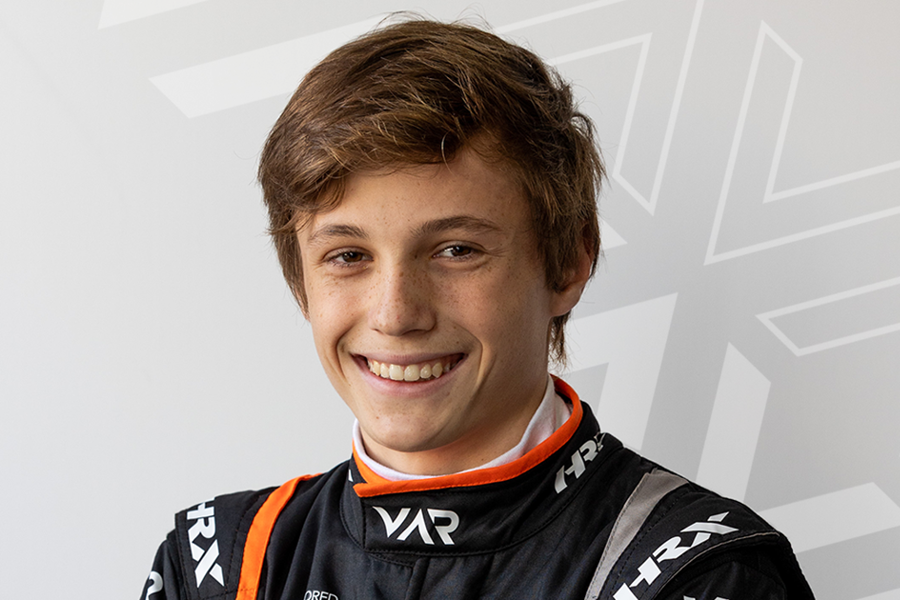 Australian Jack Beeton joins VAR for the 2023 Italian F4 Championship
23/02/2023
Zeewolde, Februari 23, 2023 - Van Amersfoort Racing is excited to announce that young racing talent Jack Beeton will be joining them for the 2023 Italian F4 season. Having just recently completed the F4 UAE championship with VAR-Pinnacle, Jack now embarks on his maiden European campaign in single seater racing.
Kicking off his career in karting early, Jack Beeton spent two years competing at an Australian national level, registering respectful results throughout. In 2022, Jack closed off his karting career with a third and fifth classification in respectively the Queensland- and Australian National Championships.
In that same year, Beeton won the '22 Ferrari Driver Academy Asia Pacific and Oceania Selection program. This victory placed him amongst the six finalists of the '22 Ferrari Driver Academy Scouting World Finals, which took place in Maranello, Italy. Even though having just missed out on the final top spot, Jack left a mark and took home valuable experience, helping him to shape his future career in racing.
2022 saw Beeton taking a further taste of Formula racing as he participated in a number of F4 test sessions and competed in one round of the Australian Formula Open Series at Phillip Island where he won the F4 division.
This year Jack made his full-time single seater racing debut with VAR-Pinnacle in the F4 UAE championship. After five championship rounds covering venues in the UAE and Kuwait, Beeton scored a best seventh position (3rd Rookie) in a field of over forty highly competitive drivers.
Now, the young Australian is ready to take on the world's strongest Formula 4 competition, the Italian F4 Championship. With the first round taking place in April at the historical circuit of Imola, the Italian F4 Series will visit seven high class circuits spread out over Italy, France and Belgium. 
''I am super excited to be joining Van Amersfoort Racing for the 2023 Italian Formula 4 championship. Racing in Europe with a team like VAR is a huge step in my career. It is difficult to grasp how fast all is developing for me. It was just last year when I first took the wheel of a Formula 4 car. Now, less than six months later, I finished the Ferrari Driver Academy project and completed a full F4 Championship already! Both events delivered an incredible experience of which I will take all learnings into the upcoming championship!" says Beeton. He comments further on joining Van Amersfoort Racing: "I am extremely excited to be part of VAR. They have such an incredible track record and I am proud to be playing a role in their F4 campaign. I am really looking forward to working with the team and pushing myself to the limit. I know it will be challenging, as there is lots to learn in a very competitive environment, but I am ready to take it all on!".
''It is great to have Jack with us for the upcoming season'', says Rob Niessink, CEO of Van Amersfoort Racing. He continues: ''We have seen many drivers and I can say that Jack stands out in his eagerness to grow. The Italian F4 Championship is of a very high level, meaning that he'll face plenty of challenges, allowing him to grow further into the sport at high pace. Of course, his experience in the UAE F4 Championship will benefit him, as he is now more familiar with both the car and some of the competitors, but the race dynamic in the Italian F4 is fierce. The team is ready to take on this challenge with him though, and as usual we will fully dedicate ourselves to supporting him in this stage of his career!"
Van Amersfoort Racing is a professional racing team based in the Netherlands. It was founded by Frits van Amersfoort in 1975. Since then, Van Amersfoort Racing has built a long tradition of supporting up-and-coming drivers on their way to higher levels. Drivers like Max and Jos Verstappen, Charles Leclerc, Mick Schumacher, Kevin Magnussen and Giedo van der Garde all raced for Frits van Amersfoort's eponymous team in the early stages of their careers before making it into Formula 1.