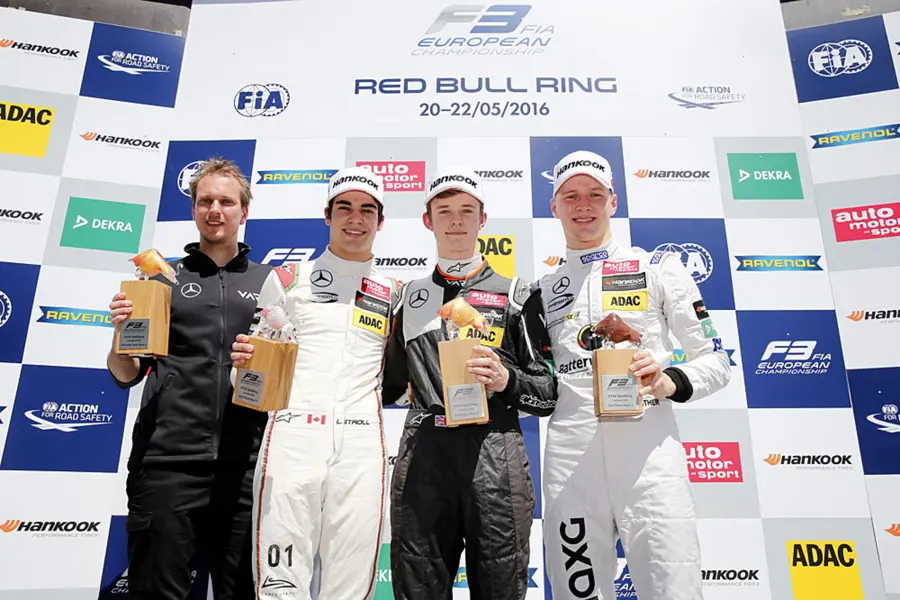 Winning and climbing the rankings in Austria
24/05/2016
One week after the Pau Grand Prix, we went to the Red Bull Ring in Austria for the fourth round of the FIA Formula 3 European Championship. Callum Illot (17) proved fast and smart. The young Briton claimed his maiden F3 pole position with the Mercedes-Benz powered Dallara F316, won his second race of the year and is the new runner up in the standings. Countryman Harrison Newey (17) and our fast Frenchman Anthoine Hubert (19) both conquered championship points, while our Brazilian Pedro Piquet (17) made an impressive comeback on Sunday after a serious crash in the first race.
Our four young guns handled the big transition from the streets of Pau to the high speed track in the Austrian mountains very professional. Especially Callum made his mark at the  4.326 kilometres long Red Bull Ring by claiming his first ever pole. With a flying lap of 1:23,969 min. he outpaced all his F3 colleagues. The strict penalties for not respecting the track limits made racing a bit more complicated this weekend and final results were massively influenced by 'a festival' of drive through- and time penalties. 
Race 1: Callum from pole to victory
In the first race Callum showed that he is rapidly growing as a racing driver. After a solid start he withstood the pressure from Maximilian Günther in the opening lap, and also stayed in the lead after the restart. Callum collected his second win of the season when the race was ended immediately in lap 17 after an accident involving Ryan Tveter, Zhi Cong Li and our Pedro Piquet.
Our Brazilian (17) started from a fine P7 grid position, but unfortunately had to serve a drive through penalty for a jump start. Later in the race he could not avoid contact with the spun and damaged car of Ryan Teeter on the race line and ended up in the barrier. His car sustained heavy damage, but Pedro got out of the car unharmed. "It was a high impact accident of three cars. Fortunately Pedro escaped without injuries and Ryan Tveter and Zhi Cong Li had relatively small injuries. It shows how safe the modern F3 cars are", adds team owner Frits van Amersfoort.
Harrison Newey, 11th at the grid, converted a solid drive into 8th position, earning four championship points. His best season performance so far. Anthoine started 17th, climbed up, but was finally classified 16th following a 5 second penalty for track limits. 
Results race 1
1. Callum Ilott Van Amersfoort Racing 23:54.454
2. Lance Stroll Prema Powerteam +3.472s
3. Maximilian Gunther Prema Powerteam +7.219s
8. Harrison Newey Van Amersfoort Racing +17.987s
16. Anthoine Hubert Van Amersfoort Racing +33.485s
19. Pedro Piquet Van Amersfoort Racing +36.924s
Race 2: Double top ten results
From 3th spot Callum Ilott managed to pass George Russell in the opening lap. He survived a safety car intervention to clean carbon debris on the track and was one of the key players in a three way battle for victory. The runner up in the standings finished second, but Callum had to accept a five seconds time penalty for track limit infringements, dropping him to fourth.
After being 19th on the grid Anthoine showed his skills by gaining a handful of position throughout the race. At the end the French F3 rookie got his hands on the final championship point by finishing in 10th place.
A good result for Harrison was blocked after a drive through penalty midway. The Briton ended in 16th spot. Pedro was cleared to race by the doctors after his crash in race 1 and the team managed to repair the car in time, albeit Pedro had to start from the pit lane. Since the massive damage had to be repaired in a very tight time slot, for safety reasons we decided to use the race as a shake down in preparation for race 3. After a couple of pitstops, Pedro finished 5 laps from the winner and therefore was not classified.
Results race 2
1. Lance Stroll Prema Powerteam 35:11.908
2. George Russell HitechGP +12.424s
3. Niko Kari Motopark +12,891
4. Callum Ilott Van Amersfoort Racing +14.909s
10. Anthoine Hubert Van Amersfoort Racing +32.026s
16. Harrison Newey Van Amersfoort Racing +38.851s
Not classified Pedro Piquet Van Amersfoort Racing +5 laps
Race 3: podium again for Callum
Consistent is the word that discribes the performance of Callum at the Red Bull Ring. The second year F3 pilot handled the track limit challenges professionally and headed to the podium for the second time this weekend. This time the Briton received the runner up trophy and thus strengthened his second position in the championship.
Following a festival of drive through- and time penalties, Anthoine, Harrison and Pedro completed the Van Amersfoort Racing train by finishing respectively 13th, 14th and 15th. A clear indicator of the total progress we make as a team was found in the times sheet for  the fastest lap times: all our four cars were in the top 5 in this final race at the Red Bull Ring. 
Rob Niessink, CEO of Van Amersfoort Racing, explains the general feeling looking back on the weekend: "Although the results don't show it clearly, our speed is excellent and the progress our drivers made so far is impressive. Here at the Red Bull Ring the track has been changed and therefore the number of track limit infringements were huge and the penalties influenced our final results big time. Therefore we look back with mixed feelings; we did not collect all the points we could have, but are very happy with the job Callum did and his current second place in the championship."
Results race 3
1. Lance Stroll Prema Powerteam 35:15.242
2. Callum Ilott Van Amersfoort Racing +4.867s
3. Maximilian Gunther Prema Powerteam +11.067s
13. Anthoine Hubert Van Amersfoort Racing +36.566s
14. Harrison Newly Van Amersfoort Racing +43.074s
15. Pedro Piquet Van Amersfoort Racing +46.965s
Championship standings
1. Lance Stroll 166; 2. Callum Ilott 128; 3. Maximilian Gunther 123; 14. Anthoine Hubert 19; 17. Pedro Piquet 7; 18. Harrison Newey 7.