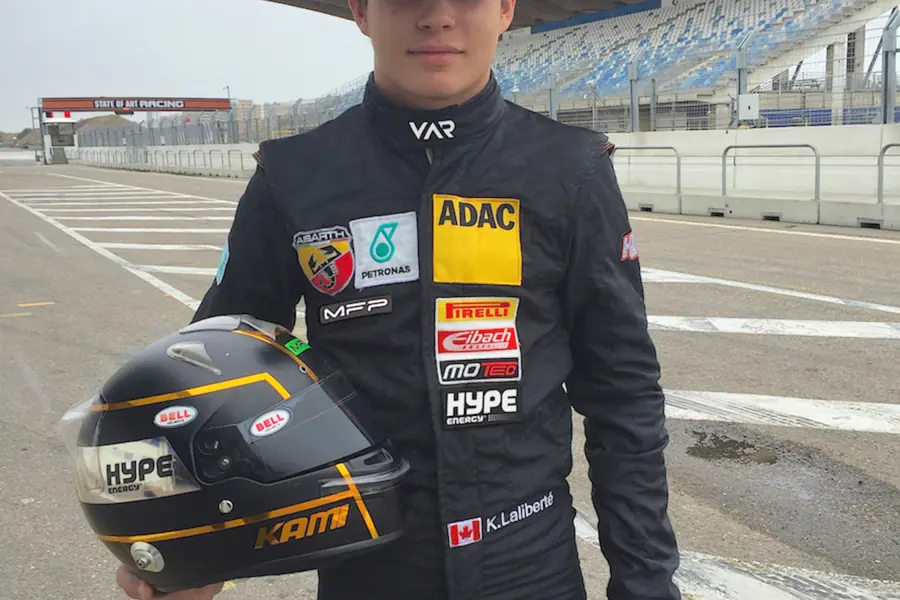 VAR and Kami Laliberté partner again for full season in ADAC F4
04/04/2016
Van Amersfoort Racing (VAR) is proud to announce that race driver Kami Laliberté, who gradually integrated the team in 2015, will pursue its fruitful cooperation with it as both parties agreed to have the young Canadian entering all of the 2016 ADAC German Formula 4 Series events. "Even if last year Kami joined us late in the season, he adapted amazingly quick. Therefore, we are very pleased to have him on board again, especially since the full preparation program that he has been submitted to lately, will surely help him display most of its great potential this season", explains team principal Frits van Amersfoort.
 In his maiden season, the 16 year old Canadian entered 6 races in the 2015 ADAC German Formula 4 championship with VAR and managed to earn a top-10 finish twice. Kami Laliberté is a Montreal native and has French-Canadian and Brazilian roots. His racing career started in karting, first in his native Quebec, later in Europe. Last year the ambitious young gun stepped up to car racing, combining the French F4 Championship with racing with VAR in the ADAC Formula 4 Championship.
"Van Amersfoort Racing and the ADAC F4 Championship is where I want to be. I immediately enjoyed being part of the VAR family last year. The success of the cooperation was instantly visible on the track. So I am happy to be able to continue with the team for a full season", says the Canadian, who lives and attends school in Geneva, Switzerland.
In preparation for his first full season in German Formula 4, Laliberté has entered the Toyota Racing Series in New Zealand this winter. "I want to be strong and fit and collect as many experience as possible to be optimally prepared for ADAC F4. The competition is tough in German F4", also says the racing driver who is supported by his personal sponsors HYPE Energy and Bell Helmets, and supports the water charity One Drop. His racing car is a Tatuus Open-wheel chassis, powered by a Abarth 414 TF 1.4 litre turbo engine, equipped with Pirelli tyres; the official car of the ADAC Formula 4 Championship.
The 2016 ADAC F4 Championship will be battled out in eight events. The season starts within a month at the Motorsport Arena Oschersleben (15-17 April). The calendar also contains meetings at famous German tracks like the Sachsenring (29 April-1 May), Lausitzring (3-6 June), Oscherleben (17-19 June), Nürburgring (5-7 August) and Hockenheimring (30 September-2 October). Kami and his opponents will also visit the Red Bull Ring in Austria (22-24 July) and the home track of VAR, Circuit Park Zandvoort in the Netherlands (19-21 August).