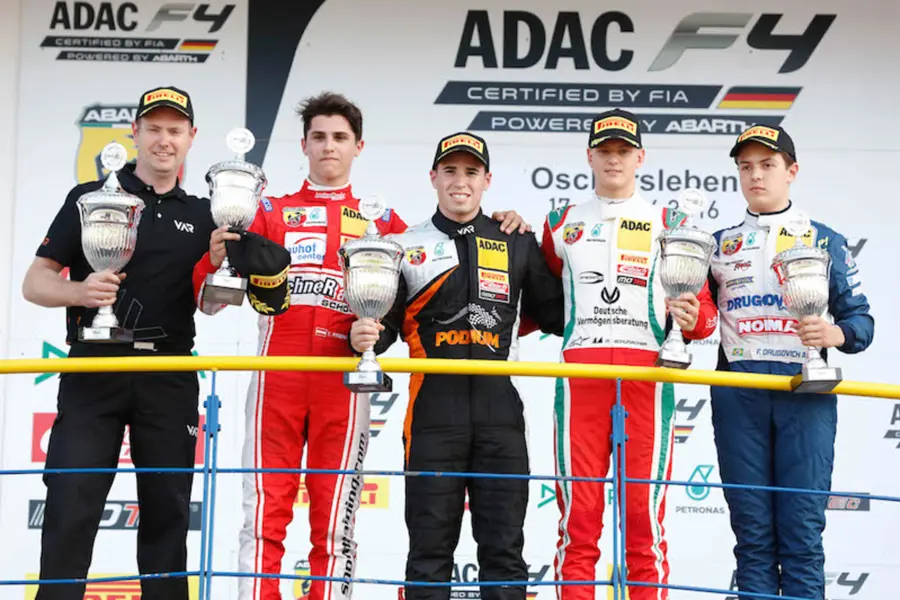 Two wins make Joey the ADAC F4 'Halbzeitmeister'
21/06/2016
The second visit of the season to the Motorsport Arena Oschersleben by Van Amersfoort Racing gave us two wins and a second place. Joey Mawson proved razor sharp at the twisty track near Magdebourg. The 20 year old Australian collected his fourth and fifth victory of the season and extended his championship lead halfway to a clear margin of 20 points. Formula 4 rookie Leonard Hoogenboom maximized his front row start into a p2 podium finish in the final race. His first ever F4 podium was also good for the victory in the Rookie Cup.
The unpredictable weather at Oschersleben made the qualifying quite special. Group A hunted for the ultimate lap on a dry track, while Group B had to challenge their limits in the heavy rain. Joey and our Swiss driver Moritz Mueller-Crepon found strong pace in dry conditions, while former karting driver Leonard Hoogenboom showed his skills on the wet track of 3,696 km, just like Kami Laliberte, our Canadian racing driver.
Race 1: Joey 1, Leonard 9, Kami en Moritz dnf
Starting the opening race from third position Joey (20) showed his determination once more. The fast Aussie overtook his former teammate and championship rival Mick Schumacher already in the second lap. Joey then hunted down Thomas Preining and passed him 4,5 minutes before the end of the race resulting in his fourth victory of the season.
Leonard Hoogenboom (16) made no mistakes starting from tenth. The rookie, endorsed by the Dutch motorsport authority KNAF, crossed the checkered flag in ninth. He collected championship points (two) for the second time this season and got his hands on a front row start for the top 10 reversed grid in last race. Kami (17) and Moritz (17) saw their races ended following a multi-vehicle pile-up in the first corner.
Race 2: Joey 1, Moritz 11, Leonard 12, Kami22
In a race without one single safety car intervention Joey showed his great form once again by a start to finish victory. Totaling his wins at Oschersleben in 2016 to four. Joey did it in style by countering the pressure of his rival Mick Schumacher, who ended in second place, with a series of fast laps.
Moritz marked his progress as a racing driver by being the second fastest Van Amersfoort Racing driver in the second race. He started from 13th and just missed out a top 10 finish in 11th place after showing series of competitive lap times. Leonard completed his race in p12, while Kami gained six positions and crossed the finishing line in 22h position.
Race 3: Leonard 2, Moritz 18, Kami 19, Joey dnf
In his third event in the ADAC F4 championship we found Leonard on the podium. A clever approach of his front row start was rewarded in a second place behind winner Kim-Luis Schramm. In a hectic race with multiple safety car interventions the Dutchman followed his German opponent and fended of the attacks of the drivers behind. On top of the strong result Leonard also received the trophy for best rookie.
Joey proved unlucky when he tried to gain position after a start from 10th position. The championship leader bent his front suspension after contact and had to retire. But also his toughest rival Mick Schumacher failed to score points. So after four of eight rounds the VAR driver holds a clear margin of 20 points and is the 'Halbzeitmeister' in the ADAC F4 championship!
Both Moritz and Kami finished the race, showed lap times well within the top 10, but their starting positions masked their true point scoring potential. 
"Of course the performance of Joey was very impressive this weekend. When we arrived at Oschersleben the margin between him and Mick (Schumacher, red.) was only three points. After two wins and a bit of luck the gap is 20 points. Halfway Joey is in the lead and that is well deserved after his hard work. Also the team perspective for the second half of the season is very positive. All four drivers show the speed to be in the top 10 or even higher. It is key to help our Leonard, Moritz and Kimi to improve their results in qualifying, since a good starting order is key in a very competitive racing serie like the ADAC F4", says team chef Frits van Amersfoort.