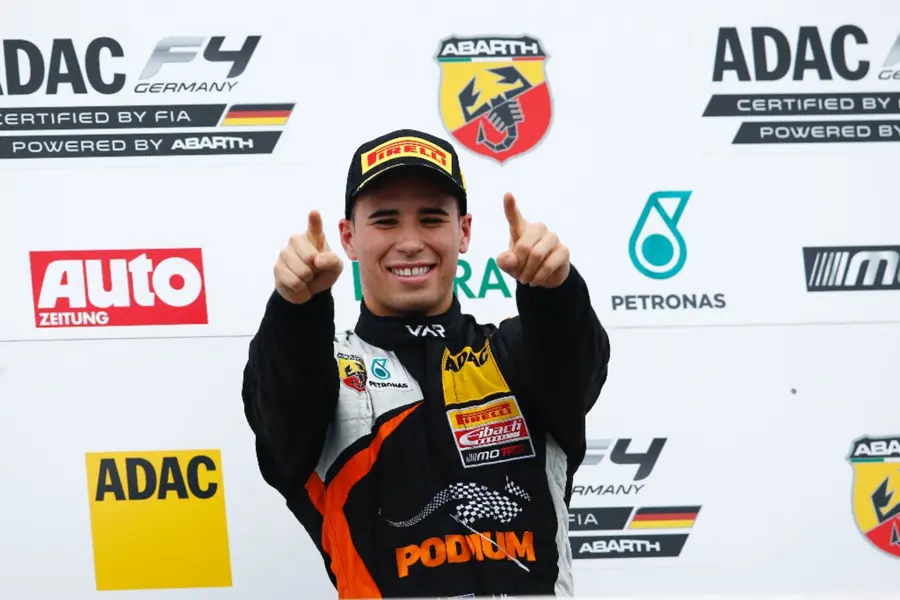 Joey Mawson is ADAC Formula 4 champion 2016!
04/10/2016
At first chance Joey Mawson did what he had to do. Our Australian Formula 4 driver won the first race of the season finale at the Hockenheimring. His ninth victory of the season crowned him as the new champion in the ADAC Formula 4. The Van Amersfoort Racing driver gave his title even more glance by also winning the second race.
After setting the pole in his qualifying group Joey (20) started the opening race from front row. After a solid start he followed polesitter Mike-David Ortmann closely, until the Aussie made a successful passing maneuver halfway.
Once Joey was in front he managed to increase his pace and built a solid lead until passing the checkered flag with a margin of 6,1 seconds. His biggest rival Mick Schumacher, driving for Van Amersfoort Racing last season, had to start from 23 and finished 5. Giving Joey an unbridgeable lead in the championship.
"It's an amazing feeling to know that I've won the Championship," said Mawson, who managed to win 10 races, was on the podium 16 times and also claimed 8 pole positions.
"Mick and I had a great battle all year long, we've certainly pushed each other hard on the track to make sure whoever ended up with the title had earned it. To be able to win the Championship for Van Amersfoort Racing is a great reward for everyone in the team who have given me so much support over the past two years."
Strong performance Kami
In the eventful second race Joey Mawson showed his champion skills. In a race that started on dry, was re-started after the rain came down, the new champion coped with the difficult conditions the best, resulting in the 10th victory of the season.
Right behind him it was Kami Laliberté who showed some impressive driving in the heavy conditions. Where many competitors spun off or crashed the young Canadian kept his F4 car on track in a furious pace. He started his 8th starting position into a fantastic third place. Meaning we had two Van Amersfoort Racing drivers on the podium!
In the final race the young Canadian continued his stunning form by finishing on the podium one step higher. Kami started his race from third, but grabbed the lead soon. Also two safety car interventions could not disturb his hegemony. It was until the last lap when Mick Schumacher forced his way past Kami by hitting the Van Amersfoort Racing driver from behind.
Despite this incident Kami ended his debut season at Van Amersfoort Racing with an strong performance, a clear indication of his solid learning curve. Joey Mawson did not finish this last race. The champion was battling to the front but got hit underway by rookie Lirim Zendeli in the fourth lap causing a broken rear suspension and a safety car intervention.
Real disappointment
Both Moritz Mueller-Crepon from Switzerland and Dutchman Leonard Hoogenboom showed their skills but did not manage to finish inside the top ten due various reasons. Van Amersfoort Racing missed out the team championship by a minimal margin of 4,5 point over Prema power. A real disappointment knowing that a win by Kami in the final race should have been sufficient the also win this title.
Rob Niessink, CEO Van Amersfoort Racing: "The way Joey sealed the championship proves why he was undoubtedly the best driver this season. Winning two races is an incredible strong performance, considering the pressure he was under. Joey got what he deserved: the championship. And that is a fantastic reward for Joey and also for all members of our team. We are also tremendous proud of how Kami performed this weekend. He sealed two podium finishes and kept us in the race for the team championship until the very end. A high end to his season."
Final championship standings after 24 races:
1. Joey Mawson (Van Amersfoort Racing) 374; 2. Mick Schumacher 322; 3. Mike-David Ortmann 247; 9. Kami Laliberte (Van Amersfoort Racing) 94,5; 18. Leonard Hoogenboom (Van Amersfoort Racing) 25; 22. Moritz Mueller-Crepon (Van Amersfoort Racing) 16.

Final team championship standings after 24 races:

1. Prema Power 459,5; 2. Van Amersfoort Racing 455; 3. ADAC Berlin/Brandenburg 356.