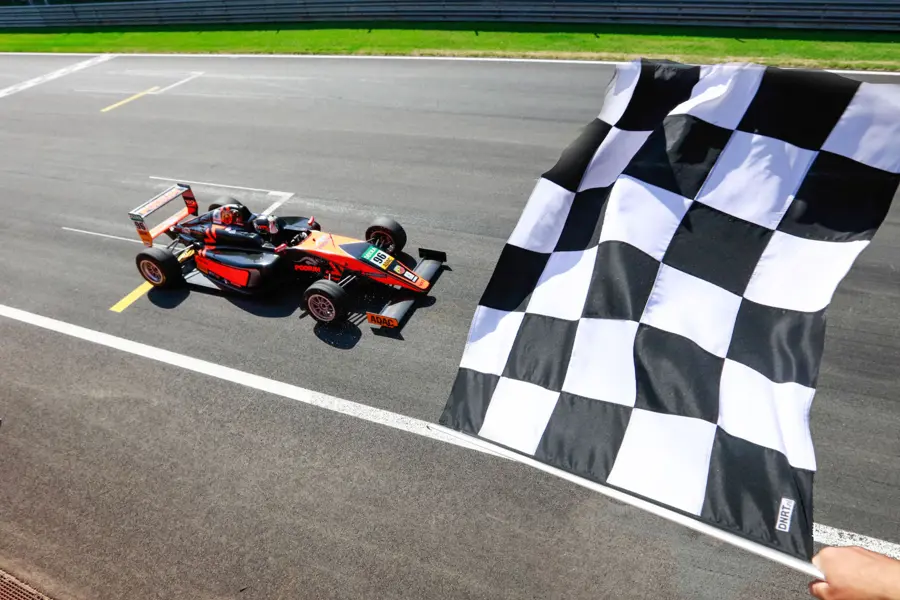 Big challenge gives Joey wings at Red Bull Ring
25/07/2016
Van Amersfoort Racing driver Joey Mawson performed excellent in all three races at the Red Bull Ring during the fifth round of the German ADAC F4 Championship. With two podium results including his sixth victory of the season the Australian managed to increase his lead in the overall standings. Dutchman Leonard Hoogenboom scored a top 10 result again, while our Canadian youngster Kami Laliberte did not get the reward for showing great speed all weekend. Swiss Moritz Mueller-Crepon came close to a top 10 result despite some difficulties.
The results did not come cheap for Joey. He had to overcome a ten positions grid penalty after a collision at Oschersleben. So his qualifying pace had to be spot on to limit the damage and that was just what the 20 year old Australian did. He set the pace with two fastest times. Meaning that Joey opened the weekend from p11. Kami bounced back from an incident in pre event testing with a p4 and p3 result showing his progress during the season. Leonard and Moritz found their way to the midfield of the grid of 34 F4 cars after a neat qualifying performance.
Race 1: Joey p4, Leonard p11, Moritz p20, Kami p28
From 11th place to P4. Joey Mawson (20) showed his skills during the first race of the weekend. With focus and common sense the Aussie battled his way to the front even charging for a podium finish but eventually settling for 4th securing 12 healthy championship points. Especially considering championship rival and former teammate Mick Schumacher did not manage to score points. 
Leonard (19) just missed out the championship points finishing 11th. The Dutchman worked his way up from 17th on the grid with some clean racing, making up 6 positions. Also our Swiss rookie Moritz (17) managed to gain a healthy number of positions. He finished in 20th place after he left off from 25th position. Starting from fourth Kami (17) was underway for a point scoring result until the Canadian got involved in an incident at the restart on lap 12. He had to visit the pits due to a flat tire which dropped him to 28th place.
Race 2: Joey p1, Moritz p13, Kami p19, Leonard p24
After polesitter Joey overcome the fierce battle with Thomas Preining in the opening stage, he managed to control the race over 28 laps. It resulted in his sixth win of the season. The victory even tasted sweeter because rival Mick Schumacher again failed to score points. The honor for being the second fastest VAR driver went to Moritz this race. The Swiss maximized his 17th place on the grid into a decent 13th position.
Kami proved unfortunate again. In his ambition to make the most out of his second row start (from 3th) the Canadian could not avoid a skidding opponent damaging his front wing. From 34th and last position the rookie showed his character: in 17 laps Kami managed to overtake many drivers bringing him a respectful 19th place. Leonard started 13th, climbed up to 7th, had to visit the pits and dropped back to 33rd, to finish his eventful race as 24th.
Race 3: Joey p3, Leonard p8, Kami p26, Moritz p30
The reverse grid starting order gave Joey a 7th place on the grid. With some great overtaking maneuvers our Aussie confirmed his outstanding shape. He chased Mick many laps and eventually stepped up the podium (again) as the number three, right behind his biggest title opponent.
Leonard ended his weekend at the Red Bull Ring on a high, after scoring a well-earned point scoring 8th place. The other two rookies experienced a harsh final race with several on-track incidents and a pitstop for Moritz. Nevertheless they showed encouraging lap times with Kami recording the fastest lap time of the race!
Championship standings after 15 races
1. Joey Mawson (Van Amersfoort Racing) 254; 2. Mick Schumacher 208; 3. Mike-David Ortmann 157; 12. Kami Laliberte (Van Amersfoort Racing) 32; 16. Leonard Hoogenboom (Van Amersfoort Racing) 25; 19. Moritz Mueller-Crepon (Van Amersfoort Racing) 10.