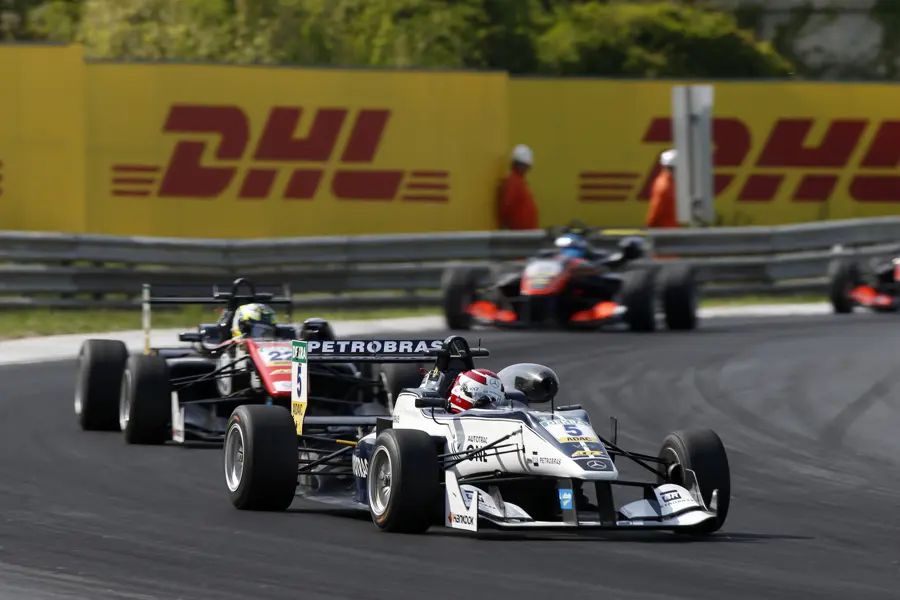 A difficult weekend at the Hungaroring
06/05/2016
Budapest/Zeewolde, 25 April 2016 - At the Hungaroring Van Amersfoort Racing experienced one of the strangest race events in the history of the team. The new asphalt in combination with the F3 tires proved to be a real brainteaser during the second round of the FIA Formula 3 European Championship. The physical altercation of Callum Ilott by a 'colleague', an engine change for Anthoine Hubert and eliminations on the track of which Pedro Piquet and Callum were victims, didn't help either. Despite all difficulties we managed to collect 17 championship points.
The 4.381 kilometres long F1 track near Budapest received a fresh layer of asphalt recently and that caused major consequences for the complete F3 grid. All teams struggled to find grip and faced with disproportionate tire wear, including our four cars. Since qualifying is key in the highly competitive FIA Formula 3 European Championship we knew we would face a tough weekend.
On the top of the sporting challenges VAR was confronted with unacceptable behavior towards Callum. After the second free practice on Friday the young Briton was molested twice by another F3 driver after a dispute about an on track encounter. Callum had cuts to his cheek and neck, swelling to his jaw, and was obviously upset by the attack in the paddock. 
The stewards investigated the incident and banned the other driver for the first race of the weekend. A decision we feel is a far too mild punishment given the offense and the fact it took the stewards nine hours to come to a decision surprised us as well, since it was clear for the whole paddock it was unacceptable behavior.
Races
Our four drivers had to battle their way up into the points. In the opening event Callum had to retire after turn two, when he was pushed of by fellow Briton Ben Barnicoat. Our French driver Anthoine Hubert also ended his race when he was confronted by an oil pressure alarm. It forced an engine change causing a 10 position grid penalty for three races. Harrison (12th) and Pedro (13th) gained valuable experience about the unusual conditions. 
In the second encounter in Hungary Callum showed his character by finishing into the points in ninth position, despite his bruised face. Harrison, Anthoine and Pedro claimed 12th, 13th and 14th spot after 22 laps.
Save the best for last. On a wet track Callum worked his way up into sixth position after some strong racing in race 3, including a brilliant move on Lance Stroll. Pedro collected his first points in the FIA F3 European Championship by finishing 7th. A well-earned reward for a solid drive. Harrison was the third VAR driver in the top ten. The 17 year old Britton grabbed the final point. Anthoine ended his catch up from behind in 14th position.