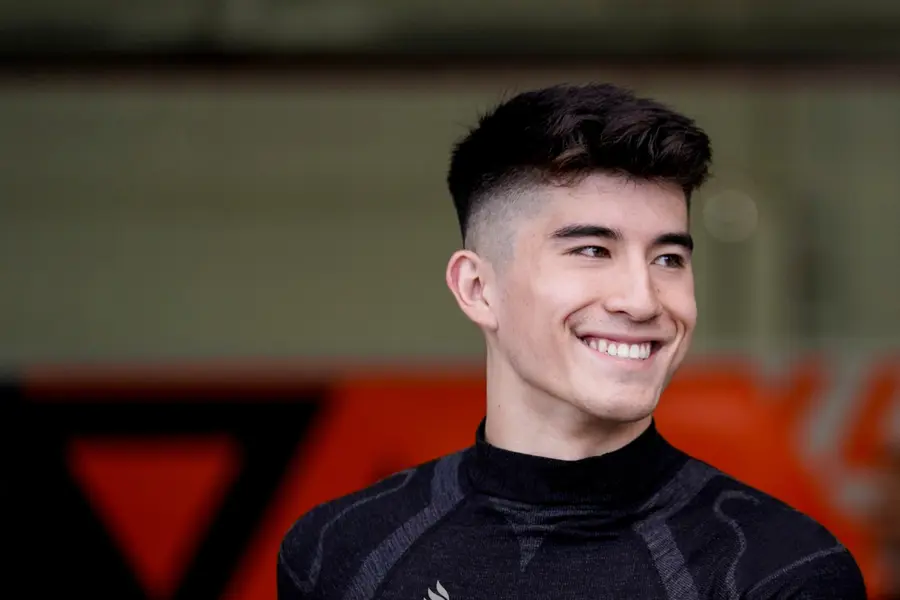 VAR signs Reece Ushijima for FIA F3 Championship
27/01/2022
Graduating from both GB3 and the Asian F3 championship in 2021, Ushijima makes his debut in the FIA F3 championship 2022 with the black and orange outfit from the Netherlands.
Born in Californian Laguna Hills, Reece spent his younger years between the USA and Japan. It was in the Japanese coastal city of Fukuoka where Reece first got familiar with karting, thirteen years of age at that time. From there onwards Ushijima's racing career took a flight. The American-Japanese native moved to the UK only one year after he first took the wheel of a kart, where he engaged in an intense junior driver program.
Between 2016 and 2019, Reece made name for himself in the international karting scene, competing in series and championships across the world. He concluded his karting career after four years and moved up to Formula racing racing at the age of 16. His single seater debut came in the form of the BRSSC Formula Ford Winter series, where he immediately impressed by qualifying on pole and securing a third and second position in the races.
Reece's Formula Ford debut was quickly followed by his participation in the 2019 MRF Challenge, held in Dubai, Bahrain and India. As a newcomer, Ushijima stood ground amongst an experienced field of drivers, making his 4th best finish a more than respectable performance. 2020 saw Reece compete in the British F3 series, after which he continued to the Asian F3 championship, claiming the runner-up position in the rookie standings. Last stop before his current move to the FIA F3 was the 2021 GB3 series, in which the now 19-year-old claimed 4th position in the final standings, registering three pole positions, six podium finishes, of which two victories.
Ushijima made his first appearance in FIA F3 during the post-season test at Valencia, which took place early November last year: "To be racing with such an experienced and successful team as Van Amersfoort Racing is a great privilege. Seeing how motivated and hardworking they were during post-season testing at Valencia has made me really excited to what we can achieve this year. It may be an uphill battle, as it is both the team's and my first year competing in the FIA F3, but I believe we can achieve something special with our combined determination. I cannot wait to get the season started!"
The FIA F3 championship will adapt a new format in which all rounds on the calendar act as support events to both F1 and F2. This new approach will deliver a rich format in which the race weekends are a clear display of how the "Road to F1" is structured. The drivers within the F1 feeder series will get a proper taste of the pinnacle of motorsport's environment, whereas spectators are presented with an eventful weekend format, benefiting all involved.
Rob Niessink, CEO at Van Amersfoort Racing says: "We first worked with Reece during post-season testing at Valencia last year and he impressed us. It will be both his and our first season in this car, so for sure there is lots to be learned, but Reece's determination excites us. His interaction with the team was impressive and he showed to be a quick learner. The level of progress he booked during the two days he tested with us is a clear indicator of his potential. We have been preparing our entry into this category to the finest detail and are absolutely thrilled to get going early next month!"
The 2022 FIA F3 Championship is made up of nine rounds with two races each, all support events of both Formula 1 and Formula 2. The season kicks-off overseas at the Bahrain International Circuit (March 18-20). The team travels back to Europe for round two, held at Autodromo Enzo e Dino Ferrari, Imola (April 22-24). Circuit de Barcelona-Catalunya hosts round three of the championship (May 20-22), followed by Silverstone for round four (01-03 July). Then the team travels on to the Styrian mountains for round five at the Red Bull Ring in Austria (08-10 July).
Round six sees the team land at the Hungaroring, Hungary (29-31 July). The Championship concludes on a triple-header, starting with round seven at Spa-Francorchamps, Belgium (26-28 Aug.). The penultimate round of the season happens on Dutch soil the week thereafter at the circuit of Zandvoort (02-04 Sept.), followed by the season finale at the temple of speed, Monza, Italy (09-11 Sept.).