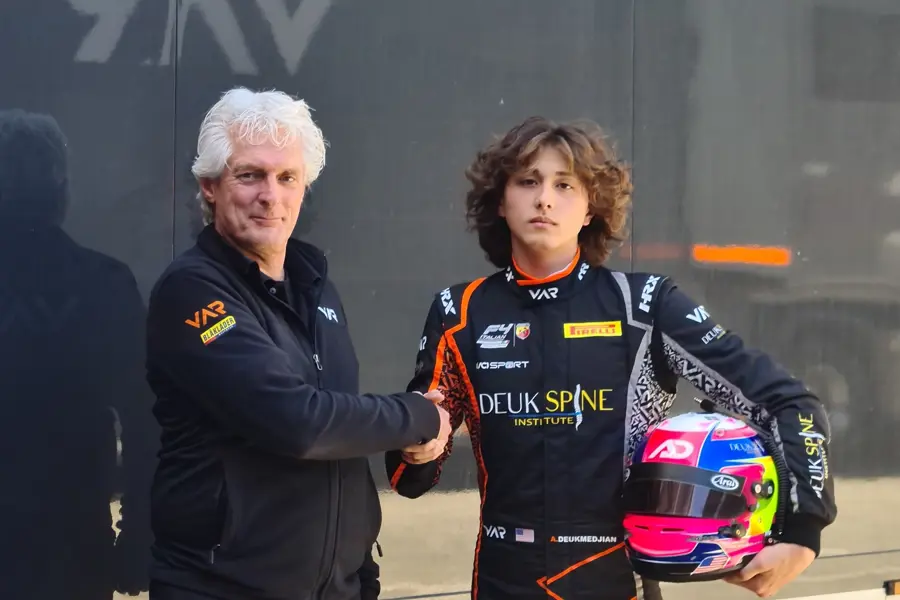 VAR signs Arias Deukmedjian for 2022 F4 campaign
03/05/2022
Zeewolde, May 3, 2022 – Van Amersfoort Racing announces the signing of Arias Deukmedjian. The American will compete in the 2022 F4 championship alongside earlier announced Norwegian Martinius Stenshorne, Brasilian Emerson Fittipaldi Jr. (Emmo Jr.) and Brando Badoer from Italy
Despite counting "only" seventeen years of age, Deukmedjian has already collected a very respectable track record in racing. As most of his fellow competitors, Arias started out early in karting, receiving his first kart when eight years old.
During the following years, the Merrit Island, Florida resident developed his race craft competing in Rotax Micro and Mini regional championships, only to move up to national levels in 2016. The year thereafter saw Deukmedjian stepping up to the junior series. As an independent driver, he stood his ground amongst North America's most successful karting teams and went international as a member of Team USA.
In 2018, the very same year as he took the SKUSA Pro Tour X30 Junior title, Arias made his single seater debut as a thirteen-year-old, testing and racing selected rounds of the F2000 championship.
Arias' full transition to single seater racing came in 2021, where he made his appearance in selected rounds of both the European and American Formula Regional championships, as well as the F4 United States championship. It was in the last-mentioned series where the young Floridian took his first single seater podiums, with a best second position during the final round at Mid-Ohio.
This year, Arias moves to full time racing in Europe. "Most of the European tracks I'll be racing at are new to me, so I look very much forward to it!" says Arias. He continues: "I am excited to be racing F4 in Europe. I prepared well over the winter period, and I feel ready to attack the season. Really happy as well to be doing it with reigning champion Van Amersfoort Racing. I spent quite some time with them during the past months preparing and I am impressed with how passionate they are towards the sport. The first round is right around the corner and I can't wait for the championship to finally kick-off!"
VAR's CEO Rob Niessink is very positive about Arias' joining: "We are happy to have him on board for this season. Arias already has quite some mileage under his belt, which will be helpful to the team and his teammates. He is a very communicative team player and is focused on continuously improving his performance. It's great to see his dedication towards becoming a better driver and we are more than happy to support him in that journey. We are excited for the lights to finally go off at Imola this upcoming weekend!" 
Van Amersfoort Racing is a professional racing team based in the Netherlands. It was founded by Frits van Amersfoort in 1975. Since then, Van Amersfoort Racing has built a long tradition of supporting up-and-coming drivers on their way to higher levels. Drivers like Max and Jos Verstappen, Charles Leclerc, Mick Schumacher, Kevin Magnussen and Giedo van der Garde all raced for Frits van Amersfoort's eponymous team in the early stages of their careers before making it into Formula 1.