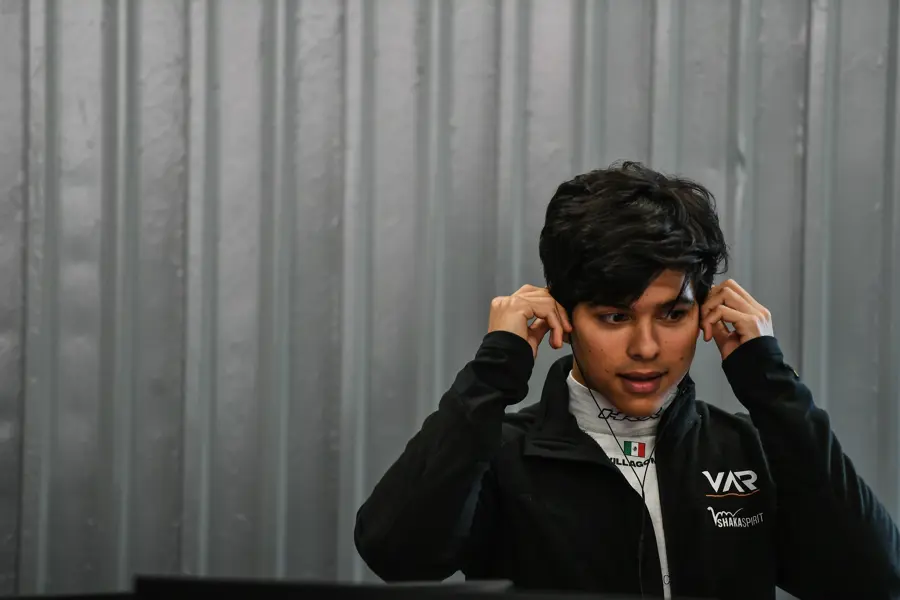 Rafael Villagómez stays with VAR to compete in the 2022 FIA F3 Championship
28/01/2022
Mexican Rafael Villagómez will return to the FIA F3 championship for a second campaign. He will do so with Van Amersfoort Racing, with whom he battled in the 2021 edition of the Euroformula Open championship. Rafael will compete alongside his recently announced teammate Reece Ushijima.
The now 20-year-old Mexican came to single seater racing after winning the Richard Mille Young Talent Academy shootout, which earned him a spot in the 2020 French F4 championship. In that same year, Villagómez also made his appearance in the British F4 series, claiming a podium finish in the very first race round at Donington Park.
2022 will mark Rafael's third year in single seater racing, this time solely focusing on the FIA F3 championship. Last year the León, Mexico native divided his attention between the Asian F3 series, the FIA F3 and the Euroformula Open championship.
Villagómez will enter his second year in the FIA F3 and has set high expectations for the new season. "Last year was certainly a learning year for me, which I knew it would be. The move up from Formula 4 to FIA F3 was a big step, but I enjoyed every minute of it. Now I feel ready to compete at a higher level and aim for points and podium finishes. Having raced with them in Euroformula Open last year, I know Van Amersfoort Racing very well. It gives me great confidence to have them at my side, especially since I know how dedicated they are towards this program!"
For 2022, the FIA F3 championship has applied a new race weekend format in which all competitors engage in two races; a sprint race on Saturday, followed by the feature race on Sunday. All rounds of the FIA F3 championship calendar will act as support races for both the FIA Formula 2 and Formula 1, clearly visualizing the "Road to F1" strategy set by the FIA. With the addition of these two championships to their portfolio, VAR now covers all but one step (F1) on the FIA motorsport ladder, giving them the ability to lead young talented drivers all the way up to the gates of Formula One.
Rob Niessink, CEO at Van Amersfoort Racing says: "It is always great to be able to progress with a driver into a second year. Both driver and crew have grown close together during the season and despite Rafael moving up to another category within VAR, we know him well and he knows our way of working through and through. Rafael faced a steep learning curve last year, something that was anticipated. For the upcoming season his approach is certainly focused on scoring points and finishing on the podium. Besides the fact that our crew fully supports Rafael in every step he makes this season, he also brings along valuable F3 experience gathered last year. Clearly we are thrilled to get this journey started and are looking forward to pre-season testing at Bahrain early March!"
The 2022 FIA F3 Championship is made up of nine rounds with two races each, all support events of both Formula 1 and Formula 2. The season kicks-off overseas at the Bahrain International Circuit (March 18-20). The team travels back to Europe for round two, held at Autodromo Enzo e Dino Ferrari, Imola (April 22-24). Circuit de Barcelona-Catalunya hosts round three of the championship (May 20-22), followed by Silverstone for round four (01-03 July). Then the team travels on to the Styrian mountains for round five at the Red Bull Ring in Austria (08-10 July). Round six sees the team land at the Hungaroring, Hungary (29-31 July). The Championship concludes on a triple-header, starting with round seven at Spa-Francorchamps, Belgium (26-28 Aug.). The penultimate round of the season happens on Dutch soil the week thereafter at the circuit of Zandvoort (02-04 Sept.), followed by the season finale at the temple of speed, Monza, Italy (09-11 Sept.).
Van Amersfoort Racing is a professional racing team based in the Netherlands. It was founded by Frits van Amersfoort in 1975. Since then, Van Amersfoort Racing has built a long tradition of supporting up-and-coming drivers on their way to higher levels. Drivers like Max and Jos Verstappen, Charles Leclerc, Mick Schumacher, Kevin Magnussen and Giedo van der Garde all raced for Frits van Amersfoort's eponymous team in the early stages of their careers before making it into Formula 1.