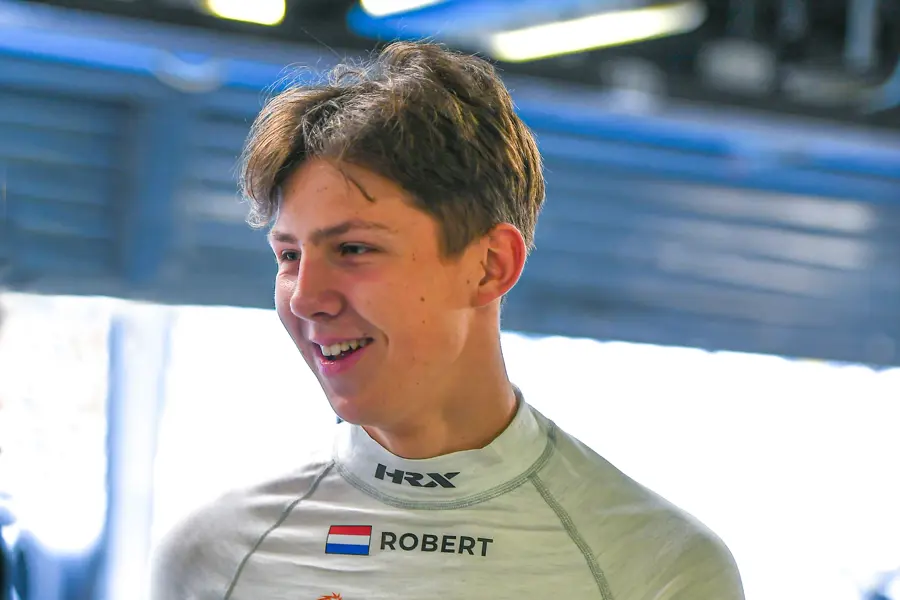 FEED talent Robert de Haan joins VAR / Monlau for 2022 Spanish F4 season
26/04/2022
Zeewolde April 26, 2022 - In a joint venture between Dutch Van Amersfoort Racing and Spanish Monlau Motorsport, two absolute heavyweights in the racing industry, Robert de Haan is the first announced driver to attack a full season of Spanish F4 competition with them.
15-year-old De Haan is no stranger to the Dutch part of the newly formed alliance. He already competed for VAR during selected rounds in both the 2021 Italian and German F4 championship. Robert registered a solid performance as he claimed his first Rookie win during the penultimate German F4 championship round at the Nürburgring in November last year.
The Dutchman leaves a very successful career in karting. He claimed podium positions in Europe's most competitive karting series, after which he made the leap to racing cars already at the age of fourteen. Following the footsteps of F1 driver Lando Norris, Robert collected the Ginetta Junior Scholarship last year, allowing him to compete in that very championship. In his debut season, he secured the Rookie title and came in 4th overall with multiple race wins.
During that same year, De Haan participated in the '21 FEED Racing F4 Academy, a prestigious talent development program initiated by former F1 World Champion Jacques Villeneuve and former F1 test pilot Patrick Lemarie. In a strong field of 70 promising drivers, Robert showed to be most successful, claiming victory and subsequently support for the upcoming season in F4.
"First of all, we are very excited about the joint venture with Monlau Motorsport. By combining forces, we provide a strong package to the Spanish F4 championship." says Rob Niessink, VAR's CEO. He continues: "Talent like Robert de Haan doesn't pop-up out of nowhere. We had our eyes on him for quite a while already, but his young age didn't allow him to start driving F4 cars in Europe yet. His performance in race conditions during the last rounds of both the Italian and German F4 series, for which we had Robert compete for us, was impressive. He fought like a lion alongside the established drivers, obviously indicating he is ready for a next step. As we have only one goal for the Spanish F4 series, we are excited to be able to bring a driver with his qualities to the grid."
Niessink's statement is fully backed up by Monlau's F4 Team Manager David Simon: "I can't agree more on Rob's statement. We are overly excited about the cooperation between both our race teams. By adding Robert to the driver line-up, we pull in an absolute talent who has a shot at being very successful in the championship. He has already achieved quite a lot for a driver his age and during recent tests, he showed that he knows exactly what he's doing. We are absolutely thrilled to get started with the season and we aim to be competitive right from the start!"
For the past two years, the Spanish F4 Series saw two fellow Dutchmen claiming the title, of which one was Kas Haverkort, currently competing for Van Amersfoort Racing in the Formula Regional European Championship by Alpine.
"After having raced both an Italian and German F4 round, I am extremely excited to now enter a full season of F4 racing!" says Robert de Haan. The youngster from Eerbeek, located only a stone's throw away from VAR's headquarters in the Netherlands continues: "Racing the Ginetta G40 Junior Cup, and especially joining the FEED Racing F4 Academy has really helped me to grow as a race driver. I have made so much progress and gained valuable experience, both on- and off the track, not to mention the strong financial support I received from them, helping me in my move to a full season of F4 racing. More than ever, I feel ready to take on the next challenge and it is great to do this together with VAR and Monlau. I spent a lot of time with the crew already and we connect well, making me even more confident and eager to get started!"
Van Amersfoort Racing is a professional racing team based in the Netherlands. It was founded by Frits van Amersfoort in 1975. Since then, Van Amersfoort Racing has built a long tradition of supporting up-and-coming drivers on their way to higher levels. Drivers like Max and Jos Verstappen, Charles Leclerc, Mick Schumacher, Kevin Magnussen and Giedo van der Garde all raced for Frits van Amersfoort's eponymous team in the early stages of their careers before making it into Formula 1.