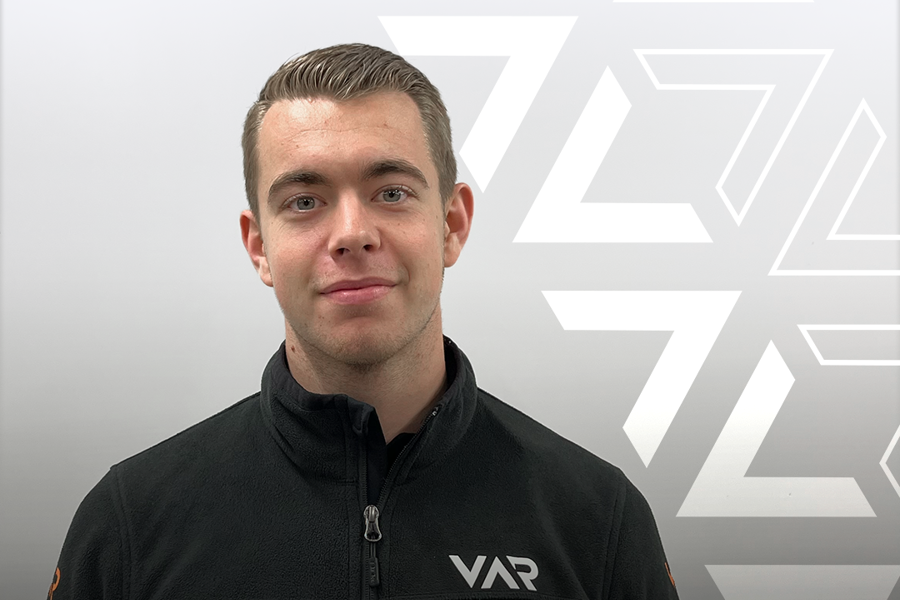 Dutchman Verschoor joins VAR in FIA F2
16/12/2022
Zeewolde, December 16, 2022 - On his birthday, Van Amersfoort Racing is excited to announce the signing of countryman Richard Verschoor for their second campaign in the FIA F2 Championship. Verschoor already made his appearance with the team during this year's post season testing at Yas Island, Abu Dhabi, and is now the first F2 driver announced by the black and orange squad from the Netherlands
Turning 22 years of age today, Verschoor has already had an impressive racing career so far that started out, like many drivers, in karting. During the period 2011 to 2015, Richard collected a long list of impressive results, including multiple international championships.
Making his single-seater racing debut in 2016, Verschoor undoubtedly showed his racing talent from the moment he took the wheel of an F4 car. He convincingly claimed the SMP F4 NEZ Championship title and absolutely dominated the Spanish F4 Series in that same year. The Benschop-born raced successfully in the Formula Renault 2.0 NEC, Formula Renault 2.0 Eurocup as well as New Zealand's Castrol Toyota Racing Series, where he claimed P3 and P2 in 2017 and 2018, respectively.
Before joining the inaugural season of the FIA Formula 3 Championship 2019, in which he was crowned winner of the prestigious Macau Grand Prix, Verschoor gained more track time by competing in the 2018 GP3 Championship.
Richard's FIA F2 debut came in 2021. He scored points on a regular basis and took his first Formula 2 win at the Silverstone round. Unfortunately, his season was cut short due to budget reasons, but the Dutchman returned to F2 the next year and performed stronger than ever. Throughout the season Verschoor stood on the podium multiple times, including a win at Bahrain and a special P2 during his home race at Zandvoort.
Now Verschoor returns to the Netherlands to team up with Van Amersfoort Racing, preparing to compete in a second full-time season at the highest level of F1's feeder formulae; the 2023 FIA Formula 2 Championship.
Verschoor is looking forward to the upcoming season: "I am extremely excited to return to the F2 grid again in 2023 and I am really happy to do so with Van Amersfoort Racing. It is special to be able to announce this on my 22nd birthday as well! As both myself and VAR have grown a lot during last year in F2, I feel very confident about the upcoming season. For me, testing with VAR during the post-season test at Abu Dhabi instantly confirmed their extreme determination to further grow, and that suits my attitude very well! It will be an exciting year and I especially look forward to racing in Melbourne, not to mention Zandvoort. I'm ready for another year of F2 excitement!"
"Of course, it is special to have a talented, Dutch driver like Richard as a part of our 2023 F2 line-up.'' says Rob Niessink, CEO of Van Amersfoort Racing. He continues: "It might be needless to say that we, as a Dutch team, enjoy very much the opportunity of having a countryman as part of our driver line-up, especially at this high level of racing. Last year we went on a huge learning streak, which for sure will continue into the new season. Richard brings, besides his raw talent and race craft, valuable F2 experience to the team and that will surely benefit us when it comes to further developing the car. He impressed strongly during the post-season test with us at Abu-Dhabi, setting the fastest overall time on the first day out on track. As last year, 2023 is going to be another exciting year for all of us and we look forward to the moment the lights go out for the first time in Bahrain!"
Van Amersfoort Racing is a professional racing team based in the Netherlands. It was founded by Frits van Amersfoort in 1975. Since then, Van Amersfoort Racing has built a long tradition of supporting up-and-coming drivers on their way to higher levels. Drivers like Max and Jos Verstappen, Charles Leclerc, Mick Schumacher, Kevin Magnussen and Giedo van der Garde all raced for Frits van Amersfoort's eponymous team in the early stages of their careers before making it into Formula 1.