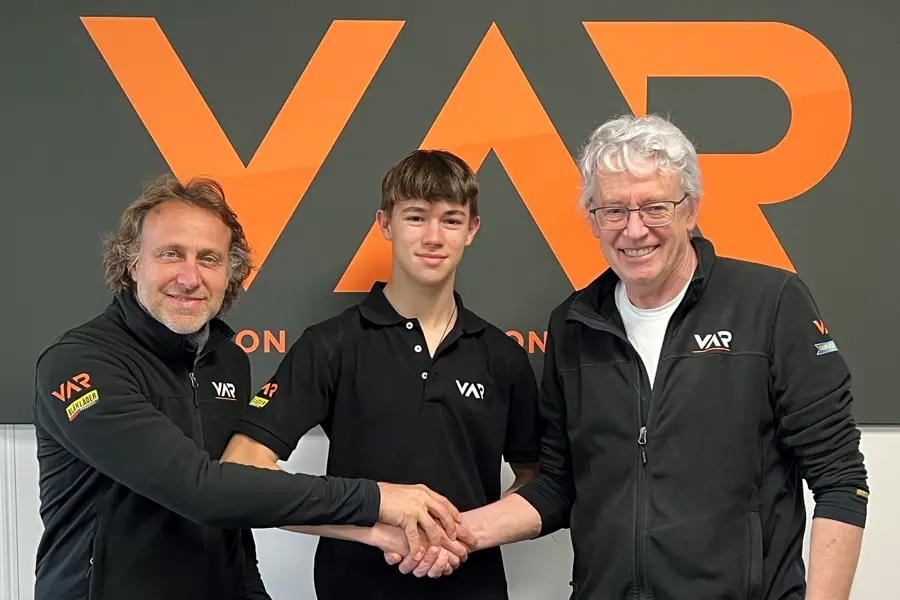 Brando Badoer races for VAR in 2022 F4 Championship
11/04/2022
Zeewolde, April 11, 2022 – Van Amersfoort Racing is pleased to announce the joining of Brando Badoer. The young Italian will join Van Amersfoort Racing for the 2022 F4 Championship.
Following the footsteps of his father, Brando is now actively building up his own career in single seater racing. Being the son of a former Formula One driver, it does not come as a surprise that Brando started karting at an early age. The now fifteen-year-old entered competitive competition in 2017, only to secure his first official podium finishes less than one year later.
The initial stages of Brando's karting career saw him compete in the 60 Mini category, which he did so with success. Badoer took victory in the 2018 Trofeo D'Autunno, and during that same year claimed third position in the WSK Champions Cup and collected respectable finishes in the Italian Championship (4th), the WSK Final Cup (4th) and the South Garda Winter Cup (7th).
Before his recent move to Formula racing, Brando further impressed in the OK & Junior 125 class, in which he registered a total of eighteen pole positions, secured fifty hits and won two finals. His second position in both the WSK Italian championship and the WSK Euro Series, as well as his third position in the WSK Super Masters Series deserve to be mentioned as the highlights of Brando's karting career.  
The young racer from Montebelluna, located at the foot of the Alps in Northern Italy, made his single seater debut earlier this year. As part of his preparation program for the European F4 season, Brando participated during selected rounds of the championship, allowing him to get a feel for the new generation Tatuus F4 car and its characteristics.
Brando Badoer is excited to get started. He says: "The step from karting to F4 is a big one, but I feel more than ready. We are currently putting all our focus and energy in preparing for the season. In addition to pre-season testing on-track, I spend most of my time with my engineers at VAR's headquarters in the Netherlands, where I do extensive sim work to familiarise myself with the tracks we'll race on. VAR has given me a warm welcome and it's impressive to see the level of dedication they put in supporting me and my career! I am extremely excited to get racing soon!"
Rob Niessink, VAR's CEO comments: "We are extremely pleased to have Brando on-board. It is clearly noticeable that he comes from a race environment and despite his young age, he understands very well what it takes to grow as a race driver. His experience with the new generation F4 car is obviously beneficial, not only for himself, but for the team as well. In the run-up to the start of the championship, Brando spends a lot of his time with us to fully prepare for what will be a challenging season. As always, we put all our experience and dedication to use to support him in this ever so important stage of his racing career."
Van Amersfoort Racing is a professional racing team based in the Netherlands. It was founded by Frits van Amersfoort in 1975. Since then, Van Amersfoort Racing has built a long tradition of supporting up-and-coming drivers on their way to higher levels. Drivers like Max and Jos Verstappen, Charles Leclerc, Mick Schumacher, Kevin Magnussen and Giedo van der Garde all raced for Frits van Amersfoort's eponymous team in the early stages of their careers before making it into Formula 1.