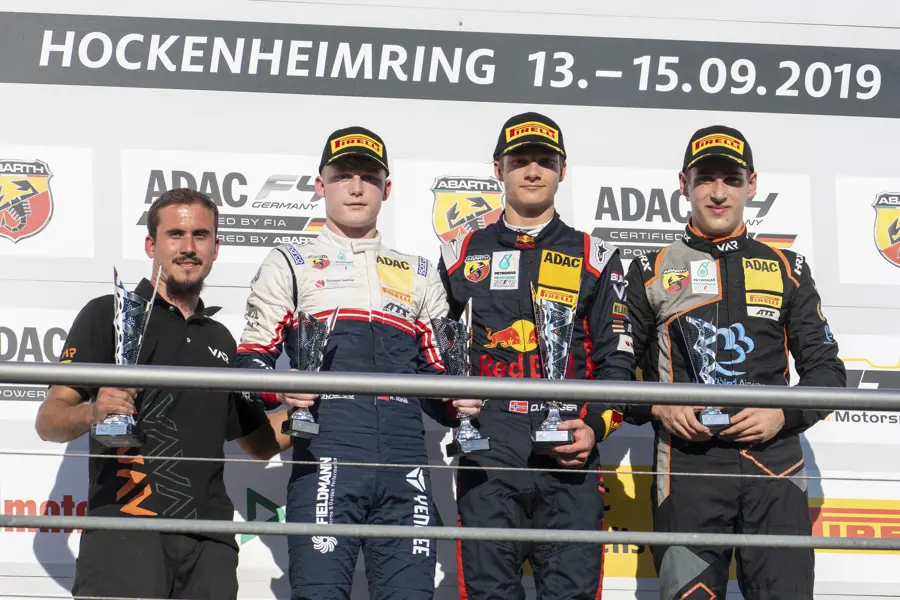 VAR achieves historical success in German F4
18/09/2019
We knew the penultimate round of the ADAC Formula 4 Championship would be an important moment of truth. After three races at the Hockenheimring, Van Amersfoort Racing looks back on an impressive team performance: one pole position, four podium results of which three wins and impressive progression from all four drivers throughout the weekend.
Last July we've raced the Hockenheimring quite successful as part of the German Formula 1 Grand Prix. This time around, the sixth round of the season would determine the chances of Dennis Hauger in the championship battle. At the start were Dennis Hauger from Norway, Israeli Ido Cohen and our two German drivers Lucas Alecco Roy and Sebastian Estner.
The results in qualification gave a good indication of the speed we carried into Hockenheim. In the first session Dennis Hauger set the second fastest time, only 0,003 second off pole position. With Ido finishing 6th, two VAR drivers settled in the top ten. They were followed by Sebastian Estner on P13 and Lucas Alecco Roy right behind in 14thposition. The second qualification session saw three of our drivers positioning themselves amongst the ten fastest. Hauger took pole position, Sebastian Estner put his F4 race car on a solid P9 and Ido Cohen claimed 10thplace. Lucas copied his Q1 performance by taking P14 on the grid.
Historical hat trick
By the end of the weekend, Dennis Hauger has set new standards in the ADAC F4 Championship by winning all three races in one weekend! The 16-year-old Norwegian did it in style: rock-solid starts, fair maneuvers and many flawless laps. The last race on Sunday afternoon was an excellent example where Dennis moved up from P8 on the starting grid to crossing the finish line in first position. He completed his hat trick with a margin of more than 6 seconds. With this incredible performance Hauger closed in on the current championship leader and heads into the final round only one point behind.
Impressive safe
Ido Cohen not only distinguished himself with a strong third place in race 3, after leading the race for multiple laps. He also claimed respect by performing a miraculous save in the opening race when his car lost grip over the curbstones. Ido combined his podium finish with two seventh places in the first two races, collecting healthy points for the championship.
Progress every session
Sebastian Estner made progress every session. After a solid P9 in the second qualification, the German signed-off on his most constant race weekend so far. Good starts, strong maneuvers and mature driving resulted in three top 10 results. An impressive P5 in the final race marked his best performance of the weekend. Lucas Alecco Roy also improved during the weekend but was unfortunate in multiple duels with his competitors. Therefore, the results do not fully reflect his actual speed. P12 in the opening race was his best result.
Rob Niessink, CEO Van Amersfoort Racing: "Of course we are delighted with the hat trick of Dennis. Indeed, a very special moment to win all three races, something that hasn't been done before! These results were a fantastic reward for the teamwork put in by the complete crew. They constantly work with passion and dedication in the hunt for success and put all possible effort in preparing all cars in the best way possible for all our drivers. This strong team performance gives us great confidence towards the season finale at the Sachsenring."
Hockenheimring Race Weekend Summary
 
Qualification 1:
Pourchaire P1, Hauger P2, Leclerc P3, Cohen P6, Estner P13, Alecco Roy P14
Qualification 2:
Hauger P1, Pourchaire P2, Aron P3, Estner P9, Cohen P10, Alecco Roy P14
Race 1:
Hauger P1, Leclerc P2, Dürksen P3, Cohen P7, Estner P10, Alecco Roy P12
Race 2:
Hauger P1, Petecof P2, Leclerc P3, Estner P6, Cohen P7, Alecco Roy P15
Race 3:
Hauger P1, Stanek P2, Cohen P3, Estner P5, Alecco Roy P13
 
Championship standings:
Drivers: 1. Pourchaire 197, 2. Hauger 196, 3. Leclerc 169, 13. Cohen 64, 14. Estner 53, 17. Alecco Roy 10
 
Teams: 1. US Racing – CHRS 434, 2. Van Amersfoort Racing 422, 3. Prema Powerteam 314.