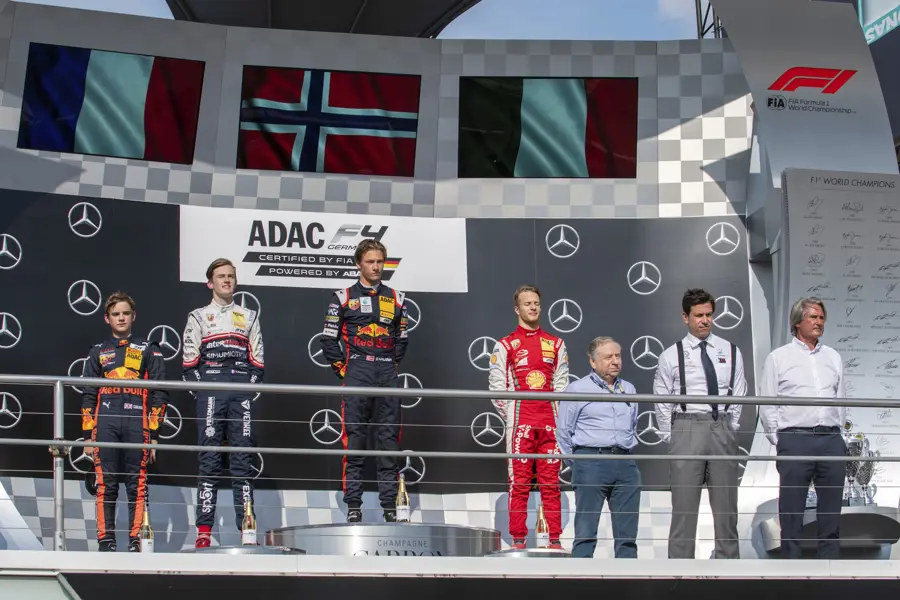 Van Amersfoort Racing drivers shine in F1 spotlights
30/07/2019
Van Amersfoort Racing raced the third round of the ADAC Formula 4 Championship as part of the German Formula 1 Grand Prix. Our drivers were eagerly looking forward to this highpoint of the season. As this round was part of the German F4 Championship, Sebastian Estner joined the VAR squad again, therefore we ran 5 cars in total. All VAR drivers performed excellent at the Hockenheimring with Dennis Hauger scoring a victory and a second place.
Being among the Formula 1 support series means full grandstands, crowded signature sessions and a smoothly organized event. Thanks to the ADAC, our German talent Niklas Krütten, together with four other F4 drivers, got an exclusive glimpse into Formula 1 by means of a meet-and-greet with Ferrari F1 driver Charles Leclerc. A bit special for us as a team as well since Charles successfully raced Formula 3 with Van Amersfoort Racing in 2015.
After an excellent free practice, the always hectic qualifying sessions went well for us. In the qualification for the second race, three of the five VAR drivers were among the top 10 in a competitive field of 22 cars. It was Dennis Hauger who put down the strongest performance with a second fastest lap time, just 0.03 sec. away from scoring Pole Position. 
The 16-year-old racing driver from Norway proved victorious in race one on Friday evening. Dennis received his trophy from FIA chairman Jean Todt, with Mercedes-AMG Motorsport director Toto Wolff and ADAC Sports President Hermann Tomczyk on his side. During that first race, it looked like two VAR drivers would climb the podium together. Niklas Krütten led the majority of the race after a strong start from third position.
Shortly before the flag, an unfortunate racing incident forced the German out of the race. In the battle with teammate Dennis Hauger, Niklas' front wheel rubbed Dennis' rear wheel. Unfortunately, this incident ended in Niklas crashing in the wall, ending his race abruptly.
Israeli Ido Cohen put himself in the spotlights by catching up no less than 6 positions; from 12th to 6th place. Lucas Alecco Roy showed similar skills; making a spectacular progress of 9 positions by moving up from P17 to P8.
Sebastian Estner, the third German VAR driver, performed very well in only his third event of the season. Nineteenth on the grid, Sebastian crossed the finish line in 12thposition. A stunning performance considering his front wing was damaged for almost the entire race, plus his front and rear suspension got bent after a hard slap served out by another competitor. 
In preparation for the second race, it took the engineers of Van Amersfoort Racing until 3:30 in the morning to rebuild Niklas Krütten's heavily damaged car. All was not for nothing; Niklas finished seventh and scored healthy championship points.
Ido Cohen impressed again with his offensive, yet controlled driving style. He finished in fourth but was classified 17thdue to a 30-second penalty. In a fierce battle for position, race control judged he took advantage of exceeding track limits. Unfortunately, his onboard radio malfunctioned, making it impossible for the engineers to communicate that the young Israeli had to hand back his position. This eventually led to a 30-second penalty, moving him far back in the rankings. 
In the second and final race, Dennis Hauger proved to be the fastest VAR driver again. The Norwegian impressed with an out-of-a-gun start from second place. Halfway through he saw Arthur Leclerc pass, looked for overtaking opportunities round after round, but very maturely choose to cherish his second position and the corresponding championship points.
Just like the day before, Lucas Alecco Roy worked his way up front with laser sharp precision. With his second top 10 finish in one weekend, this time in ninth, the German secured championship points in both races. Sebastian Estner proved unfortunate in this final race. Towards the end, he was roughly pushed aside by a competitor and ended with a heavily damaged car. 
Rob Niessink, CEO Van Amersfoort Racing: "It has been a very special event for us. Being part of the Formula 1 package this weekend, the team and our five drivers all performed very well. Dennis worked himself in the spotlights with a victory and 2ndplace, but also Niklas, Ido, Lucas and Sebastian showed their speed and skills. As a bonus, we obviously are very proud of the masterclass by our former protégé Max Verstappen in the Formula 1 race. We hope his performance will inspire our drivers for the rest of the season."
Race Weekend Summary:
 
Qualification 1:
Pourchaire P1, Leclerc P2, Krütten P3, Hauger P5, Cohen P12, Alecco Roy P17, Estner P19
Qualification 2:
Leclerc P1, Hauger P2, Pourchaire P3, Krütten P5, Cohen P9, Estner P16, Alecco Roy P18
Race 1:
Hauger P1, Pourchaire P2, Petecof P3, Cohen P6, Alecco Roy P8, Estner P12, Krütten DNF
Race 2:
Leclerc P1, Hauger P2, Pourchaire P3, Krütten P7, Alecco Roy P9, Cohen P17, Estner DNF
 
Championship standings:
Drivers: 1. Pourchaire 102, 2. Leclerc 91, 3. Hauger 83, 4. Krütten 75, 12. Cohen 25, 16. Alecco Roy 10, 17. Estner 5


Teams: 1. US Racing 217, 2. Van Amersfoort Racing 199, 3. Prema 161.