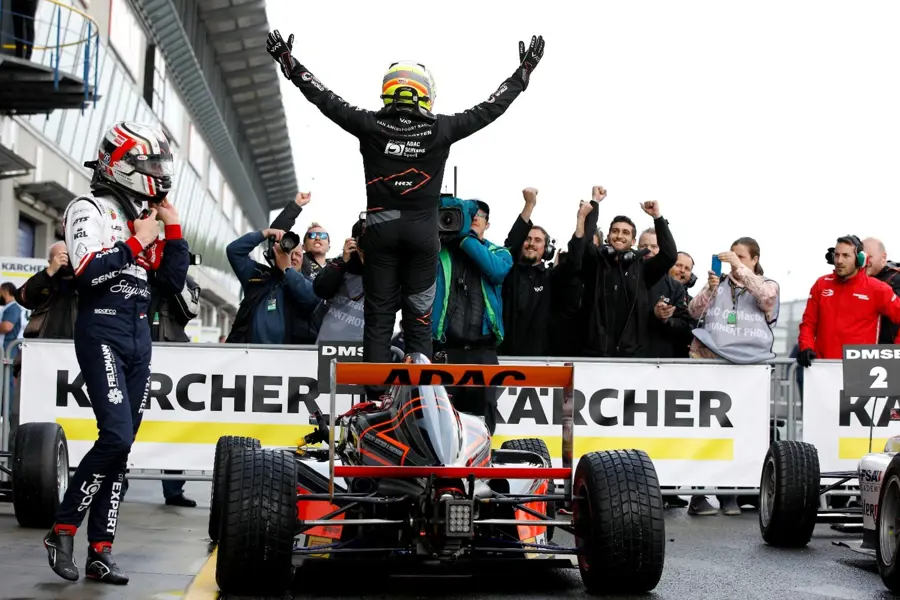 Instant success in German Formula 4
30/04/2019
Van Amersfoort Racing (VAR) made a strong start in the ADAC Formula 4 Championship 2019. At the Oschersleben track the team from the Netherlands went on the hunt for success with five drivers. With two pole positions, a victory and third place it was a satisfying start of the German Formula 4 Championship. The VAR line up in ADAC Formula 4 this year consists of: Ido Cohen (Israel), Sebastian Estner (Germany), Dennis Hauger (Norway), Niklas Krütten (Germany) and Lucas Alecco Roy (Germany). With a fastest time in the first free practice Dennis Hauger already showed the potential of the F4 racing cars in the black and orange livery. Dennis continued his strong performance in qualification. In both the first and the second session the Norwegian VAR driver grabbed the pole position. Due to a grid penalty of 10 positions after not slowing down enough and overtaking under red in free practice, Dennis had to start the first race on Saturday afternoon from 11thplace. In 21 laps the 16-year-old driver from Norway worked his way up to a beautiful third place. In his way up he battled hard but fair with his teammate Niklas Krütten. Krütten impressed with a stunning opening lap jumping from P5 to P2. Eventually he finished fourth due to tire degradation. At 8thposition Ido Cohen immediately secured a top 10 result.
Race 1 (grid)
3. Dennis Hauger (11)
4. Niklas Krütten (5)
8. Ido Cohen (7)
11. Lucas Alecco Roy (10)
15. Sebastian Estner (17)
The second race started behind the safety car due to the very wet conditions. While many drivers spun of the track due to rain, Niklas Krütten kept his cool. After the second restart, the young German took the lead, repelled some serious attacks and then awarded Van Amersfoort Racing with the first victory of the season. His countryman Sebastian Estner made serious progress by finishing ninth after P17 on the grid. Especially since Sebastian did not drive a Formula 4 car after last October.
Race 2 (grid)
1. Niklas Krütten (5)
9. Sebastian Estner (17)
14. Dennis Hauger (1)
DNF. Ido Cohen (13)
DNF. Lucas Alecco Roy (16)
In the ADAC F4 format, the starting order of the third race is determined by the reversed top 8 of race 2. Therefore, race winner Niklas had to start from eighth place on Sunday afternoon. This race on a dry tarmac was characterized by rough driving manners. It was Niklas (8th) and Sebastian (9th) who came off with top 10 results. Ido Cohen made up seven positions from P18 and reached to eleventh place. Dennis Hauger saw his march up front from 14thdouble crossed after being hit by a fellow competitor.
Race 3 (grid)
8. Niklas Krütten (8)
9. Sebastian Estner (9)
11. Ido Cohen (18)
15. Dennis Hauger (14)
18. Lucas Alecco Roy (17)
Rob Niessink, CEO of Van Amersfoort Racing: "First of all I want to say that we consider it a big compliment that we are able to bring out 5 drivers again. Two pole positions, a win and a third place are a nice way to start. Both Dennis and Niklas immediately battled for the victory. Also, Sebastian Estner did a great job since our collaboration was only confirmed last Thursday evening. Ido Cohen and Lucas Alecco Roy have certainly shown their speed but were in one or more races quite unlucky getting hit by other drivers. As a team we've made a strong start for sure. We are looking forward to the upcoming races with great confidence."

 
Championship standings:
 
Driver Standings
1. Roman Stanek 47; 2. Niklas Krütten (VAR) 41; 3. Joshua Dürksen 30; 10. Dennis Hauger (VAR) 15; 13. Ido Cohen (VAR) 4; 14. Sebastian Estner (VAR) 4.
 
Team Standings
1. Van Amersfoort Racing 76; 2. Prema Powerteam 64; 3. US Racing - CHRS 62.