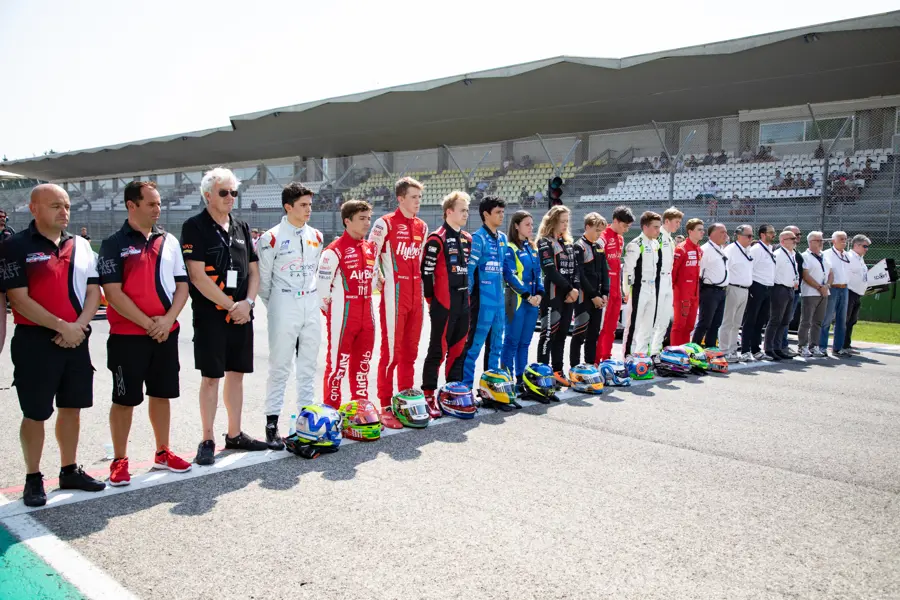 Impressive, yet bittersweet performances at Imola
04/09/2019
As we were competing in both the Formula Regional Championship and the Italian Formula 4 Championship at Imola, racing suddenly became far less important after the terrible news reached us from Spa-Francorchamps. All of us at Van Amersfoort Racing are shocked and deeply saddened by the death of our former Formula 3 driver Anthoine Hubert. This horrible news made it simply impossible to fully enjoy the great performances delivered by our drivers.
Normally we would be over the moon with the string of good results we've achieved at the 'Autodromo Enzo e Dino Ferrari'. However, since Saturday afternoon our thoughts are with the family, friends and loved ones of Anthoine Hubert. We have lost a friend, a kind and humble young man with a passion for racing and a very unique drive to succeed in life. We will never forget you Anthoine… rest in peace.
During this rollercoaster ride of extreme emotions, it felt as our duty to keep focus on that what we came for. In Formula Regional Sophia Flörsch put down four top 8 finishes. In race 3 she managed to equal her best seasonal performance by finishing fourth. Sophia is getting closer to a podium finish race by race. 
Alexandre Bardinon successfully continued on strengthening his performances and made good progress during the weekend.  Alexandre ended his campaign with his second point scoring result. His 10th place was awarded with 2 championship points.
Italian Formula 4 Championship
It was our most successful weekend in the Italian Formula 4 Championship so far, but it goes without saying that these results were heavily overshadowed by the horrible happenings at Spa. In 3 + 1 races, one was added as a replacement for the cancelled race at Misano, we secured 4 podium finishes and 9 top ten results in total. 
Dennis Hauger won three races and took P3 in the second race. The young Norwegian took over the lead in the championship and now has a clear margin of 53 points on the runner-up. Ido Cohen scored three top 10 results, with P5 in the opening race as his best performance of the weekend. Lucas Alecco Roy also entered the top 10 in race 1 being 10th, just like Sebastian Estner. The fellow German made a solid impression, with 9th place in the opening race as an encouraging result. 
Especially under the circumstances of receiving devastating news, as we did during this weekend at Imola, it fills us with pride to see how the complete team was able to pull together, drivers and crew alike. We've received a rude awakening from the sport we all love so much, pointing out that danger, even in modern era racing, is inseparable from what we do. Let's never take that fact for granted! 
Race weekend summary Formula Regional European Championship
 
Qualification 1:
P1 Fraga, P2 Vesti, P3 Caldwell, P11 Flörsch, P12 Bardinon
Qualification 2:
P1 Vesti, P2 Fittipaldi, P3 Caldwell, P8 Flörsch, P13 Bardinon
Race 1:
P1 Fraga, P2 Caldwell, P3 Vesti, P7 Flörsch, P12 Bardinon
Race 2:
P1 Vesti, P2 Caldwell, P3 Fraga, P8 Flörsch, P13 Bardinon
Race 3:
P1 Fittipaldi, P2 Fraga, P3 Vesti, P4 Flörsch, DNF Bardinon
Race 4 (Replay Vallelunga):
P1 Caldwell, P2 Blomqvist, P3 Fraga, P7 Flörsch, P12 Bardinon
 
Championship standings:
Drivers:
1. Vesti 306, 2. Fittipaldi 231, 3. Fraga 186, 6. Flörsch 108, 15. Bardinon 4
Teams:
1. Prema 593, 2. DR Formula 289, 3. US Racing 223, 4. Van Amersfoort Racing 136
 
Race weekend summary Italian Formula 4 Championship:
 
Qualification 1:
P1 Stanek, P2 Edgar, P3 Hauger, P7 Cohen, P10 Alecco Roy, P22 Estner
Qualification 2:
P1 Stanek, P2 Edgar, P3 Petecof, P6 Hauger, P8 Cohen, P9 Estner, P16 Alecco Roy
Race 1:
P1 Hauger, P2 Edgar, P3 Belov, P5 Cohen, P9 Estner, P10 Alecco Roy
Race 2:
P1 Stanek, P2 Petecof, P3 Hauger, P7 Cohen, P23 Alecco Roy, DNF Estner
Race 3:
P1 Hauger, P2 Belov, P3 Stanek,P6 Cohen, P13 Estner, P23 Alecco Roy
Race 4: (Replay Misano)
P1 Hauger, P2 Aron, P3 Petecof, DNF Alecco Roy, DNF Cohen
 
Championship standings:
Drivers:
1. Hauger 255, 2. Petecof 202, 3. Aron 142, 5. Cohen 93, 15. Alecco Roy 21, 22 Estner 2
Teams:
1. Van Amersfoort Racing 412, 2. Prema Power 388, 3. Mücke Motorsport 163