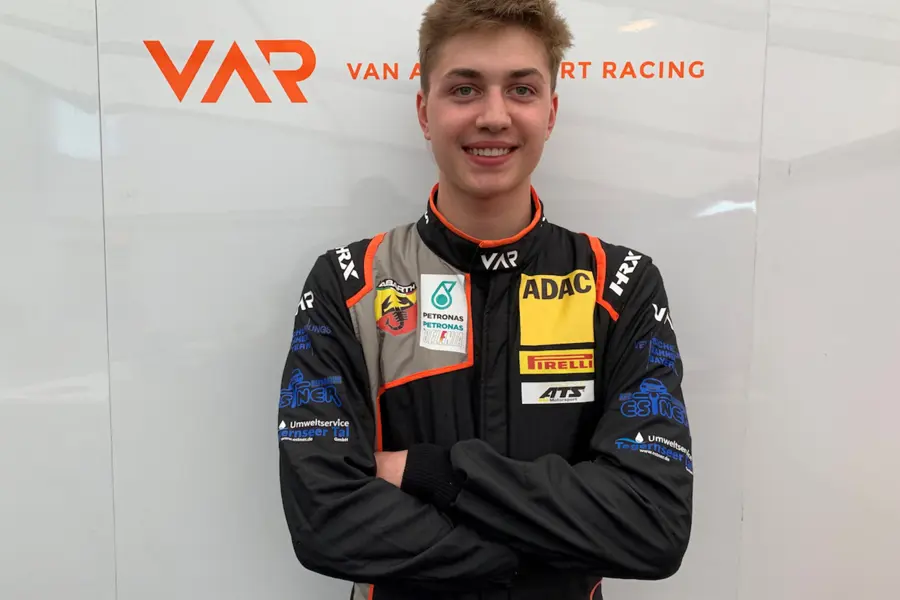 Fifth F4 pilot: Sebastian Estner returns for 2019 ADAC German F4 campaign
25/04/2019
On the verge of the start of the 2019 ADAC German F4 Championship, Sebastian Estner secures his drive with Van Amersfoort Racing.
Having raced in the ADAC F4 Championship in 2018, Sebastian has had a taste of Formula 4 racing at its finest already. The youngest of the two "Estner Brothers" is also not unfamiliar with the black & orange outfit of Van Amersfoort Racing. It was only last year, at the age of 16, when Sebastian competed for VAR during the last round of the Italian F4 Championship in Mugello. 
The young German from Warngau, just under the smoke of Munich, started his official racing career in karting already at the age of 13. Estner spent only three years doing so before making the leap to Formula racing in 2018.
To gain valuable mileage in his early career, the now 17-year-old competed in the MRF Challenge F2000 and is now ready to make, once again, his appearance on the grid of the ADAC German F4 Championship. 
Rob Niessink, CEO at Van Amersfoort Racing:"It's great to have Sebastian back in one of our race cars, especially since it will be for the full season this time around. It will give us time to help him develop his career, which is something we are very passionate about. Sebastian only sits at the start of his racing career, but we can spot his potential. The team is excited to deliver all he needs to progress, and we obviously look very much forward to the season".
Sebastian Estner: "Knowing that I will be racing Formula 4 with Van Amersfoort Racing again, is extremely exciting. The start of the season was approaching fast, and I must admit I was getting slightly nervous. Now my seat is secured I can fully focus on what I love doing most. I've prepared myself well during the winter time and I am extremely eager to work with the team on making even more progression during the upcoming championship!"
The 2019 season of the ADAC Formula 4 Championship contains 7 events with 3 races each. The season kicks off on April 26that the Motorsport Arena Oschersleben. After that the VAR F4 team visits the Red Bull Ring, Hockenheimring and then make their way to the Zandvoort, located in the dunes of the Dutch coast line. Next stop is the Nürburgring, where after the team returns to the Hockenheimring. The season finale takes place at the Sachsenring in the last week of September.