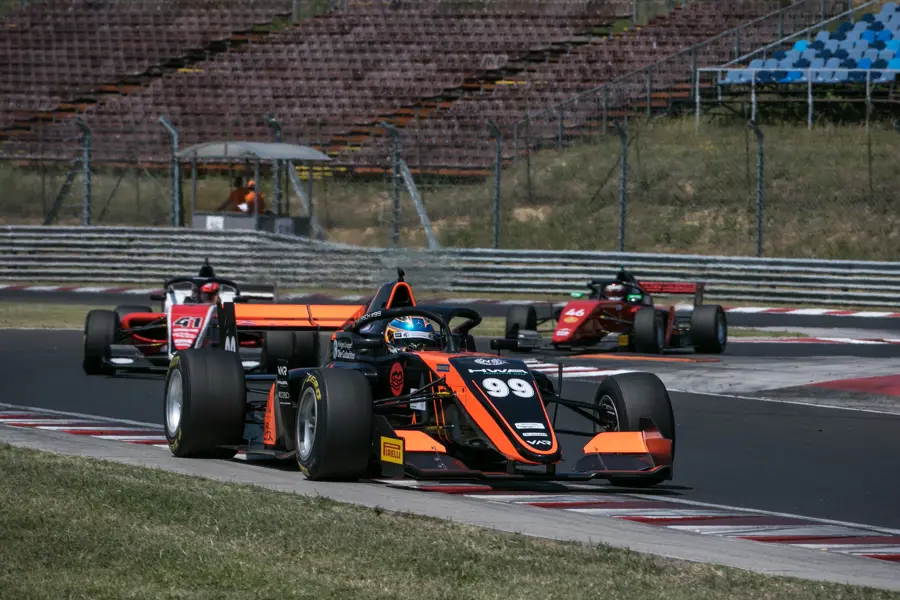 Encouraging progress in Formula Regional at the Hungaroring
11/07/2019
Van Amersfoort Racing was present in a two driver line up at the 3rd round of the FIA Formula Regional Championship. The combined efforts of the team, Sophia Flörsch and fresh VAR driver Alexandre Bardinon paid off in Hungary. The highlights at the Hungaroring: Sophia qualified third in the second qualifying and finished P4 in race 2.
Sophia Flörsch has put a lot of extra work into the simulator and her physical during the last few weeks which became visible from the first session on. The battle for grid positions motivated the 18-year-old German even more. Sophia finished fifth after the first qualifying session and during the second session she settled on second row. With her flying lap of 1:39,658 min. she was third fastest, only 0,333 sec. behind on the polesitter!
Her progress became also visible during the races. After a valuable 7th place in the opening race, Sophia just missed out the podium in the second race. During 19 laps she battled for the final podium position. A very strong proof of the progress she has made in such a short time. In the third and final race Sophia copied her performance of race 1 and finished in 7th position. In her most continuous performance in the FIA Formula Regional Championship so far, Sophia collected 24 points this weekend.
Last week we were happy to announce the collaboration with the 17 year-old Frenchman Alexandre Bardinon. This weekend Alexandre raced for the first time in the black & orange colours of Van Amersfoort Racing. At the technically demanding Hungaroring the collaboration made a promising start. Alexandre improved session after session; both in lap times as well as in race pace and race craft. Bardinon's best result was a well-earned ninth place in race 3.
Rob Niessink, CEO Van Amersfoort Racing: "It was very encouraging to see that the arrival of Alexandre Bardinon has a positive influence on the whole team. Alexandre has surprised us with his determination and performance. His 9thplace in the final race gives a clear indication of his future possibilities. As for Sophia; at the Hungaroring she has set new benchmarks for herself. Overseeing the improvements, her first podium result in the FIA Formula Regional championship is just a matter of time."