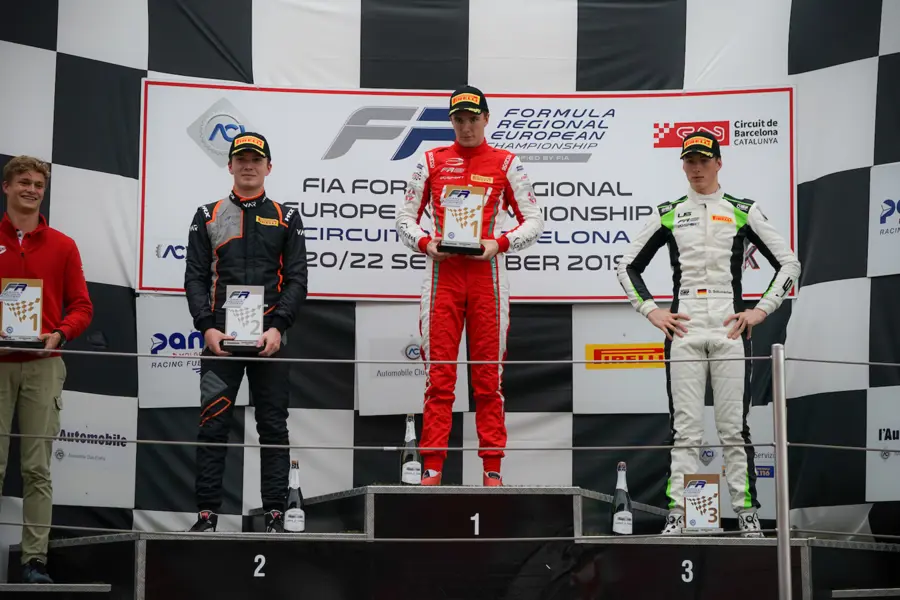 Break through podium results in Formula Regional
24/09/2019
The addition of a third driver to our Formula Regional squad had immediate positive effect. It was comeback kid Dan Ticktum who secured two second places for Van Amersfoort Racing at the Grand Prix circuit of Barcelona. It marked the first podium results for VAR since entering the FIA Formula Regional European Championship.
Only one day prior to Friday's first free practice, we were able to announce Dan Ticktum as third VAR driver in the FIA Formula Regional European Championship. With barely any time left on the clock, the experienced Briton joins German Sophia Flörsch and Alexandre Bardinon from France for the sixth round of the championship, held at the famous Barcelona-Catalunya Circuit in Spain. 
The qualifying sessions were completed in challenging conditions; slightly wet track dictated rain tires. Despite the conditions, Sophia set a razor-sharp performance in the first qualifying session by securing the 5thfastest time. Dan followed in P6, while Alexandre was 11th fastest. In the second session Dan proved to be a fast learner. With a flying lap within 0,1 sec. off the championship leader, Ticktum promoted himself to second row, taking 4thposition. Sophia placed herself on P7 and Alexandre took 11th position on the grid. 
The challenging conditions continued in race one; damp conditions with all cars on slicks. Sophia passed championship leader Frederik Vesti at the start to take 4th, Dan followed just one position behind. During a hard-fought battle for position, Sophia collided with one of her competitors when entering the La Caixa turn. This unfortunate get-together resulted in a 25-sec. time penalty for Flörsch. Luckily, she was able to continue and pushed her #99 car to 9th position in the rankings. A very respectable result considering she had to fight back from two collisions, of which one she was a pure victim. Alexandre impresses with a third fastest race-lap and finished just outside the top ten on P11. After the restart Dan was already in P3. In the final round the Briton used all of his racing experience performing a clean maneuver on David Schumacher. Ticktum's second position marks the very first podium finish for Van Amersfoort Racing in the FIA Formula Regional European Championship.
In the second race Dan Ticktum was just two laps away from another podium finish after withstanding the pressure of Frederik Vesti for almost half of the race. Having used too much of his tyres, Dan gradually lost grip during the final stage of the race which pushed him back to fifth place at the checkered flag. Sophia improved her first race performance; she fought her way to P8 when crossing the finish line. Alexandre copied his performance of race one and finished 11th.
With a rocket start Dan launches himself from P4 to P2 in the third and final encounter. For the remainder of the race VAR's newcomer manages to keep his second position without any trouble. A perfect finish to a successful debut with Van Amersfoort Racing. Sophia Flörsch also ends with a strong performance. After starting in 7th position, her P5 is her best result of the weekend. Alexandre was unfortunate in his final appearance. A jumpstart caused a drive-through penalty. Later-on in the race Bardinon came in contact with a competitor during a fight for position. Race control penalized Bardinon for this move and handed him a time penalty; basically, a race to forget. 
Rob Niessink, CEO Van Amersfoort Racing: "After the successes in the German F4 Championship last weekend, we can now look back at our best season performance in the FIA Formula Regional European Championship. It of course is encouraging to see we could give Dan a car to finish on the podium with twice this weekend. As we all know, the benefits of running a third car in the team are obvious. It allows for better data- and driving style comparisons and, even though there's still room for improvement, it is clear we've made good progress throughout the weekend. After this strong team performance, we are motivated to look for new successes in FIA Formula Regional in the forthcoming two events."
Barcelona Race Weekend Summary
 
Qualification 1
Fittipaldi P1, Vesti P2, Schumacher P3, Flörsch P5, Ticktum P6, Bardinon P11
 
Qualification 1
Schumacher P1, Fittipaldi P2, Vesti P3, Ticktum P4, Flörsch P7, Bardinon P11
 
Race 1
Vesti P1, Ticktum P2, Schumacher P3, Flörsch P9, Bardinon P11
 
Race 2
Schumacher P1, Fittipaldi P2, Vesti P3, Ticktum P5, Flörsch P8, Bardinon P11
 
Race 3
Schumacher P1, Ticktum P2, Fittitpaldi P3, Flörsch P5, Bardinon P11