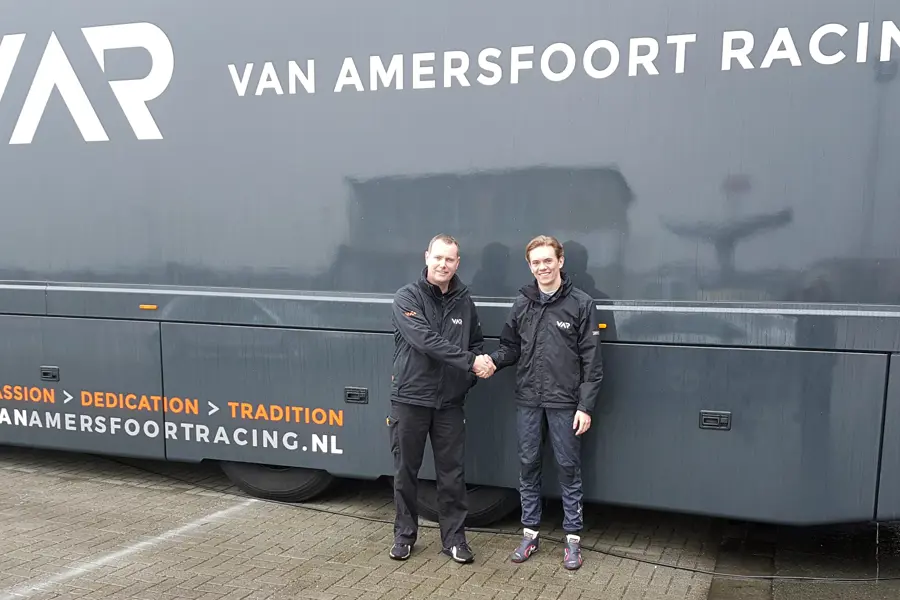 Lucas Alecco Roy continuous his special route with Van Amersfoort Racing
13/03/2018
Only 15 months ago Lucas Alecco Roy was engaged full-time in equestrian sports as a talented dressage rider. In only his second season in motorsport, the 21-year old German has taken on a new challenge: the 2018 ADAC German Formula 4 Championship as a member of the Van Amersfoort Racing F4 team.
From one type of horse power into the horsepower of an ADAC Formula 4 car; Lucas Alecco Roy selected a rarely seen route into motorsports. He never competed in go karts or any other form of motorsports. Despite this lack of past experience, Lucas managed to score championship points in the British F4 Championship 2017 during his rookie season.
The route towards the 2018 ADAC Formula 4 took the young German to the United Arab Emirates for the UAE F4 Championship. With the experience of 24 races under his belt, he had 17 point-scoring results and reached 5th position in the final standings, Lucas teams up with Van Amersfoort Racing for the forthcoming European racing season.
Jeroen de Jong, team manager at Van Amersfoort Racing's F4 team: "I have been involved in motorsport for over two decades and I cannot remember a more special career path into racing. It defines Lucas' passion for the sport. We are going to use all our experience to help him catch up with the experienced competition. During the simulator sessions over the winter, Lucas clearly showed progress, and more important, a huge dedication to improve and learn. A promising approach which we really enjoyed.
Lucas Alecco Roy: "The German ADAC Formula 4 Championship will be an exciting new step in my racing career. I am happy that I can team up with Van Amersfoort Racing (VAR) for my second season in motorsport. VAR is the team to race for in German F4. The experience of Jeroen and his team will be of great value in my ambition to be an even more competitive driver."
The 2018 season of the ADAC Formula 4 Championship contains 7 events with 3 races each. The season kicks off on April 13th at the Motorsport Arena Oschersleben. After that the VAR F4 team visits the Hockenheimring, the Lausitzring, the Red Bull Ring in Austria, then return to the Hockenheimring sharing the weekend with Formula one, followed by the Nürburgring before the season finale takes place again at the Hockenheimring in the third week of September.
Van Amersfoort Racing is a racing team based in the Netherlands. It was founded by Frits van Amersfoort in 1975. Since then Van Amersfoort Racing has built a long tradition of supporting up-and-coming drivers on their way to higher levels. Drivers like Max and Jos Verstappen, Giedo van der Garde, and Charles Leclerc all raced for Frits van Amersfoort's eponymous team in the early stages of their careers before making it into Formula 1.