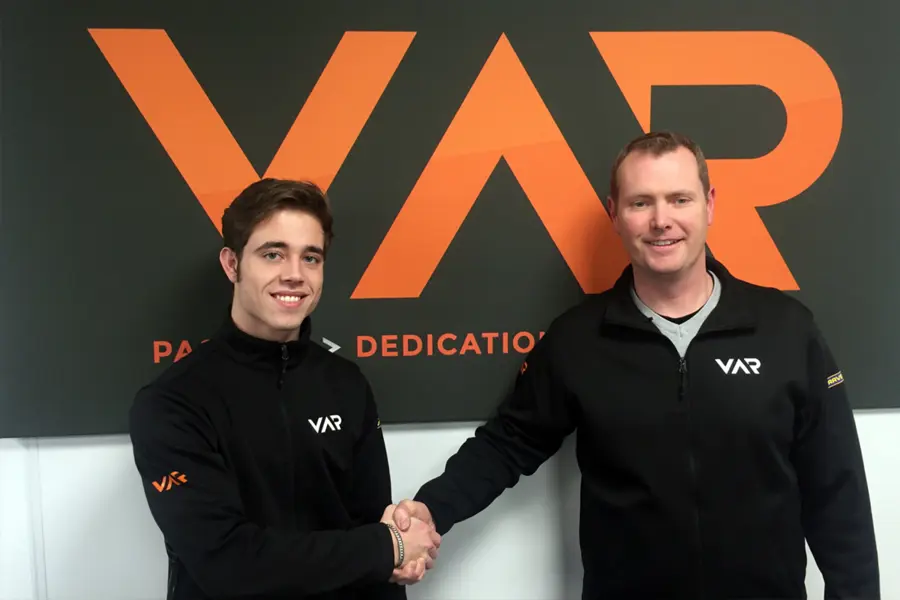 Joey Alders graduates to single seater racing with Van Amersfoort Racing
13/02/2018
Reigning karting champion Joey Alders from the Netherlands will make his car racing debut with Van Amersfoort Racing. The 18 year old driver joins VAR for the ADAC Formula 4 German championship 2018 season.
Strong from his championship winning season in the Dutch Rotax DD2-Class, Joey joined us during the winter tests in Barcelona and Valencia last December. Joey gave a good impression of his talent and managed to set some string of fast laptimes.
In preparation towards his racing debut at the Oschersleben race track mid April Joey will join our Formula 4 squad for multiple test days on several tracks in Europe. Onwards the Formula 4 season the Dutch driver will also step into our racing simulator at our headquarters in Zeewolde on a regular basis.
Jeroen de Jong, team principal of the Van Amersfoort Racing F4 team: "It is good to see that talents from karting find their way into single seater racing. Joey made a strong impression during the test days. Especially considering the fact that he never was behind the steering wheel of a Formula 4 car before. We are looking forward to accompany Joey in his ambition to succeed in motorsport."
Joey Alders says: "It is a great chance growing into single seater racing with Van Amersfoort Racing. In my opinion Van Amersfoort Racing is the best team in the ADAC F4 championship. Racing with a Netherlands based team as a Dutchman makes it even more special. I want to be directly competitive. The experiences so far and the smooth collaboration with the team gives me all the confidence I need."
The 2018 season of the ADAC Formula 4 Championship contains 7 events with 3 races each. The season kicks off 13 April at the Motorsport Arena Oschersleben. After that the VAR F4 team visits the Hockenheimring, the Lausitzring, the Red Bull Ring in Austria, the Nürburgring and the Sachsenring before the seasons finale takes place at the Hockenheimring in the third week of September.
Van Amersfoort Racing is a racing team based in the Netherlands. It was founded by Frits van Amersfoort in 1975. Since then Van Amersfoort Racing has built a long tradition of supporting up-and-coming drivers on their way to higher levels. Dutch drivers Max and Jos Verstappen, Christijan Albers, Giedo van der Garde and Huub Rothengatter all raced for Frits van Amersfoort's eponymous team in the early stages of their careers before making it into Formula 1.