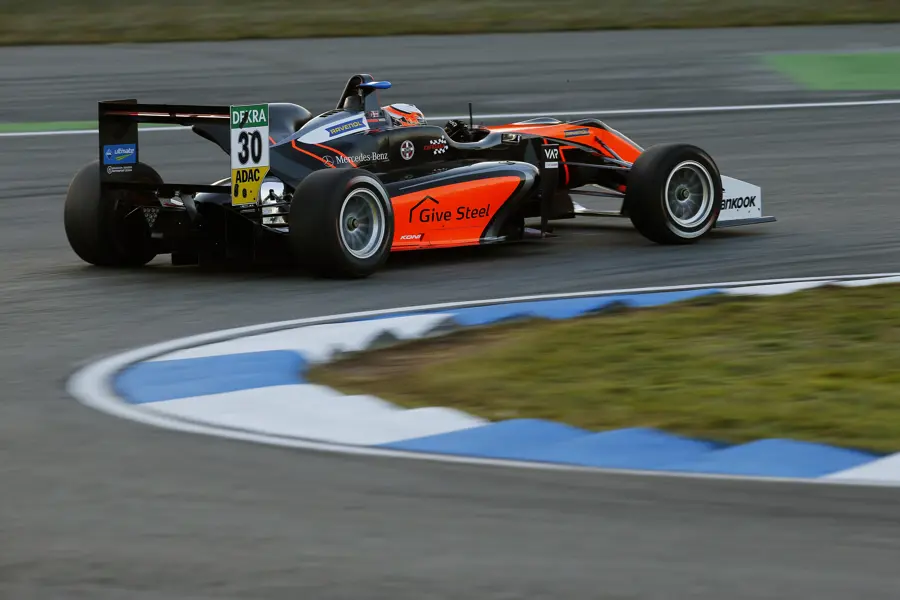 A pair of top ten results for Van Amersfoort Racing in season finale
15/10/2018
Bright sunshine, a large crowd and good racing were the ingredients for a successful season finale of the 2018 FIA Formula 3 European Championship. At the Hockenheimring Baden-Württemberg, Van Amersfoort Racing was running four cars for the first time this season, with young Danish hotshoe Frederik Vesti having graduated from the team's F4 squad to join the VAR F3 regulars Sophia Flörsch, Keyvan Soori Andres and Artem Petrov.
It was Keyvan who made a first impression as the weekend got underway with free practice on Friday morning. With his lap time of 1m32.753s, he was classified second from the 24 drivers in the field in first free practice. In the combined results of the two free practice sessions of 45 minutes each, Artem was the best-placed driver of the Dutch team in eleventh place, followed by Keyvan in twelfth. Sophia and Frederik ended up 19th and 20th respectively.
Frederik then caught the attention of most in the Formula 3 paddock by putting his VAR Dallara-Mercedes eighth on the grid in qualifying for race 1, a fine performance in his first-ever participation in the highly competitive championship. Artem just missed out on a top ten qualifying result in eleventh place, Sophia and Keyvan followed in 18th and 20th place.
In qualifying for race 2, Sophia led the way for the VAR drivers in 17th place, followed by Artem in 20th, Frederik in 21st and Keyvan in 23rd position. Remarkably, the lap times of the first 22 drivers were within 0.972 of a second, which made it clear once again how close competition is. The ranking of the second-fastest laps in second qualifying to determine the grid positions for race three saw Sophia in 17th place again from Frederik in 19th, Artem in 21st and Keyvan in 23rd.
In race 1, interrupted by two safety car interventions, Frederik showed his speed and brought the car home in tenth position. As a guest driver, he was not eligible to score championship points, but he clearly showed his skills with the result. Artem followed in 13th place, Sophia was 15th and Keyvan 17th.
The safety car was out again following an accident on the opening lap of race 2, but apart from that, there wasn't too much action. Nevertheless, two of the VAR drivers managed to make up some positions and Artem finished 16th, Keyvan 17th, Sophia 19th and Frederik 20th. 
The third and final race of the season-ending weekend also marked the last-ever race of the FIA Formula 3 European Championship in its current iteration. Sophia in particular made good progress and temporarily ran in the top ten. Her duel with her perpetual nemesis Jüri Vips was one of the highlights of the race, but according to the stewards, she slightly overdid it in the battle with Marino Sato. As a result, Sophia was handed a 20 seconds' time penalty and although she finished 11th on the road, she ended up classified 18th. Sophia's penalty promoted Artem to tenth, scoring the final championship point of the season. Frederik was classified 14th, Keyvan ended up 20th after a drive-through penalty because of track limit infringements.
Rob Niessink, CEO of Van Amersfoort Racing: "First of all, congratulations to Mick Schumacher on winning the FIA Formula 3 European Championship title. Let's not forget that he also is a VAR graduate as we ran him for his first season of single-seater racing in ADAC F4 in 2015. Congratulations also to Prema on another great season. For us, it was nice to have Frederik on board for the final European Championship weekend. Having worked with him in F4 for two years, we knew that he was ready for the next step and he showed that we were right. Sophia again showed entertaining battles and demonstrated her competitive spirits. Good to see Artem pick up the final championship point. For Keyvan, unfortunately his penalty kept him from finishing his season on a high."
The next race event for Van Amersfoort Racing is the prestigious Macau Grand Prix – FIA Formula 3 World Cup, mid-November.