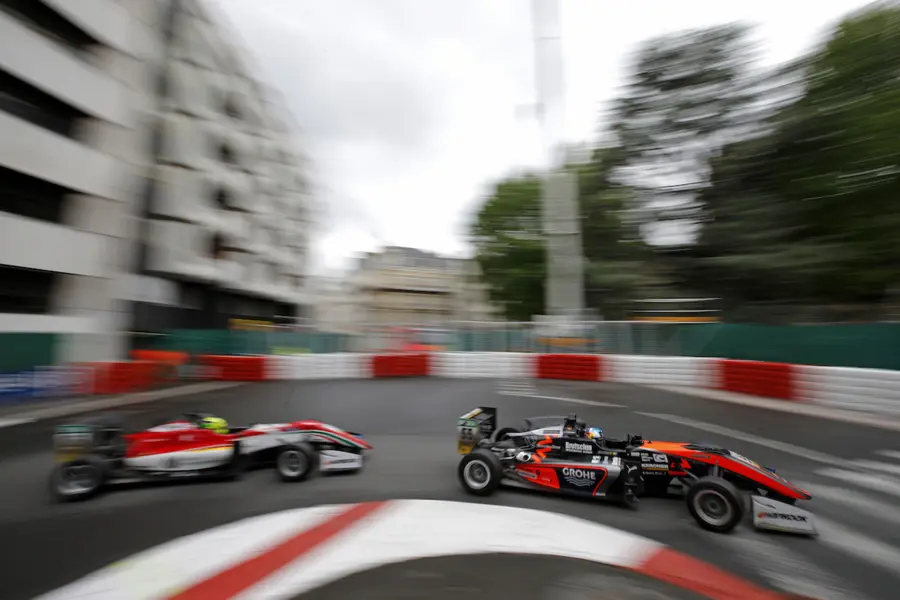 Inspiring performances in streets of Pau
25/05/2017
Pau is one of the most exciting tracks in the FIA F3 Formula 3 championship. Van Amersfoort Racing travelled to the central south of France for the third event of the year. After walking the thin line between flying low and crashing out at this street circuit, we went home with two fourth places by Harrison Newey and three more top 10 results.
Racing this brave street track of 2,760 km needs another mindset. There is only one way to success: jumping the curbs, shaving the walls and search for the limits of both car and driver every single moment. The fact that the best qualified drivers in the overall standings crashed out in one or more races, says it all. Without risks, no glory in Pau.
In qualifying session one it was our Australian F3 rookie Joey Mawson who showed his natural talent by setting 5th fastest time in his first ever weekend in the narrow streets of Pau at the wheel of a Formula 3 car. In session two Harrison Newey proved to be the fastest Van Amersfoort Racing driver taking P7 for the second race and P5 for the final battle on Sunday.
Joey Mawson seemed on route for his first F3 podium until he got surprised by a short local rain shower at the high-speed Parc Beaumont turn, losing the control of his car. Also the following driver had to retire after hitting the barriers at that point. Now Harrison Newey was the best performing VAR driver in sixth position after a start from P12! He had to resist the attacks by his teammate Pedro Piquet. The Brazilian found the pace from P10 on the grid.
Harrison Newey extended his strong performance in the next two races. In both occasions the Briton finished fourth, marking his best personal performances in Formula 3 until now. With a little bit more luck during the restart of the final race the Briton could have been on the podium after being held up in the run to the first corner.
That last race was quite eventful. Short before the restart Joey bent his front suspension after a brave overtaking maneuver. As this altered the handling of his car the Aussie could not avoid a collision with the car in front, causing a retirement. 
In all the chaos at the restart Pedro Piquet, our youngster from Brazil, kept cool, made no mistakes and rewarded himself with his second top 10 finish of the weekend: 8th position. David Beckmann had to stay a night in hospital in the week before the race. The young German reacted allergically to a hay fever medicine. Despite all this trouble David still managed to finish eleventh in the first race.  On Sunday his race was shortcut after crashing out due to a suspension failure after hitting the curbs.
Rob Niessink, CEO of Van Amersfoort Racing: "We are quite satisfied with the performance of the car. The overall speed was good. We could have been on the podium twice, but in Pau you have to take risk to be in the position for a top 3 finish. Considering that I think all our four drivers have given their best. This is solid ground for the rest of the season."
Race 1
1. Joel Eriksson    Motopark            Dallara/Volkswagen    34m59.570s (23 laps)
2. Lando Norris    Carlin                Dallara/Volkswagen    0.243s
3. Maximilian Gunther    Prema Powerteam        Dallara/Mercedes    2.636s
6. Harrison Newey    Van Amersfoort Racing    Dallara/Mercedes    4.564s
7. Pedro Piquet    Van Amersfoort Racing    Dallara/Mercedes    5.383s
11. David Beckmann    Van Amersfoort Racing    Dallara/Mercedes    8.229s
Joey Mawson        Van Amersfoort Racing    Dallara/Mercedes    DNF
Race 2
1. Maximilian Gunther        Prema                Dallara/Mercedes    34m14.016s (29 laps)
2. Lando Norris        Carlin                Dallara/Volkswagen    1.953s
3. Callum Ilott            Prema Powerteam        Dallara/Mercedes    5.287s
4. Harrison Newey        Van Amersfoort Racing    Dallara/Mercedes    11.883s
13. Pedro Piquet        Van Amersfoort Racing    Dallara/Mercedes    27.824s
14. David Beckmann        Van Amersfoort Racing    Dallara/Mercedes    28.920s
16. Joey Mawson        Van Amersfoort Racing    Dallara/Mercedes    3 Laps
Race 3
1. Maximilian Gunther        Prema Powerteam        Dallara/Mercedes    34m23.254s
2. Callum Ilott            Prema Powerteam        Dallara/Mercedes    1.952s
3. Ralf Aron            HitechGP            Dallara/Mercedes    3.237s
4. Harrison Newey        Van Amersfoort Racing    Dallara/Mercedes    6.786s
8. Pedro Piquet        Van Amersfoort Racing    Dallara/Mercedes    11.979s
Joey Mawson            Van Amersfoort Racing    Dallara/Mercedes    DNF
David Beckmann        Van Amersfoort Racing    Dallara/Mercedes    DNF
Championship standings
1. Joel Eriksson                 139
2. Lando Norris                 139
3. Maximilian Gunther                 137
8. Harrison Newey Van Amersfoort Racing 43
14. Pedro Piquet Van Amersfoort Racing     18
15. Joey Mawson Van Amersfoort Racing     14