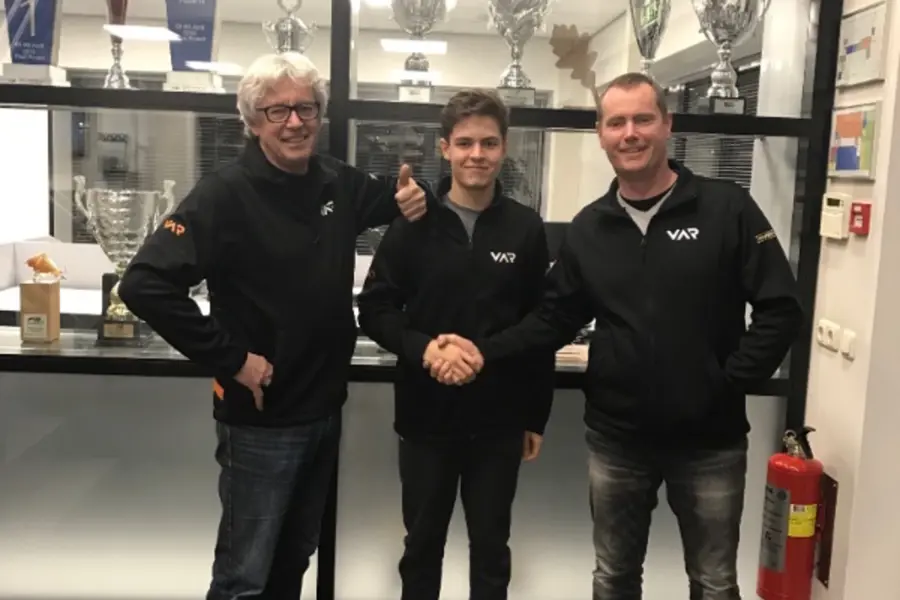 Brazilian hope Felipe Drugovich joins Van Amersfoort Racing
19/01/2017
With a little less than 100 days before the 2017 ADAC Formula 4 championship season kick off, Van Amersfoort Racing is happy to welcome Felipe Drugovich as a new member of its Formula 4 squad.  The Brazil-born driver will enter his second season in one of the most challenging open-wheel European development series: the ADAC German F4 Championship. This 2017 campaign, the 16 years old driver will spend it under the guidance of the renowned Netherlands-based team.
Following a 2016 season where it earned the driver's championship, and scored 11 wins and 21 podiums, several drivers have shown interest in joining VAR, a team with a successful quarter century history and an undisputed great tradition in the auto racing community. Felipe Drugovich was amongst them and following several days of testing in recent weeks, where he has shown constant progress and some good and convincing lap times, decision was made to have him on board for 2017. After working out a contract, he became the first driver that the team is proud to confirm for the season scheduled to start April 28, at the Oschersleben Motorsport Arena.
The Brazilian made a remarkable debut in the ADAC Formula 4 championship in 2016. In his rookie season, in such a highly competitive field, the former kart racer impressed by scoring two victories and 11 podiums counting for the Rookie championship, which he ended in fourth position.  
"We are very happy to have Felipe aboard for the coming season. He showed some great results this year and we hope we can help him improve his skills and results even more. The start of our cooperation is both pleasant and promising.  Furthermore, his performances in the winter-based MRF Challenge are so far impressive, indicating that his progress is constant. That's extremely encouraging on the eve of the 2017 Formula 4 season", says TeamPrincipal and Founder Frits van Amersfoort.
Van Amersfoort Racing Formula 4 team manager Jeroen de Jong adds: "We had Felipe on our radar for most of last season, and even our 2016 drivers kept telling us to have an eye on him. Being from another part of the world, coming to Germany to further his progress in motorsport is a testimony that he has the passion and dedication, in order to succeed. Those are values we highly regard.  In testing so far, he impressed us by the mature way he approaches racing and his abilities are quite clear. We are very happy to have Felipe on board."
"I am extremely pleased with the turn of events in my career, especially this great new association with a group that has a fantastic track record; and which has also proved over the years that it never neglects any possibilities to make their young drivers successful", says Felipe Drugovich. "As they did for me last year, I also was watching closely the way they operate and frankly, my family and I were impressed. Even more since I had the opportunity to meet the whole team and visit their headquarters. I really look forward to a great second Formula 4 season as a VAR driver."
As indicated above, the 2017 ADAC Formula 4 championship season kicks off the last weekend of April in Germany. Teams will gather for seven rounds at six different race courses, located in Austria and Germany. Drivers will enter three races per weekend, 21 in total for the year.