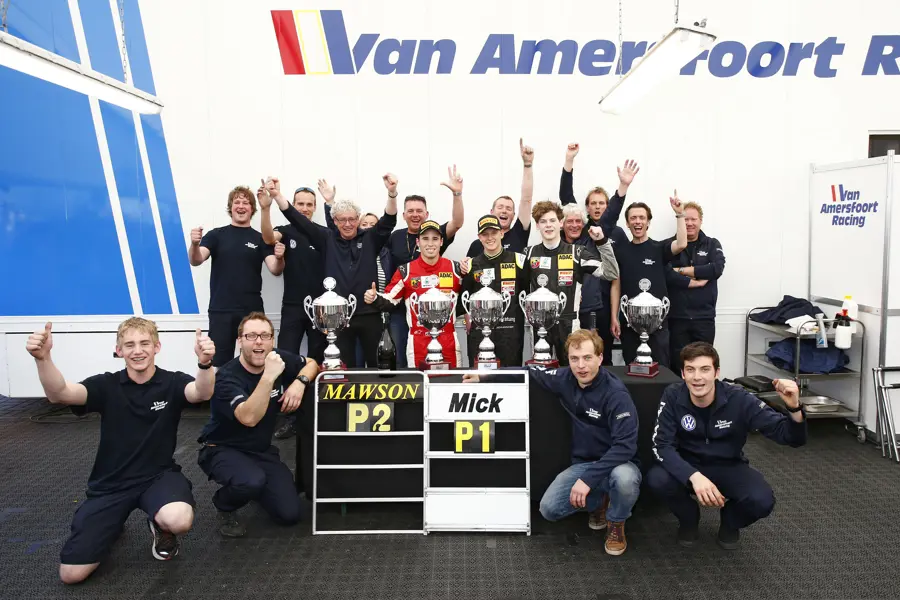 Winning mood from the start
22/05/2015
Van Amersfoort Racing is proud to be part of the birth of the all new ADAC Formula 4 Championship. No less than 37 promising young drivers were present at the season kick off at Motorsport Arena Oschersleben. Our three youngsters Mick Schumacher (16), Joey Mawson (19) and Harrison Newey (16) made an excellent debut, with the double victory of Mick and Joey in the final race as the absolute highlight!
The first three of 24 races this season took place at the twisty track of Oschersleben. A perfect environment for promising racing drivers to sharpen their talents because of the demanding lay-out.
Race 1: Joey P6, Harrison P7, Mick P9
By finishing ninth in his first formula racing outing Mick Schumacher showed not only he is a fast learner, but the son of Michael Schumacher also secured a front row starting position for the final race on sunday. For every third race of each event reversed grid for the top 10 is taking place. 
With his 9th place former go-karter Mick also proved to be the fastest Rookie. Joey Mawson battled his way up from the midfield after loosing out from his second start position. The strong come back of the Aussie resulted in 6th place, just in front of Briton Harrison Newey, who had a solid run in the opening race of the season.
Race 2: Joey P4, Mick P12, Harrison P13
In the second race of the weekend Joey Mawson finished fourth after his start from 3rd position. He battled for the last podium spot with Ralf Aron, but had to settle for 4th after the second safety car period when the Aussie driver lost out on momentum.
The other two VAR drivers finished with the top 10 in sight: Mick Schumacher 12th and Harrison Newey 13th. Schumacher scored solid points for the rookie championship with his third place.
Race 3: Mick P1, Joey P2, Harrison P27
The final race was much like a thriller. All three VAR drivers started in promising positions: Mick P2, Harrison P4 and Joey P5. After a strong start Mick managed to overtake polesitter Thomas Preining with a skillful manoeuvre and kept cool after a re-start following a safety car intervention.
Meanwhile Joey was conquering ground from p5. In lap 8 he managed to pass Tim Zimmermann for second place. The Aussie found the speed to close the gap with his German teammate and opened the battle for victory. Mick defended the first attack with succes.
After one of the competitors skidded of the track, the battle between the two VAR drivers came to an hold. The safety car came on, the race was ended and so it meant Mick Schumacher scored his maiden car racing victory. A big succes in his very first formula racing outing and also our first ever victory in ADAC Formula 4.
The second place for Joey completed the succes for our team and was a nice reward for our Aussie driver after some brave racing. On top of the 1-2 Mick Schumacher automatically was crowned first Rookie. Harrison also looked to be on the move for succes, but he got penalized for a jump start with a drive through penalty.
Championship standings ADAC Formula 4:
1. Marvin Dienst 58; 2. Ralf Aron 45; 3. Joey Mawson 38, 5. Mick Schumacher 27; 12. Harrison Newey 6.
Rookie championship 
1. Mick Schumacher 65; 2. Jonathan Cecotto 48; 3. Thomas Preining 36.