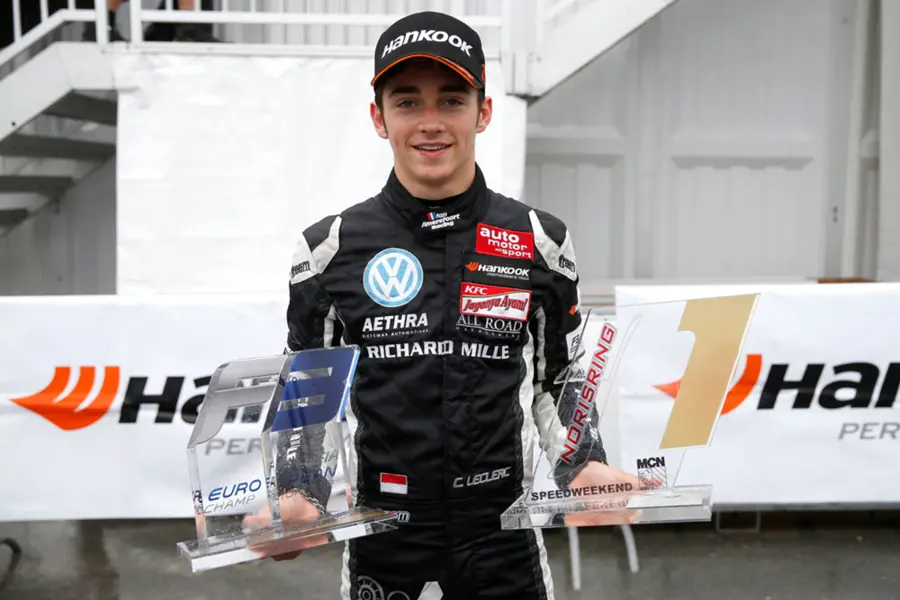 The strategist still leads the championship
29/06/2015
Van Amersfoort Racing survived three action packed races at the Norisring in style. Charles Leclerc gave us the fourth win of the season in the FIA F3 European Championship and our Monegasque rookie proved to be a keen strategist as he extended his championship lead after toping off with a third and fourth place.
Meanwhile Alessio Lorandi is auditing to become a top 10 regular after a finishing 9th in race 2 and 3. Man of character was undoubtedly Arjun Maini in the way he handled the grid penalties after an engine change.
Race 1: Charles P1, Alessio P17, Arjun DNF
The rain gods arranged a big test for the 38 up-and-coming young drivers in the F3-championship in the first race of the weekend. Charles proved to be the best student of all, converting his pole position into a start to finish victory. Where many opponents spun or clinched the wall, the 17 year old championship leader kept cool despite starting and finishing behind the safety car.
Both Alessio and Arjun had their issues on the very wet street track. Our Italian rookie did not manage to benefit from his strong qualifying in 8th position and finished in 17th spot. Arjun was unfortunate during his way up and had to visit the pits for a new rear wing. Soon after he was hit frombehind by another car and had to retire.
Race 2: Charles P3, Alessio P9, Arjun P14
Race two was Formula 3 racing at his best. Sometimes hectic, sometimes a little rough, but with a true racing spirit. Exactly why thousands of German racefans crowded the grandstands at Nuremberg.
Among the hectic of four safety car interventions Charles did his thing again. He survived all the drama and clinched his 13th podium finish of the season. As a bonus he saw how championship contenders Antonio Giovinazzi and Jake Dennis eliminated each other.
Former go karter Alessio got back in pace and scored another top 10 result. He blasted of in 14th spot and crossed the finishing line in 9th position. A proof of both talent and determination. Even more impressive was the battle of Arjun. Our Indian racer had to start from 27 on the grid after a 10 position grid penalty after changing his engine. Our Indian rookie gained no less than 13 positions after! 
Race 3: Charles P4, Alessio P9, Arjun P17
Charles went for the points during the last race at this unorthodox 2300 meters long street circuit. From fifth position the championship leader opted for fourth place, giving him a lead by 42,4 points over Antonio Giovinazzi, who won the last race. 
The last race was almost copy paste for Alessio. Again the young Italian entered the top 10 in ninth position (from 17) and went home with two championship points this weekend. From P25 Arjun fought his way up to 17th place. Again a great performance taken the circumstances.
Championship standings FIA F3 European Championship after round 6
1. Charles Leclerc (Van Amersfoort Racing) 269,5; 2. Antonio Giovinazzi 227; 3. Felix Rosenqvist 203; 16. Alessio Lorandi (Van Amersfoort Racing) 26.; 17. Arjun Maini (Van Amersfoort Racing) 23.