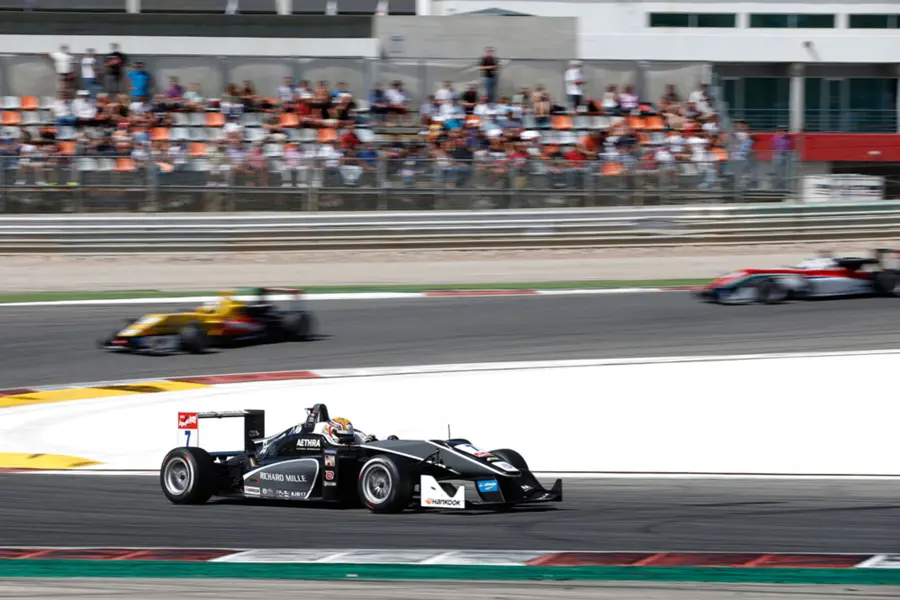 In hot pursuit through the Algarve
09/09/2015
Van Amersfoort Racing would have wanted a more satisfying first acquaintance with Autódromo Internacional do Algarve. Despite all efforts we could not match the pace of the frontrunners in qualifying. Nevertheless our title contender Charles Leclerc managed to reduce the damage with three steady performances during the ninth round of the FIA F3 European Championship.
After a p7, p11 and p11 qualifying result Charles Leclerc knew he would face a challenging weekend. So did Arjun Mundi from India with starts from p17, p16, p18 and Italian Alessio Lorandi who qualified as 23th, 21h en 20th in succession.
Race 1: Charles P6, Alessio P17, Arjun P28
Thanks to a strong start Charles managed to win one position in the opening race at the 4.653-kilometre circuit, which is located not far from Portimão. Our Monegasque haunted for fifth place almost the full 20 laps, but dit not find the gap to overtake opponent Markus Pommer. Along with the steady championship points, Charles closed the gap to opponent Antonio Giovinazzi who finished 9th. Alessio showed real fighting spirit converting his 23th starting position into a 17th place. Arjun struggled from 17th place finishing in 28th spot.
Race 2: Charles P7, Arjun P25, Alessio P27
We would have wished for a better starting position for Charles. In the saturday afternoon the F3 rookie showed his skills by gaining four positions, starting from 11th and finishing well in the points as 7th. Again Charles outpaced Antonio Giovinazzi who finished ninth, but had to allow championship leader Felix Rosenqvist extending his lead after a victory. Both Arjun and Alessio experienced hard times in the second appointment of the weekend. A get together with Callum Ilot forced Alessio to retire in the last lap.
Race 3: Charles P7, Arjun P16, Alessio DNF
Charles did it again on sunday: from p11 to p7. Some adjustments to our the three Dallara Volkswagens also resulted in more consistency in the lap times. Charles used the increased speed to do damage control yet again. Leader Rosenqvist won again, but Charles also outpaced Giovinazzi for the third time this weekend. Arjun finished his weekend off with a clean 16th position, his best performance in the Algarve. Alessio was less fortunate in the last race. After a racing accident with Sam Macleod he spun off, damaged his radiator which caused his engine to overheat.
The hunt for the title continues at the Nürburgring during the last weekend of september, before the finale at the Hockenheim. With six races to go Charles and Van Amersfoort Racing give all to aim for the title in the FIA F3 European Championship.
Standings after the 9th round of the FIA F3 EC:
1. Felix Rosenqvist 378; 2. Antonio Giovinazzi 343,5 ; 3. Charles Leclerc (Van Amersfoort Racing) 324,5.; 18. Alessio Lorandi (Van Amersfoort Racing) 26.; 19. Arjun Maini (Van Amersfoort Racing) 23.