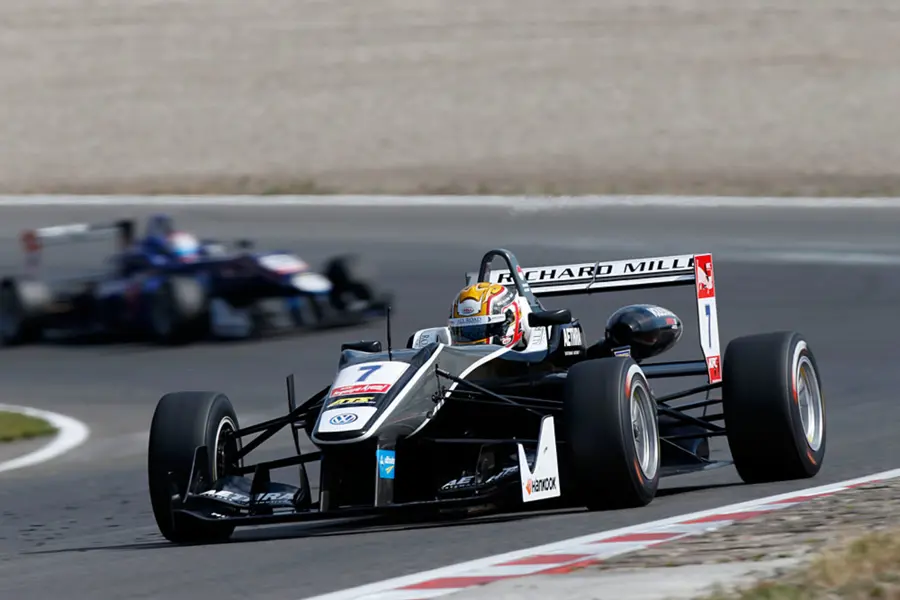 Caught up in traffic at Zandvoort
14/07/2015
Last weekend's seventh round of the FIA Formula 3 European Championship at Zandvoort was Van Amersfoort Racing's home event, although the team's three drivers Charles Leclerc, Alessio Lorandi and Arjun Maini, all newcomers in the category, had less experience of the circuit than the majority of the other drivers in the field.
Monegasque driver Charles Leclerc, who came to Zandvoort as the European Championship points' leader, added more points to his tally by finishing fifth in the first race and tenth in the third encounter. In the second race, he retired with accident damage after being hit by an opponent right after the start. The team's other two drivers, Alessio Lorandi and Arjun Maini, managed to make progress compared to their grid positions in the races. Throughout the weekend, it was apparent that lack of clear laps in qualifying prevented better grid positions and thus also got in the way of better race results as overtaking is notoriously difficult at Zandvoort, especially in a Formula 3 car.
Race 1: Charles P5, Arjun P13, Alessio P30
Heavy traffic in qualifying prevented the drivers from getting better grid positions and, Zandvoort being Zandvoort, the starting grid position frequently equals the classification in the race. This was the case for Charles, who started the race in warm conditions from P5 and finished in that position as well.
Unlike Charles, who at least had found one clear lap in qualifying, Arjun and Alessio had no traffic-free running at all, so they started further down the order in 16th and 25th place respectively. Arjun still managed to gain three places to finish 13th, Alessio dropped back after being tapped into a spin by an opponent on lap two and was classified 30th. 
Race 2: Charles DNF, Arjun P16, Alessio P28
Charles, who had qualified sixth, was hit by another driver right after the start. Initially, he was able to continue, but after the restart following the safety car intervention, he crashed heavily, no doubt the consequence of the damage incurred in the collision. Fortunately, he was able to walk away unscathed, but the fact that the team had to work until 4.30 am to get his car ready again shows how much damage was done.
Our Indian racer Arjun made good progress: he managed to make up six positions from 22nd on the grid to finish sixteenth. Go-kart graduate Alessio started from 30th place and finished 28th.
Race 3: Charles P10, Arjun P17, Alessio P19
We were glad that Charles could take part in this race after all the work done by the team overnight. His race was a carbon-copy of the first race, with his starting grid position also his classification in the race: tenth place for him.
In spite of three safety car interventions, both Arjun and Alessio managed to make up quite some places, partly also thanks to other drivers crashing out ahead of them. Thus, Arjun came 17th after a start from 23rd place. Alessio's progress was even bigger: he started from P27 and finished 19th.
Championship standings FIA F3 European Championship after round 7
1. Antonio Giovinazzi 288; 2. Charles Leclerc (Van Amersfoort Racing) 280,5; 3. Felix Rosenqvist 261; 17. Alessio Lorandi (Van Amersfoort Racing) 26.; 18. Arjun Maini (Van Amersfoort Racing) 23;