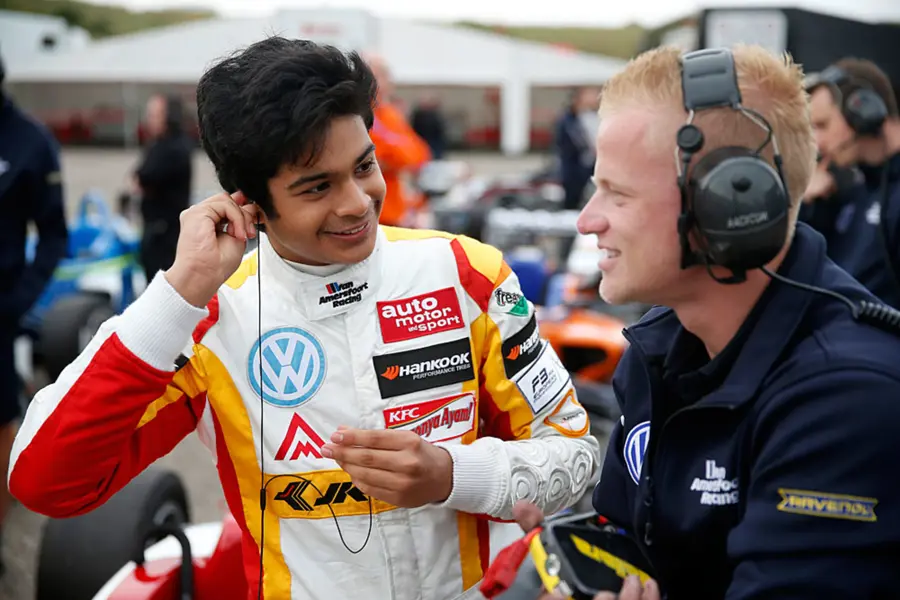 Both rookies in top 10 at Masters of F3
23/09/2015
We went to the 25th Masters of Formula 3 with two rookies. Both Arjun Maini from India and Italian Alessio Lorandi are in the middle of their first season in F3. At Circuit Park Zandvoort they performed like experienced race drivers resulting in two top 10 results: a strong sixth position for Arjun and a solid ninth for Alessio.
After rain showers in the morning the hunt for the pole started on a damp track. All 18 cars were on Kuhmo slicks and with every lap the racing line got dryer and dryer. Our two rookies played a smart game during qualifying. Arjun and Alessio waited as long as possible before setting a clean and fast lap in the 30 minute session.
The result was a third row lock out with Alessio on P5 and Arjun on P6. A promising starting point for the qualifying race on saturday afternoon. In this battle over 12 laps both youngster lost two positions, resulting in P7 for Alessio and P8 for Arjun. Thus being their grid positions for the main race on sunday.
Arjun did a excellent job in the race over 25 laps. Our Indian rookie worked his way up to sixth position, battling with Nabil Jeffri for fifth. The pace was there to gain another position, but the dirty air of his opponent prevented the Indian rookie to get pass. Sixth place is nevertheless a performance to be proud of.
From P7 Alessio got a rocket start and managed to take advantage of the stall by first row runner Markus Pommel, promoting him to sixth position. In the Tarzan Corner our ambitious Italian tried to overtake Nabil Jeffry on the outside, but he ran out of track and lost four positions.
In the remaining of the race Alessio battled hard to gain positions but Zandvoort is notorious for being an extremely difficult track for Formula 3 drivers to overtake. The Italian rookie closed the gap to Callum Ilott but had to settle for ninth position. Resulting in two top ten results for Van Amersfoort Racing in this special edition of the Masters of Formula 3.
Results 25th Masters of Formula 3, Circuit Park Zandvoort
1. Antonio Giovinazzi (Jagonya Ayam with Carlin) Dallara F315 VW, 25 lap
2. George Russell (Carlin) Dallara F315 VW + 8.427
3. Sergio Sette Camara (Motopark) Dallara F315 VW + 11.577
6. Arjun Maini (Van Amersfoort Racing) Dallara F315 VW + 16.783
9. Alessio Lorandi (Van Amersfoort Racing) Dallara F315 VW + 22.897