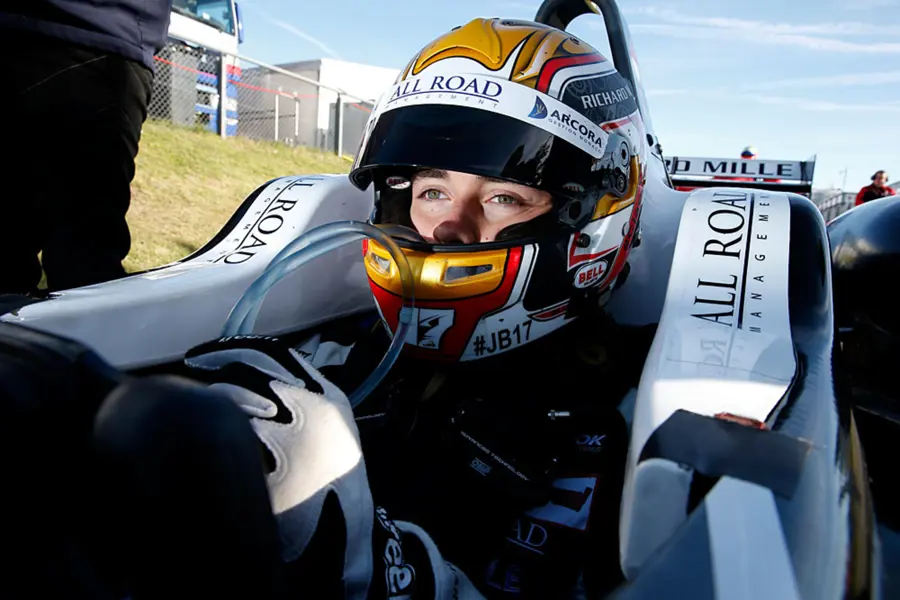 And we have a champion: Charles Leclerc is best rookie in FIA F3 EC
28/09/2015
Four races before the end of the season Van Amersfoort Racing driver Charles Leclerc has crowned himself rookie champion in the FIA F3 European Championship 2015. During the penultimate event at the German Nürburgring the Monegasque youngster secured the title with a string of three second place finishes in the rookie ranking. An appropriate reward for Charles' consistent race performance throughout the season.
"Charles has proven to be a quick learner. Straight out of the Formula Renault 2.0 he immediately was among the best drivers in the field, so it is well deserved that Charles is the rookie champion in FIA F3 European Championship 2015", says a happy team owner Frits van Amersfoort after winning this important title.
The performance of Charles this weekend is a carbon copy of his style throughout his first season in the highly competitive Formula 3: combining both fast and clever driving. In the opening race he secured both good points for the rookie and overall championship by finishing fourth after being fifth on the grid. A solid performance knowing Charles had to deal with a damaged front wing for two thirds of the race.
In an chaotic second race Charles kept cool despite two restarts after safety car interventions. Starting from sixth he brought his Dallara Volkswagen home in fifth place overall and second placed rookie. Collecting 18 points for the rookie standings meant Charles could not be caught anymore by his fellow rookies George Russel and Lance Stroll.
In the most dramatic race of the weekend on sunday, with no less than three safety car periods, the fresh rookie champ collected another rookie podium and made up lost ground in the battle for the vice overall championship. While routinier Felix Rosenqvist picked up the overall title, our Monegasque rookie closed the gap with Antonio Giovinazzi by finishing fifth, his Italian opponent only being 13th.
The margin between the Van Amersfoort Racing driver in third and second placed Giovinazzi is only six points. The three races during the season finale at the Hockenheim Ring mid october will point out who will become the vice champion.
The other two drivers of Van Amersfoort Racing performed with ups and downs in the Eiffel. Arjun Maini finished a very impressive 8th in the opening race, marking his best season performance so far. Eight place also meant collecting four championship points. In race two and three our Indian Rookie finished 12th and 16th respectively. The former go-karter Alessio Lorandi showed his speed in qualifying by setting 10th fastest time for race two, but was less fortunate during the races with 19th place in race 1 and two DNFs in the second and third meeting.
Current standings after to the 10th round of the FIA F3 EC:
1. Felix Rosenqvist 453 (champion); 2. Antonio Giovinazzi 362,5; 3. Charles Leclerc (Van Amersfoort Racing) 356,5. (rookie champion); 18. Arjun Maini (Van Amersfoort Racing) 27; 19. Alessio Lorandi (Van Amersfoort Racing) 26.