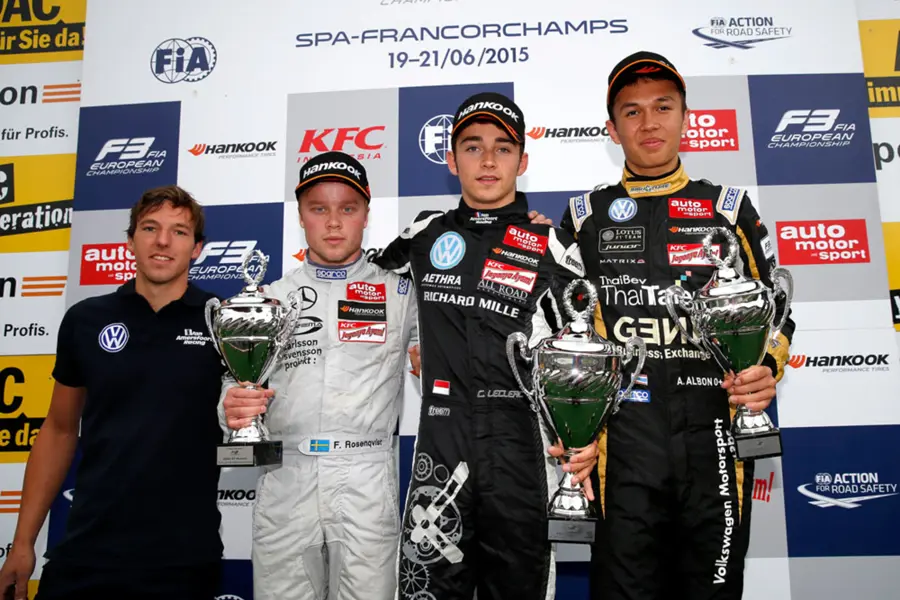 And now Charles is in front of the pack
23/06/2015
Van Amersfoort Racing driver Charles Leclerc did a very decent job at Spa-Francorchamps. Our Monegasque driver scored his 3rd win, a sixth and a second place and takes the lead in the FIA Formula 3 European Championship. Alessio Lorandi marked his debut at the famous F1-track with three top 10 results, while Arjun Maini gathered precious experience. A rewarding weekend for the Dutch racing team.
Race 1: Charles P1, Alessio P10, Arjun P17
Started from sixth place Charles proved razor sharp when his two opponents Felix Rosenqvist (Sweden) and Antonio Giovanazzi (Italia) collided and were forced to retire. Our Monegasque driver grabbed the lead and brought the VAR Dallara Volkswagen home to secure his 3rd win of the season. The DNF of leader Giovanazzi meant that Charles took over the lead in the championship. 
Alessio qualified 16th, but had to start p25 due his penalty for a engine change. The Italian rookie kept out of trouble and made his way up front. Finishing 10th was a well earned reward for the former go-karter. From 29th position Arjun gained a lot of positions bringing him 17th place after 16 laps of racing.
Race 2: Charles P6, Alessio P10, Arjun P23
In an eventful second race at the Spa-Francorchamps Grand Prix track Charles managed to battle his way up from 14th to 6th position. With this result he increased his championship points' lead, also because rival Felix Rosenqvist did not finish and former leader Antonio Giovanazzi finished behind Charles in 9th position.
Alessio bonded raw speed with intellect during the race who was interfered by three safety car interventions. Again he managed to score points, coming from p21 to p10. Our driver from India Arjun was less lucky this time. After a collision he had to visit the pits to replace his front wing. Arjun ended the shortened race over 12 laps in 23h position.
Race 3: Charles P2, Alessio P7, Arjun P16
The third race of the weekend opened with some driving on thin ice, as the 7.004 km Ardennes track was wet but not wet enough for rain tires. Charles showed fine car control by steaming up from 9th to second after a handful of laps. A hunt for leader Jake Dennis in the closing laps brought the championship leader close, but not close enough to charge for the win.
As Felix Rosenqvist finished behind in 5th and Antonio Giovinazzi came in outside the points, Charles extended his championship lead to a 28,5 point margin over race winner Jake Dennis. Since all good things go by three Alessio made a giant leap forward again in his third race. His 7th place (started 20!) marked his best performance of the weekend. Also Arjun left Belgium with a personal best result. He ended 16th in the final race.
Championship standings FIA F3 European Championship after round 5
1. Charles Leclerc (Van Amersfoort Racing) 217,5; 2. Jake Dennis 189; 3. Felix Rosenqvist 188; 15. Arjun Maini (Van Amersfoort Racing) 23; 16. Alessio Lorandi (Van Amersfoort Racing) 22.