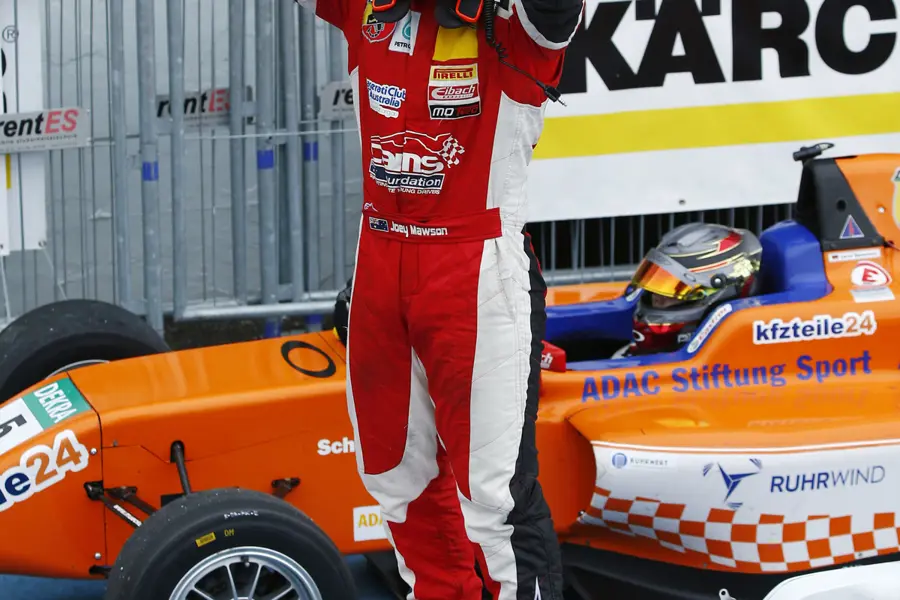 And at the end we are on the podium!
07/10/2015
Race 1: Harrison best VAR driver, bad luck for Mick
Briton Harrison Newey (17) was our best performing driver during the first race in 7th position. Mick Schumacher (16) was in contention for a podium for quite a long time at the classic 4,574 km track. The German rookie improved from ninth to P4, but had to retire with a damaged car on lap 13th. Joey Mawson (19) made a tough start of the weekend. He had to visit the pits after damaging his front wing and work his way up form behind to  10th place after a start from P6. Canadian Kami Laliberte (15), started from P16, climbed the rankings to a rewarding 12th spot.
Race 2: Joey on the podium, Mick third in rookie championship
On saturday afternoon Joey Mawson had a very strong start from 6th and was battling for the lead, before a string of safety car interventions interrupted the action and the race was red flagged after an accident in the final lap. A third place marked yet another podium finish for him. Mick Schumacher finished a strong fifth position after gaining four places in the shortened race. By finishing 5th the German rookie also sealed of his third position in the rookie championship. Harrison Newey (9th) and Kami Liberte (10th) topped off our complete top 10 finish. 
Race 3: all four in the top 8
The 24th and final race of the season proved to be hectic again with one red flag and two safety car interventions in 11 laps. In the rumble Joey Mawson (19) kept cool. He bagged his fifth win of the season after a clean start to finish victory. "I just missed finishing runner-up in the championship by 2 points, unfortunately. Still, I can't blame myself, because it was simply not possible to achieve more than first place in the last race. The car was brilliant again thanks to the team."
All four drivers of Van Amersfoort Racing finished in the top 8. Mick Schumacher did an amazing job by starting P27 and finishing P7, thus gaining 20 positions! Harrison Newey scored his second top 10 finish of the weekend in 6th position, while our young Canadian gun Kami Laliberte completed the succes by grabbing 8th position.
Final standings ADAC Formula 4 championship 2015
1. Marvin Dienst 347; 2. Joel Eriksson 299; 3. Joey Mawson (Van Amersfoort Racing) 297; 10. Mick Schumacher (Van Amersfoort Racing) 92, 16. Harrison Newey (Van Amersfoort Racing) 42; 25. Kami Liberte (Van Amersfoort Racing) 5.
Rookie championship:
1. David Backmann 396; 2. Mike Ortmann 327; 3. Mick Schumacher (Van Amersfoort Racing) 290; 11. Kami Liberte (Van Amersfoort Racing) 72.