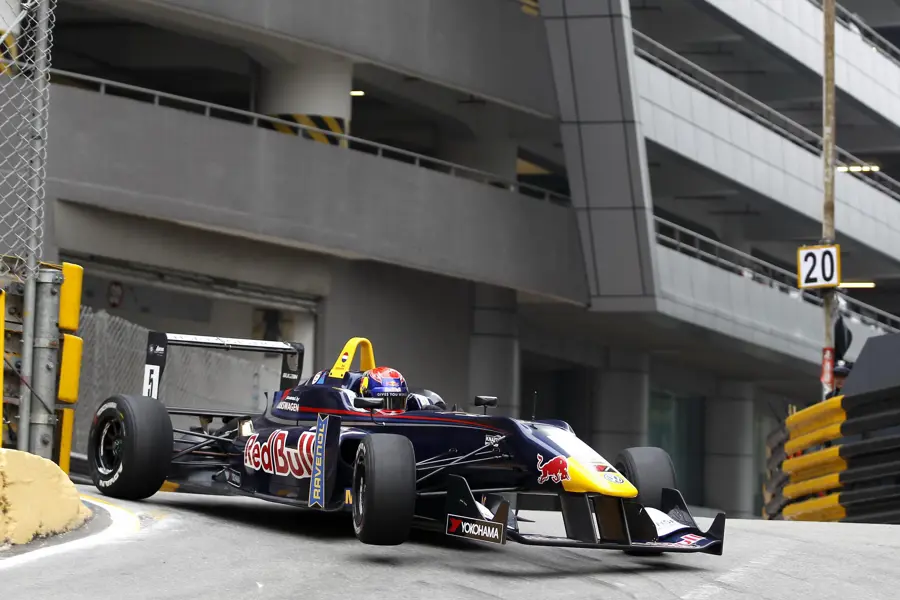 Max seventh and Gustavo tenth after Mayhem in Macau
16/11/2014
Max Verstappen blasted his way to seventh from 24th on the grid in the 2014 Macau Grand Prix. Gustavo Menezes secured a second top ten finish for Van Amersfoort Racing by climbing to tenth from 15th, thereby completing a successful final day in Macau. All this came in the wake of a massive crash in the first two corners after the start. A big pile up in turn two eliminated five cars and suspended the race for nearly an hour.
After Max's disappointing crash on Saturday, Gustavo and Max started from P15 and P24. They both had a good getaway, with Max especially moving up the field like a rocket. They were both around P14 when the Macau GP exploded into chaos. Lucas Auer (Mücke Motorsport) tried to take the lead in turn one after the start, but overshot it. Both Tom Blomqvist (Yagonya Ayam) and Esteban Ocon (Prema Powerteam) tried to take advantage by cutting across the inside. They collided in the process and in the second corner they locked wheels again. This time it sent both frontrunners into the barriers. Mücke pair Rosenqvist and Auer took advantage and charged through.
Behind them, a duel between the two Carlin drivers Kanamura and King saw the former drive into the back of his teammate. This launched the Japanese driver into the fences over the top of King's and then Blomqvist's car. With four cars now blocking the way, all other cars piled up.
Max and Gustavo, having made good progress, were among the first in the queue. After the cars in front were cleared away, they could continue to the starting grid with relatively minor damage. The VAR mechanics rushed to the grid to repair the damages and succeeded with great speed.
Unfortunately for VAR, all cars able to continue the race had to restart from their original starting positions. This demoted Max back all the way to P24 and Gustavo back to P15, albeit with a few cars less in front of them. Fifty minutes after the original start, the race resumed behind the safety car.
This time, there were no crashes fortunately. On the second lap after the restart, Gustavo overtook Tatiana Calderón (Mùcke) and found himself in P11. Max was 18th after lap one. Jordan King and Felix Serralles (West-Tec) pitted because the damage to their cars proved too great after all. This promoted Gustavo to P9 and Max to P16.
The Dutchman then started a very impressive race full of overtaking. His march continued until the very last lap, and he ultimately finished in seventh position, right behind Stefano Coletti. Add to that the fact that our flying Limbo also set the fastest lap of the race and it was surely an impressive performance.
Max was also content himself: "I did a lot of good overtakes, and we got from P24 to P7. I also drove the fastest lap of the race so I think we can pleased with the result today." Asked whether he rued Saturday's mistake more given his speed he replied: "I didn't come here to finish seventh of course, but from P24 to P7 is good in itself."
Although Gustavo could not really attack the drivers in front of him, VAR is happy that he managed to finish in the top ten on his debut in Macau. The American was also pleased with his showing in the races. "We had a difficult time in the practice sessions, but we ultimately managed to improve the car. Unfortunately we had some issues in qualifying, and so I had to start P24. The Qualifying race went really well too. After the damage we sustained in pile up at the first start I just had to hold on. I have to thank the mechanics for fixing my car so quickly, and to finish P10 on my Macau debut is good. I want to come back next year and fight for the win."