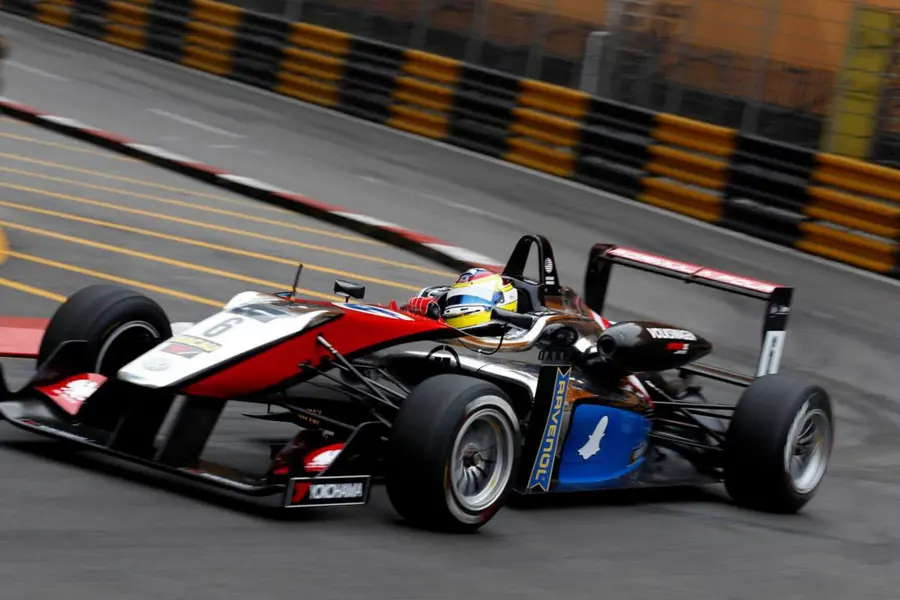 Max crashes out of Macau GP Qualifying Race, Gustavo up to 15th
15/11/2014
Max Verstappen crashed out of the Macau Grand Prix's Qualifying Race today. After moving up from fifth to second in the opening lap, the young Dutchman crashed on lap four. This relegates him to 24th on the grid for the main event on Sunday. Van Amersfoort Racing's American driver Gustavo Menezes fared better. Having started from the back, Gustavo climbed from 24th position on the grid to 15th place with a good drive.
At lights out, all cars sped towards the tricky Lisboa corner. Max had overtaken Esteban Ocon (Prema) and Tom Blomqvist (Yagonya Ayam) before getting to turn one. He also overtook polesitter Felix Rosenqvist (Mücke) on the outside, leaving only Lucas Auer (Mücke) in front. Behind them, Alex Palou (Fortec) crashed, with Yagonya Ayam team mates Giovinazzi and Gelael also colliding. Gustavo managed to avoid the melee and passed a few cars as well. This had promoted him to 18th at the end of lap one. So far so good.
At the start of lap two, Max came under pressure from Rosenqvist. Max defended on the inside and managed to keep his position. He was unable to pull away sufficiently though, and Rosenqvist came back for another go the following lap. Again, Max chose the inside to fend off the Swede. Rosenqvist locked up under braking and had to concede a second. This gave Max some air, and he gradually pulled away, with Auer already two seconds clear ahead.
On lap four though, disaster struck when Max crashed out. "I went over some bumps in the braking zone of turn 12 and locked up the rears. Then I slightly brushed the tyre wall with my left rear on the exit of the corner, and my left front snapped into the tyre wall." Asked about the main race on Sunday he noted that "there is nothing we can do about it anymore, so we will try to make the best out of it tomorrow."
Sam MacLeod (Tom's) also crashed on lap four, which caused a safety car situation. With most attention going to Max's retirement, Gustavo had quietly moved up to sixteenth place. The race was resumed on lap eight and Gustavo immediately took advantage of it by overtaking Mücke's Tatiana Calderón. He eventually managed to keep hold of that position for the remainder of the qualifying race, meaning he will start in fifteenth tomorrow. Rosenqvist overtook Auer after the restart and retained the lead for the remainder of the race. This means he will start the Macau GP from pole. Auer will start second, Blomqvist third and Ocon fourth.  
Van Amersfoort Racing is stil looking to end our 2014 Formula 3 season with a strong show tomorrow in the main Macau Grand Prix. Gustavo starts the GP from P15 and Max will start from P24.