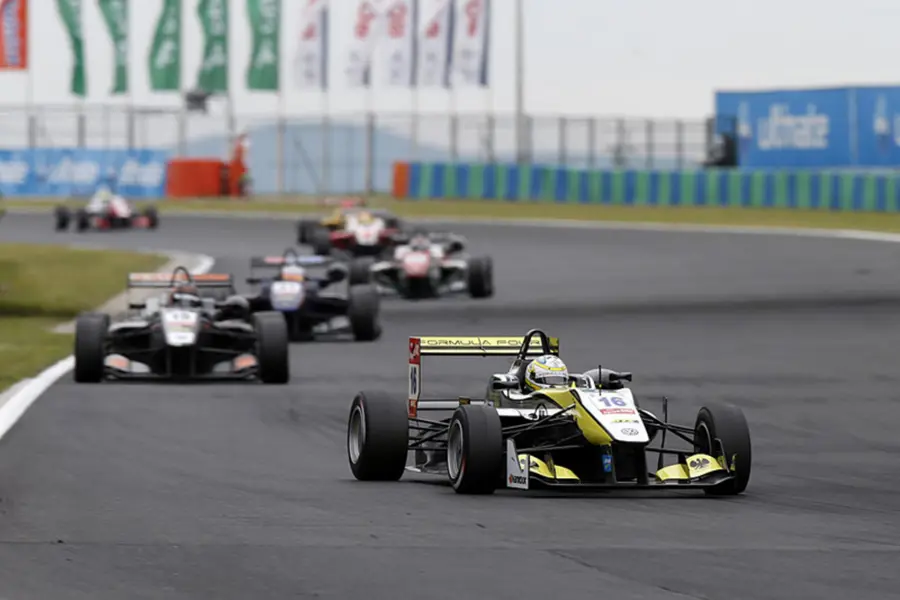 First points for Jules Szymkowiak highlight of Hungarian F3 weekend
01/06/2014
A first points finish of the season for Jules Szymkowiak, two points finishes for Gustavo Menezes and a fourth place for Max Verstappen were the highlights for Van Amersfoort Racing in a weekend full of setbacks at the Hungaroring in Budapest. All three drivers were penalised for driving outside the track limits, twice while in strong points positions. Max Verstappen also suffered from technical problems while in a podium position.
Friday started well when all VAR drivers did well in qualifying with a third, ninth and fourteenth position for Max, Gustavo and Jules respectively. The next morning, both Max and Jules got off to a flying start. Max challenged Carlin's Tom Blomqvist for the lead on the outside of turn one, but dropped back into third. Jules made up four places to slot into tenth with Gustavo moving up to eighth position. This hopeful start soon turned sour though when Max had to retire with technical problems and Gustavo got a drive through penalty for not respecting the track limits. In the end, race one saw Jules picking up his first points with P6 after a very strong and consistent drive.
Later that afternoon, second qualifying was more difficult and the drivers achieved positions slightly further backwards. The race started reasonably with Gustavo moving up from his P12 starting berth to P8 fairly quickly. Max consolidated P5 and Jules fought his way to P13 in the opening laps. A decent amount of points beckoned but both Max and Jules got penalised for going outside the track limits too often. Gustavo scored a good seventh to make up for his race spoilt by the drive through on Saturday. However, this race was a second missed opportunity overall.
On Sunday afternoon, it threatened to rain throughout the race, and race control prematurely ended the race when it finally kicked in with five laps to go. Max got a good fourth place finish to record some dearly missed points. He was happy to get points but overall it was a difficult weekend. "Race one was one to forget obviously with the retirement. Race two was my own fault while race three was decent. However, we lacked the pace to be at the front this weekend so I really want to improve for Spa."
Gustavo again drove strongly and finished eighth. "Overall I am happy with the progress I've made this week. I was more focused and better prepared thanks to my coach Enzo and engineer Peter. We finally got what we deserved as a result. I am really looking forward to Spa and getting more solid points."
Jules unfortunately stalled on the start but recovered back to fifteenth with some encouraging overtaking. Asked about his weekend he commented that "it was a weekend of ups and downs. I am disappointed with the mistakes I made that cost positions, but I know I can learn a lot from this weekend. I did show what I am capable of in race one and I want to show that kind of performances more often."
The next race is at Spa-Francorchamps on the 22nd of June, where we are hoping for a lot of 'home' support for our two Dutch drivers Jules Szymkowiak and Max Verstappen.