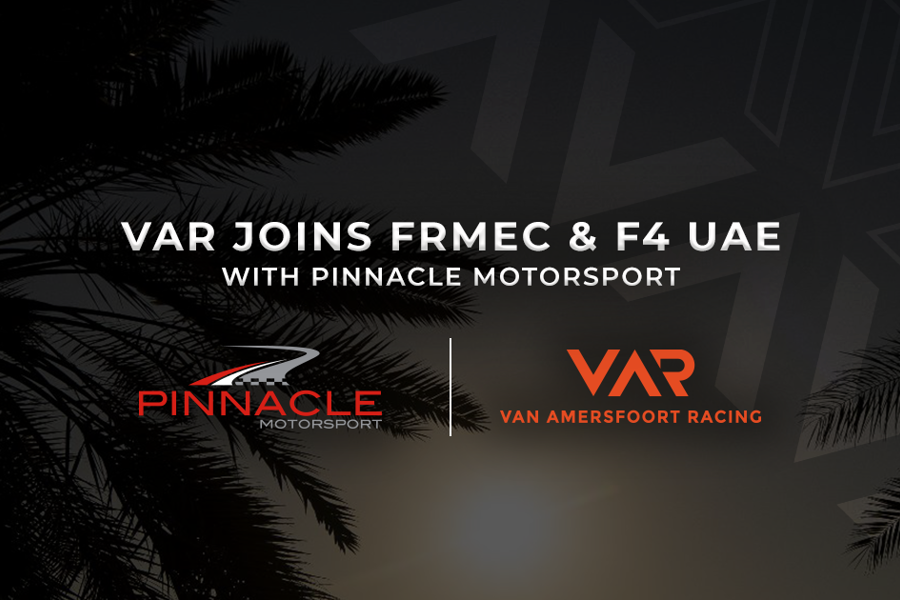 VAR enters FRMEC and F4 UAE Series with Pinnacle Motorsport
05/01/2023
Zeewolde, January 5, 2023 – Van Amersfoort Racing further extends its racing activities by entering the Formula Regional Middle East Championship (FRMEC) and the F4 UAE Championship. For this, the black and orange squad from the Netherlands teams up with Irish based Pinnacle Motorsport.
Apart from racing in the region with its F2 and F3 teams, the entry into the FRMEC and F4 UAE Championship will be the team's first Middle Eastern full championship entry in its long line of history. Joining forces with the established Pinnacle Motorsport team will allow for a jump-start into both championships and creates a great opportunity to optimize on-track preparations for the 2023 race season.
Formula Regional Middle East Championship
Within the VAR-Pinnacle Motorsport cooperation, Van Amersfoort Racing brings two familiar faces to FRMEC; Mexican Rafael Villagómez and Dutchman Niels Koolen will take part in the championship that kicks off with pre-season testing on 9th and 11th of January at the Dubai Autodrome. Both drivers have raced with VAR before and are now looking to add valuable track time as part of their 2023 race program.
F4 UAE Championship
As they do for FRMEC, Van Amersfoort Racing also brings two drivers to the VAR-Pinnacle Motorsport alliance's F4 driver line-up. Brando Badoer, son of former F1 driver Luca Badoer, returns to the track with Van Amersfoort Racing after his debut season in F4 with the Dutch outfit last year. Brando will be joined by Australian Jack Beeton, one of the six finalists of the '22 Ferrari Driver Academy Scouting World Finals. Jack has been successful in karting, racing mainly Down Under, but now takes the leap to international single-seater racing.
"Pinnacle Motorsport shares the same passion towards driver development as we do, which makes them the perfect partner to team up with for both FRMEC and F4 UAE", says Rob Niessink, VAR's CEO. He continues: "Entering these championships was already on our radar, and we are excited that we were able to set up the partnership with Pinnacle Motorsport. They have strongly established themselves, so joining forces will create a great opportunity to benefit from each other. Despite some set-up differences related to the championship, it is good to spend as much time on-track as possible with both the Formula Regional and F4 cars, which of course counts for the drivers as well. We are excited to continue working with Brando, Rafael and Niels, but also very much welcome Jack Beeton to the team. It is yet again another new chapter for us, and we look forward to getting back to racing soon!"
John O'Hara, founder of Pinnacle Motorsports comments on the upcoming season: I'm looking forward to the new season in FRegional Middle East and F4 UAE and in our collaboration with Van Amersfoort Racing. We have a lot of respect for what they've achieved and what they're capable of. Now, we get to join forces with one of the best teams in Europe and hope to share not just knowledge and experience with VAR, but also race victories as we work together as one. I'm excited to welcome Pepe Marti back to the team after our strong season together a year ago and very much looking forward to working with Tasanapol Inthraphuvasak in FRegional and with Kai Daryanani & Hiyu Yamakoshi in F4."
Both championships share the same schedule and consist of five rounds each. Pre-season testing starts on the 9th and 11th of January at the Dubai Autodrome, followed directly by the first round at that same location on January 13th and 14th. The second and third round take place at Kuwait Motor Town, after which both series return to Dubai for the penultimate round of the championship. The season's finale takes place at Abu Dhabi's Yas Marina circuit on the 18th and 19th of February.
Van Amersfoort Racing is a professional racing team based in the Netherlands. It was founded by Frits van Amersfoort in 1975. Since then, Van Amersfoort Racing has built a long tradition of supporting up-and-coming drivers on their way to higher levels. Drivers like Max and Jos Verstappen, Charles Leclerc, Mick Schumacher, Kevin Magnussen and Giedo van der Garde all raced for Frits van Amersfoort's eponymous team in the early stages of their careers before making it into Formula 1.