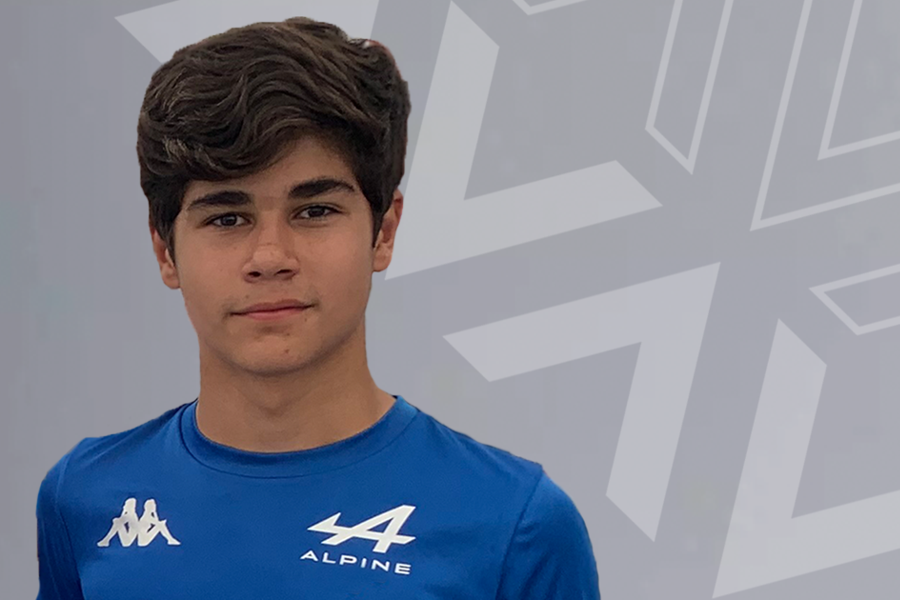 Alpine Academy Driver Matheus Ferreira joins VAR for Italian F4 Championship
15/02/2023
Zeewolde, February 15, 2023 - Young Brazilian race talent Matheus Ferreira signs with Van Amersfoort Racing and is set to compete with the Dutch squad in the 2023 Italian F4 Championship. Ferreira was recently announced as part of the 2023 Alpine Academy Driver line-up, a strong indicator of the young driver's potential.
As many racers did before him, the now 16-year-old Brazilian started his racing career at a young age. Matheus first sat down in a kart back in 2017 but didn't lose time to make name for himself in the national karting scene.
2019 saw Matheus making the move to European karting, fitting right in from the beginning and performing strongly. After his national karting title in Brazil, Ferreira's first European successes came in '21, in which the youngster from South America was crowned OK-Junior vice-champion in both the FIA European Karting Championship and the WSK Super Master Series.
His performances did not go unnoticed as Ferreira joined the prestigious Alpine F1 junior program as an Alpine Academy affiliate driver in 2022. Just recently Matheus was promoted to an Alpine Academy Driver, which came along with the announcement of him making his single seater racing debut with Van Amersfoort Racing in 2023. 
Ferreira makes his maiden F4 appearance in one, if not the most competitive championship, the Italian Formula 4. The season kicks off late April at Imola, covering a total of seven different tracks in three different countries. The season finale takes place late October at the circuit of Vallelunga in Italy.
''For me, this is the biggest step in my career so far and I am happy to do this together with Van Amersfoort Racing" says Ferreira. He continues: "I am extremely thankful for the trust both the Alpine Academy and VAR put in me. It gives me great confidence to have the backing of such renowned teams and it motivates me even more to work as hard as I can. For sure the switch to single seaters comes with challenges, but I am very eager to learn. Jumping straight in the most competitive F4 championship out there will certainly help me progress at a high pace and I am looking forward to good results!"
Rob Niessink, VAR's CEO comments: ''Matheus is a talent to watch. Having him on board for the '23 Italian F4 championship is exciting for the whole team. We are all really looking forward to seeing him grow into single-seater racing, even though it won't be easy all the time. The team is well prepared to give Matheus all the support needed to help him reach his full potential and we are ready to get started!''
Van Amersfoort Racing is a professional racing team based in the Netherlands. It was founded by Frits van Amersfoort in 1975. Since then, Van Amersfoort Racing has built a long tradition of supporting up-and-coming drivers on their way to higher levels. Drivers like Max and Jos Verstappen, Charles Leclerc, Mick Schumacher, Kevin Magnussen and Giedo van der Garde all raced for Frits van Amersfoort's eponymous team in the early stages of their careers before making it into Formula 1.