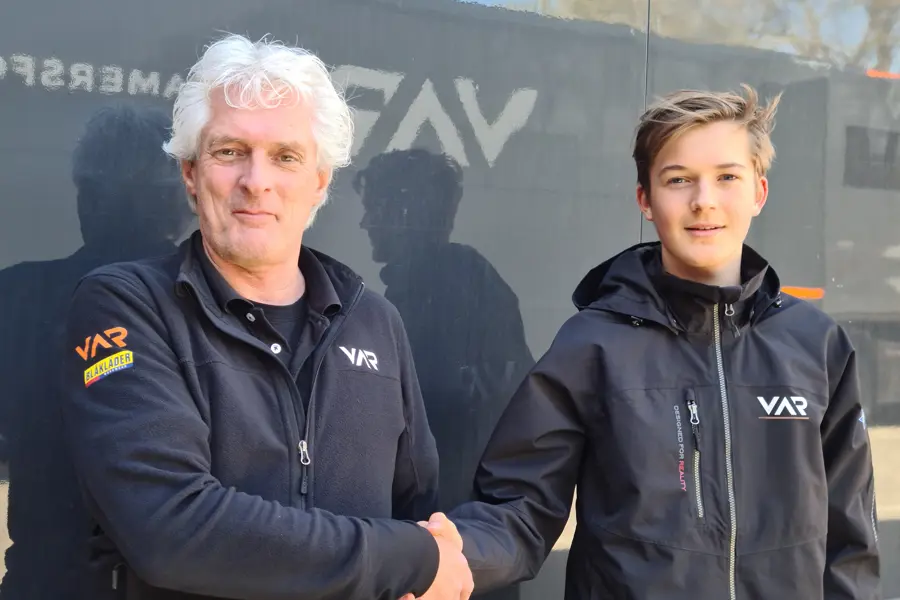 Jules Castro joins VAR for 2022 F4 Championship
04/05/2022
Zeewolde, May 4, 2022 – Belgian Jules Castro will join Van Amersfoort Racing for the 2022 Formula 4 season, starting at Imola this upcoming weekend. Jules is set to compete alongside earlier announced teammates Martinius Stenshorne, Emerson Fittipaldi Junior, Brando Badoer and Arias Deukmedjian.
If it were not for his stepfather and successful racer Louis Machiels, it would have been likely for Jules to continue to pursue a career in soccer. At the age of twelve, then well on his way to climb the ranks on the soccer field, he was given a kart by Louis. From that moment onwards, Castro's interest for racing grew steadily.
It did not take long for his interest in racing to transform into a true passion and Jules saw himself progressing quickly. Where it started with racing at local tracks, he moved up to an international level (BENELUX) already in his first year of racing. In the few years leading up to his single seater debut, Castro kept on growing and competed at a European level, before retiring from karting in 2021.
Jules made the leap from karting to Formula 4 in 2021 as he tested with his new team Van Amersfoort Racing. To further prepare for the 2022 season, he participated in selected rounds of the United Arab Emirates F4 championship earlier this year, which gave him the opportunity to get a good feel for the new generation Tatuus F4 car. Jules joined the first two rounds of the series, only to give his seat for the remainder of the championship to his stepbrother Jef Machiels, who was recently announced as part of the VAR/Monlau Spanish F4 team.
"It's amazing to see how quickly things are moving for me!" says the sympathetic youngster from Northern Belgium. He further comments on his outlook on the season: "It was only a few years back that I first got in touch with anything related to racing, and now I am ready to compete in one of the toughest F4 championships out there. I'm very well aware that I still have lots to learn, but that is exactly my intention for this season. With their track record, teaming up with Van Amersfoort Racing gives me great confidence. They are extremely dedicated towards supporting me in progressing and becoming a better driver, so I'm in the right place to attack the season!"
Rob Niessink, CEO at Van Amersfoort Racing is happy with Jules joining the team: "Jules is a good match, and it is great to have him in our F4 squad this year. It certainly won't be an easy year for him as he will face fierce competition, but Jules is the type of driver that gets his motivation from this kind of pressure. He is eager to learn and has shown to be able to quickly transform data-based input to better performance on-track. We of course also welcome his experience with the new generation Tatuus F4 which he raced during the UAE F4 championship. On top of all, Jules has a great personality, and his enthusiasm rubs off on the team as well. It's great to have him on board and we look forward to finally get going in Imola this upcoming weekend!"
Van Amersfoort Racing is a professional racing team based in the Netherlands. It was founded by Frits van Amersfoort in 1975. Since then, Van Amersfoort Racing has built a long tradition of supporting up-and-coming drivers on their way to higher levels. Drivers like Max and Jos Verstappen, Charles Leclerc, Mick Schumacher, Kevin Magnussen and Giedo van der Garde all raced for Frits van Amersfoort's eponymous team in the early stages of their careers before making it into Formula 1.