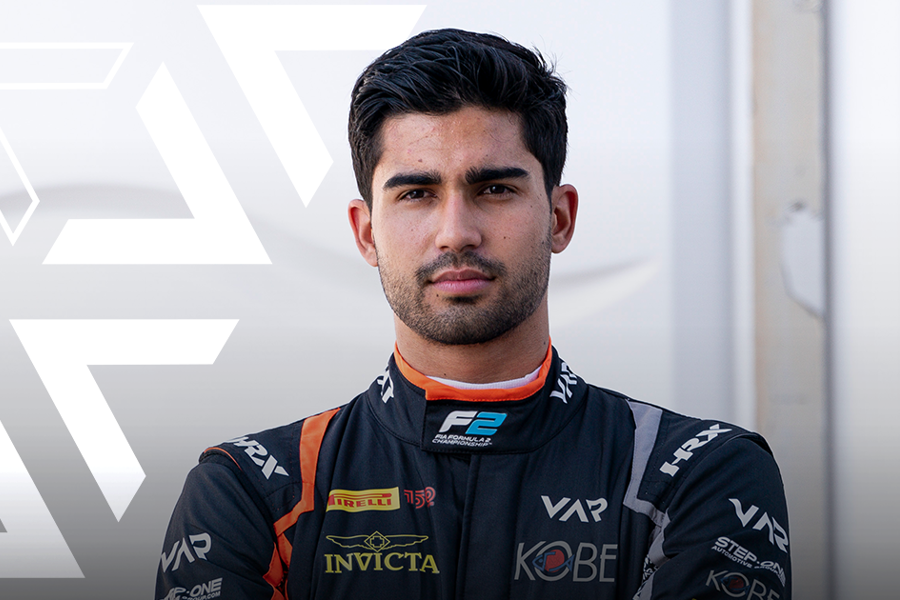 Juan Manuel Correa returns to FIA F2 with VAR
20/12/2022
Zeewolde, December 20, 2022 - Van Amersfoort Racing is excited to announce the signing of American Ecuadorian driver Juan Manuel Correa. The 23-year-old completes VAR's FIA F2 driver line up, in which he will race alongside recently announced teammate Richard Verschoor.
Together with VAR, Correa had already made his return to the FIA F2 grid during the closing round of the '22 FIA F2 Championship, which took place late November at Abu Dhabi's Yas Marina circuit. 2023 will however mark Correa's full time return to F2 racing, something that can be titled one of the most remarkable comebacks in motorsport history.
Juan Manuel has had an inspiring racing career so far. Starting out in single seaters back in 2016, he participated in both the Italian and German F4 championships. While finishing tenth in the German series, "JMC" took three wins and multiple podium finishes in the Italian championship, ending up sixth in the overall standings. Correa returned to both championships in 2017 but made a mid-season switch to the GP3 series.
The year after saw Correa come back to the GP3 Championship in which he consistently scored points. Besides his GP3 campaign that year, he took part in New Zealand's Toyota Racing Series as well, taking two wins and finishing fourth in the standings.
Correa made his debut in the FIA F2 in 2019 and became a development driver for Alfa Romeo F1. In his debut year, Juan Manuel performed strong and finished on the podium during the sixth round at Baku and ninth round at the circuit of Paul Ricard, France.
What will always be remembered as a black day in motorsport history, Juan Manuel's Formula 2 season was cut short during Spa-Francorchamps' sprint race. A horrific crash left Correa severely injured. What came next was a long and intense rehabilitation process, fueled by an immense dedication to eventually make it back to the Formula 2 grid.
And he did just that, making a remarkable return to racing in 2021. Less than two years after his life-changing incident at Spa-Francorchamps, Correa proudly announced his joining to the 2021 FIA F3 grid, returning to the same championship the year after.
Parallel to racing the FIA F3 Championship, Juan Manuel took part in the last two rounds of the European Le Mans Series at Spa-Francorchamps and Portimão. With two podium finishes of which one victory, Correa strongly contributed to the team's championship title.
It was during this year's final round of the FIA F2 Championship that Correa made his long-anticipated return to the Formula 2 grid, and he did so with VAR. To many, including Juan Manuel himself, it was a memorable moment and a crown on all the hard work put in to get to this stage.
Clearly excited about returning to the FIA F2 grid, Correa says: "Being back full-time in Formula 2 means more to me than most people can imagine. It is not just an achievement in itself to be on this grid, but it also is a realization of a goal that has been the epicenter of my efforts for the last three years, so it is a very emotional achievement." Looking ahead, Correa further comments: "I am super grateful for the opportunity that Van Amersfoort Racing is giving me. I am very hungry, I am very motivated, and I know the team is as well. I am sure together we, the team and my teammate Richard, will make a great line-up and create a great working environment for everyone. We will be pushing each other to continuously improve, because we all want to do well this upcoming season. F2 is a competitive category, and I think Van Amersfoort Racing has done a really good job in their first year in the championship. With the little experience they had, they've put on a very impressive performance. I am looking forward to seeing how I can help the team improve and work together with them in this very exciting season!"
Rob Niessink, CEO of Van Amersfoort Racing says: "We are excited to have Juan Manuel on board for our second season in the FIA F2. We have had many drivers in the past, but I have to say that the level of commitment that Juan Manuel shows is simply incredible. Besides that, his experience is valuable and will help to further develop both driver and team into the championship. You can imagine we are very eager to start the season in F2 and with the driver line-up we have, our staff is extremely motivated to progress at a high pace. We are convinced that Juan Manuel and Richard will complement each other massively, both on- and off the track, which we see as a strong asset. For now, we make full use of the winter stop, allowing the drivers and crew to further connect and prepare for the season opener at Bahrain!"
The 2023 FIA F2 Championship counts 14 rounds, all support events of the FIA Formula One Championship. This year's calendar sees an exciting addition; for the first time in its history the FIA F2 visits the legendary Albert Park Circuit in Melbourne, Australia.
Van Amersfoort Racing is a professional racing team based in the Netherlands. It was founded by Frits van Amersfoort in 1975. Since then, Van Amersfoort Racing has built a long tradition of supporting up-and-coming drivers on their way to higher levels. Drivers like Max and Jos Verstappen, Charles Leclerc, Mick Schumacher, Kevin Magnussen and Giedo van der Garde all raced for Frits van Amersfoort's eponymous team in the early stages of their careers before making it into Formula 1.