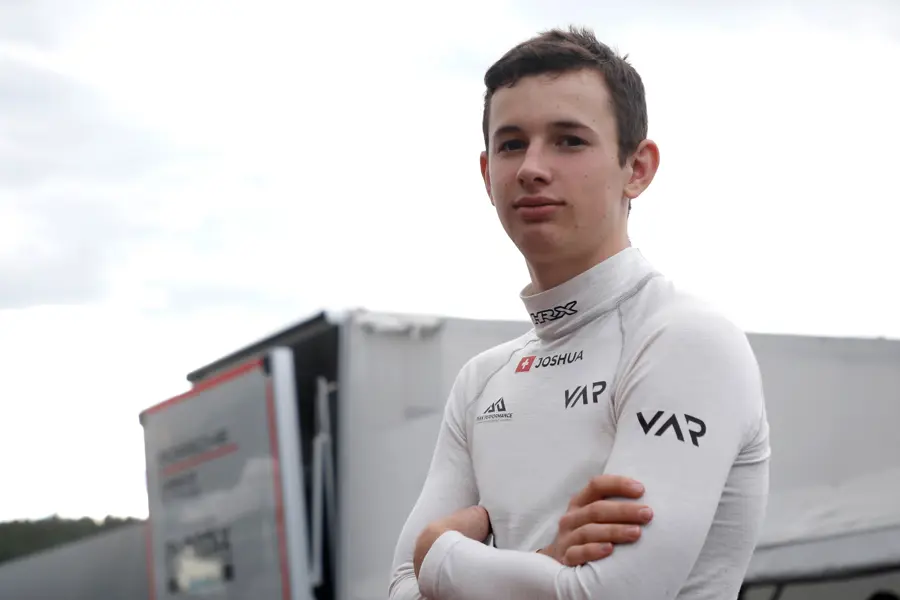 Joshua Dufek rejoins VAR for 2022 FRECA campaign
11/02/2022
Zeewolde, February 11, 2022 – Van Amersfoort Racing is very pleased to announce Joshua Dufek's return to the team, stepping up from F4 to the Formula Regional European Championship by Alpine (FRECA). Dufek will join his earlier announced team-mates Kas Haverkort and Levente Révész.
Born to an Austrian father and a British mother, the 17-year-old rejoins Van Amersfoort Racing after an intense double Formula 4 program with the Dutch squad in 2021, covering both the Italian and German F4 Championship. In order to fully prepare himself for his new FRECA challenge, Joshua competed during the first three rounds of the Formula Regional Asian championship, formerly known as the F3 Asia series.
To qualify Dufek as an early starter is an understatement. The youngster, racing under the Swiss flag, already claimed his first national successes in karting at the very young age of eight years old. The years thereafter, Joshua kept impressing and registering strong results. Quickly recognised as a talented driver, Dufek joined the prestigious Sauber Junior Team in 2019, just one year before his single seater debut in 2020. As a Sauber Junior driver, Joshua performed very well during the closing stages of his karting career, claiming respectable results in top level race events such as the WSK Euro Series and the CIK-FIA World Championship.
With only one point short of third position in the overall rankings of the 2020 Spanish F4 championship, Dufek clearly proved he was ready for single seater racing when he made the move away from karting. During his maiden Formula 4 campaign, Joshua collected seven podium finishes, earning him a fourth spot in the final standing of the championship.
When Dufek, who resides just a stone's throw away from the shores of Lake Geneva, joined Van Amersfoort Racing's championship winning F4 team in 2021, it was clear he was up for a serious challenge. Competing simultaneously in two of the world's toughest Formula 4 championships in existence, both the Italian and German F4 series, Joshua kept turning heads. He claimed seven top-5 finishes and scoring points in all but four races of the German F4 championship. Dufek's first Formula 4 victory came during the penultimate round of the Italian F4 series, held at Mugello. It turned out to be Joshua's most successful race round to date, as he claimed a first and second finish, three pole positions and a fastest race lap, all in one weekend.
In preparation of the 2022 FRECA season, Dufek competed in the first three rounds of the Formula Regional Asian championship, which took place earlier this year at both Abu Dhabi's Yas Marina circuit and the Dubai Autodrome. Due to the use of different technique and tires, the cars used in both series are not fully comparable, yet Dufek was able to get a good taste of the Tatuus F.3 T-318 chassis. Reflecting his performance, as he scored rookie points in all but one race he participated in, Joshua's confidence in the car grew after each outing and left him better prepared for the upcoming season.
When asking Dufek about his new challenge with a team that is very familiar to him, he comments: "Being able to continue my career with Van Amersfoort Racing is an absolute highlight for me. We had an incredible year together, covering two extremely tough championships in one season. I have learned so much during that year, both on- and off-track, so I am really happy to be able to keep progressing with VAR this year. Even though I know the driving characteristics won't be similar due to the use of different technique and tires, I enjoy the opportunity to get familiar with the Formula Regional car during the Asian rounds. I feel extremely ready to attack the new season together with VAR. As last year, I know it will be a tough season with lots to learn, but I am confident that we'll do well!"
The Formula Regional European Championship by Alpine counts ten rounds, all held at prestigious F1 tracks, including the historical street circuit of Monaco. The championship has attracted a large number of high-level race talents, creating a competitive environment for drivers to progress in and prepare themselves for next levels up.
Rob Niessink, CEO of Van Amersfoort Racing says: "We are very happy to be able to continue working with Joshua. He is an absolute pleasure to work with and his level of determination to be a successful racer is admirable. We saw that in him when he first joined us last year, and he has not let us down whatsoever. He connects well with the team, and all are convinced that Joshua is ready for the next level. For sure he'll face a strong challenge this season as the championship is extremely competitive, but we have great confidence in him. There's no doubt that he will put up a good performance and we'll be there to fully support him in every way possible!"
The 2022 season of the FIA certified Formula Regional European Championship by Alpine covers ten race weekends with two races each. The first two rounds of the season happen on Italian soil; Monza sets the scene for round 1 (May 22-24), followed by round 2 held at the circuit of Imola (May 6-8). The third round can be considered as one of the highlights of the season, as the team then shares the streets of Monaco with Formula 1 (May 27-29). Round 4 is held at the circuit of Paul Ricard (June 3-5), after which the convoy travels further North for round 5 at Zandvoort, uniquely located at the Dutch coastline (June 17-19). Round 6 takes place at the Hungaroring (July 8-10), followed by round 7 which is hosted at the famous track of Spa-Francorchamps in Belgium (July 27-30). Round 8 brings the team to the stunning Styrian Alps to race at the Red Bull Ring (Sept. 8-10), followed by the penultimate race weekend, held at the circuit Barcelona-Catalunya in Spain (Oct. 14-16). For the season finale, which is scheduled for the end of October, the team travels back to Italy once more to hit the circuit of Mugello (Oct. 20-23).
Van Amersfoort Racing is a professional racing team based in the Netherlands. It was founded by Frits van Amersfoort in 1975. Since then, Van Amersfoort Racing has built a long tradition of supporting up-and-coming drivers on their way to higher levels. Drivers like Max and Jos Verstappen, Charles Leclerc, Mick Schumacher, Kevin Magnussen and Giedo van der Garde all raced for Frits van Amersfoort's eponymous team in the early stages of their careers before making it into Formula 1.