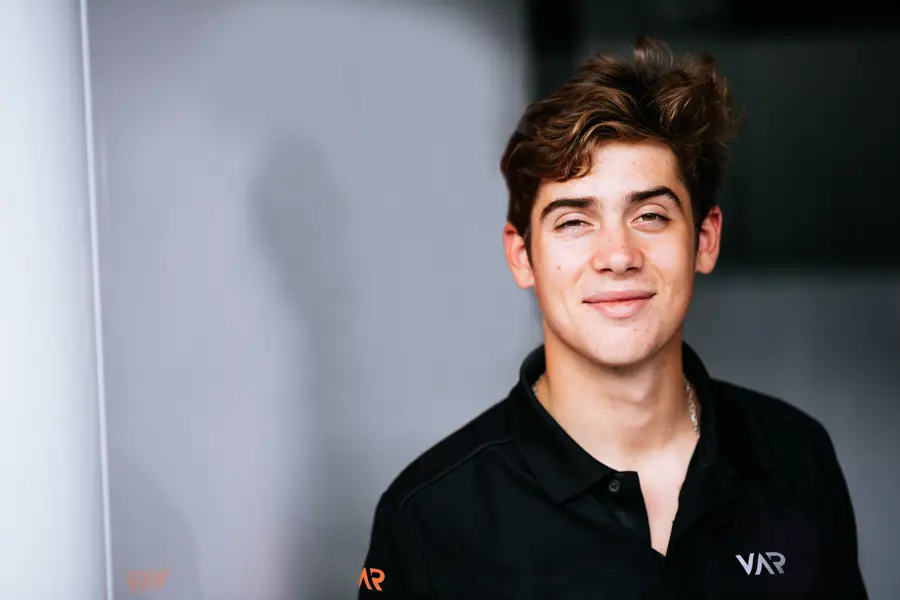 Franco Colapinto competes for VAR in the 2022 FIA F3 Championship
03/02/2022
Zeewolde, February 3, 2022 – Franco Colapinto will make his FIA F3 championship debut with Van Amersfoort Racing this year. Colapinto, a Buenos Aires native, steps up from racing in both LMP2 and the Formula Regional European Championship by Alpine in 2021.
With only 18 years old, Franco has already registered an impressive track-record in racing. Starting at the age of ten, he spent five-years competing successfully at the highest levels of international karting. The young Argentinean made his single seater debut back in 2018 by participating in the last round of the Spanish F4 championship. This maiden Formula 4 appearance saw Franco take second in the penultimate session of the series, only to finish it off with a victorious win in the closing race.
Even though overly impressive, it did not come much as a surprise that Colapinto dominated the 2019 Spanish F4 championship, claiming the title with eleven pole positions and fourteen podium finishes, of which an impressive eleven victories. Clearly ready for a next step, Franco successfully competed in the 2020 edition of the Castrol Toyota Racing Series Down Under in New Zealand, securing the Rookie Champion title, as well as a 3rd position in the overall rankings. Later that year, Franco entered the Renault Eurocup and immediately left a mark by winning the very first race of the championship. With nine podium finishes, Colapinto closed off the season in 3rd position.
Besides competing in the Formula Regional European Championship by Alpine, 2021 saw the Argentinean take a side-step from Formula to LMP2 racing as well. Franco made his appearance in both the European and Asian LeMans Series. New to the championship, he scored an impressive win in the European series, and took the Rookie of the Year title and an overall 3rd position in the Asian championship.
Colapinto made his FIA F3 debut during the 2021 post-season test at Valencia, setting the fastest time on the second day of testing. Franco comments: "I really enjoyed my first time in the F3 car. It is obviously way more powerful than the FRECA car, but at the same time has surprisingly similar driving characteristics to the LMP2 car; fast and loads of downforce. A significant difference to the LMP2 class will of course be tyre management, but I like that intelligent part of racing. I really look forward to teaming up with Van Amersfoort Racing as they have such a strong history. They take their return to the FIA F3 championship extremely serious, and I am really excited to be part of that journey. The crew is motivated and an absolute pleasure to work with. Pre-season testing at Bahrain is just around the corner and I can't wait for it to start!"
Van Amersfoort Racing is freshly added to the fourth edition of the FIA F3 championship. The Dutch squad has already expressed to be very content with this new challenge. In just a short time, they have announced their entry in both FIA F2 and F3 championship, allowing them to bring young talented drivers all the way up to the gates of Formula One.
Rob Niessink, CEO at Van Amersfoort Racing says: "We are excited to have Franco on board for our debut season in FIA F3. Looking at his career so far, he has shown to not only possess a good portion of raw talent, but that he also has the capability to quickly adapt to circumstances. We had our eye on him already as a potential candidate, which was reinforced after seeing him perform during the post-season test at Valencia, early November last year. We have thoroughly structured our F3 team over the winter period and are more than ready to hit the track early March in Bahrain."
The 2022 FIA F3 Championship is made up of nine rounds with two races each, all support events of both Formula 1 and Formula 2. The season kicks-off overseas at the Bahrain International Circuit (March 18-20). The team travels back to Europe for round two, held at Autodromo Enzo e Dino Ferrari, Imola (April 22-24). Circuit de Barcelona-Catalunya hosts round three of the championship (May 20-22), followed by Silverstone for round four (01-03 July). Then the team travels on to the Styrian mountains for round five at the Red Bull Ring in Austria (08-10 July). Round six sees the team land at the Hungaroring, Hungary (29-31 July). The Championship concludes on a triple-header, starting with round seven at Spa-Francorchamps, Belgium (26-28 Aug.). The penultimate round of the season happens on Dutch soil the week thereafter at the circuit of Zandvoort (02-04 Sept.), followed by the season finale at the temple of speed, Monza, Italy (09-11 Sept.).
Van Amersfoort Racing is a professional racing team based in the Netherlands. It was founded by Frits van Amersfoort in 1975. Since then, Van Amersfoort Racing has built a long tradition of supporting up-and-coming drivers on their way to higher levels. Drivers like Max and Jos Verstappen, Charles Leclerc, Mick Schumacher, Kevin Magnussen and Giedo van der Garde all raced for Frits van Amersfoort's eponymous team in the early stages of their careers before making it into Formula 1.