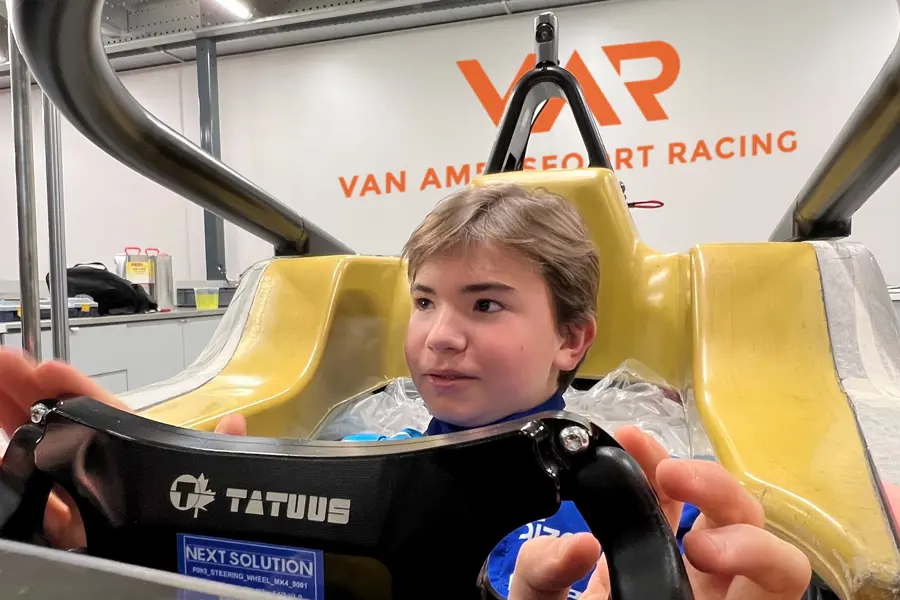 Emerson Fittipaldi Jr. joins VAR in 2022 for F4 Championship
07/03/2022
Zeewolde, March 7, 2022 – On his birthday, Van Amersfoort Racing announces the signing of Brazilian Emerson Fittipaldi Jr. into their 2022 F4 racing squad.
Turning fifteen years-old today, son of equally named two-time F1 World Champion Emerson Fittipaldi, makes it known that he will compete in the 2022 F4 championship with the Dutch squad of Van Amersfoort Racing.
As one would expect, Emerson, who goes by Emmo Jr., was brought up in the racing industry and started karting particularly early. During his maiden season of competitive karting, the then 7-year-old Fittipaldi turned heads by winning the Sao Paulo State Championship, only to be followed by a long list of impressive results thereafter.
Emmo Jr. spent the initial stages of his racing career competing internationally, covering tracks and championships in Latin America, the United States and Canada. As member of the Sauber Academy, Alfa Romeo F1's junior program, the young Brazilian moved to racing European tracks only shortly before retiring from karting and stepping up to Formula racing.
Allowing drivers under fifteen, Emmo Jr. moved to single seater racing already last year by entering the Danish F4 Championship, with only fourteen years of age at that time. He performed strong from the get-go, securing a third position in the overall rankings of the championship, which was good for a P2 in the F4 classification (The Danish championship runs both the F4 and F5, formerly known as the Formula Ford Series).
During the Danish F4 championship, the young Brazilian impressed immediately by claiming two P2 finishes during the very first round of the series. The season summarized, Fittipaldi finished in the top five in all but one race, stood on the podium fifteen times and registered three victories to his name.
"Despite his young age, Emmo Jr. already collected an impressive track-record" says Rob Niessink, VAR's CEO. He continues: "As son of a two-time F1 world Champion, it is not strange to see that Emerson reads and writes racing. He is a bright, smart, and talented youngster with a natural race craft not often seen. Of course, he has a challenging road ahead of him. He is young and has lots to learn, but we have full confidence in his ability to work with the team and progress. Emerson communicates beyond his age, which will help him in his way forward. We are proud to be able to guide him on his way to higher levels and will offer our full support in every way possible, both on- and off the track!"
The Formula 4 series are intended by the FIA for young talented racers to make their move from karting to single seater racing. It has proven to be the perfect entry level into motorsports and has brought forward an extensive list of successful race drivers. 2022 marks a new era for F4 racing, as Tatuus has presented its second-generation chassis. The FIA F4 series is the last one in line to adapt the HALO system, as seen on all other categories within FIA's "Road to F1" strategy.
The young Fittipaldi is very eager to get the season started. He comments: "I had a great F4 debut season last year. It was a challenging year as there was so much to learn, but I loved racing the F4 car every single minute! I spent the winter preparing myself both mentally and physically and feel more than ready to start the season. I will face tough competition this year, I realise that, but challenge motivates me, so I can't wait to get going! Attacking the season with Van Amersfoort Racing gives me a huge confidence boost. I have spent quite some time with the team already, prepping myself in the simulator, getting to know the team and so on, and I have felt welcome from the very first moment onwards. Their passion and dedication towards being successful rubs off on me as well and I am more than ready to get going!"
Van Amersfoort Racing is a professional racing team based in the Netherlands. It was founded by Frits van Amersfoort in 1975. Since then, Van Amersfoort Racing has built a long tradition of supporting up-and-coming drivers on their way to higher levels. Drivers like Max and Jos Verstappen, Charles Leclerc, Mick Schumacher, Kevin Magnussen, and Giedo van der Garde all raced for Frits van Amersfoort's eponymous team in the early stages of their careers before making it into Formula 1.