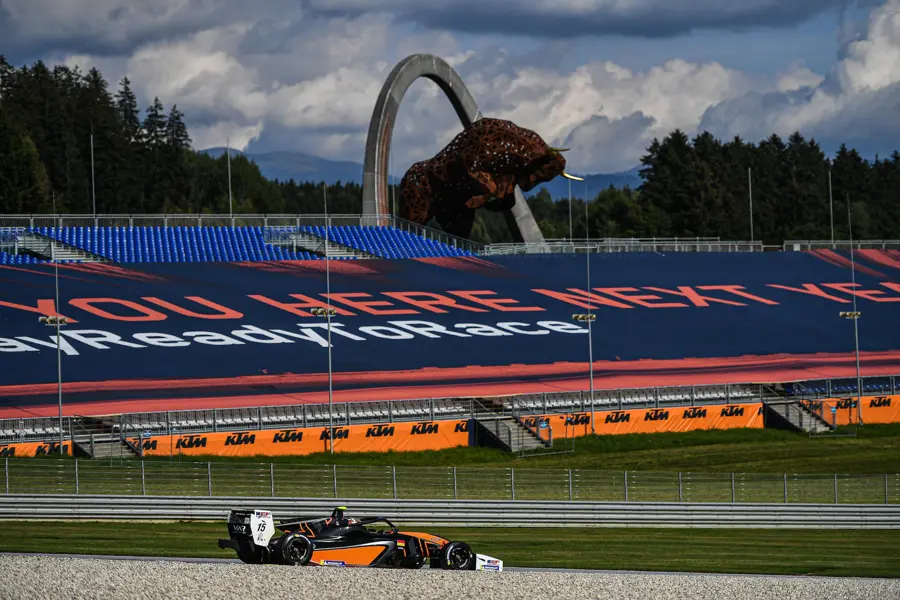 VAR with 10 cars in 3 championships at the Red Bull Ring
19/09/2020
Over the years, VAR broke countless records, but last weekend a special mile-stone was reached. For the first time in its history, VAR ran a total of 10 cars during one race event.
At the Red Bull Ring we participated with Alexandre Bardinon, Andreas Estner and Sebastian Estner in the F3 EuroFormula Open. We brought Pierre-Louis Chovet and Alessandro Famularo to the FIA F3 Regional European Championship and competed with Jonny Edgar, Jak Crawford, Francesco Pizzi, Cenyu Han and Bence Válint in the Italian Formula 4. During 20 free practice sessions, 20 qualifying sessions and 27 races, our drivers covered 4.979 kilometers in one weekend. An absolute mile-stone for the team. 
As we currently experience an overloaded schedule, expressed lightly, this report reaches you later than normal. The above statistics already indicate how heavy of a schedule we are dealing with, but we can add more to it. Around the Corona restrictions, to date we have completed 138 car-test-days and 81 race starts. We had 5 back-to-back race weekends in July / August and, after one weekend not at a circuit, we continued with the current tour of another 4 back-to-back race weekends. We love it, but hardly have the time to report to you what we are doing…
Looking back at the historical Red Bull Ring race event, which of course is special as we now run two Red Bull Junior drivers in our Tatuus-Abarth Formula 4 team, we celebrated Jak Crawford's first victory in the Italian F4 Championship. Jak also secured a 3rd place in the last race, whereas his teammate Jonny Edgar did the same during the first race of the weekend. New team members Cenyu Han and Bence Válint gained valuable experience and improved their performances by the day. In the standings our Francesco Pizzi takes up second position, while Jonny and Jak (who both missed the first round of the Championship) are positioned third and fourth in the overall rankings. Therefore, the expression "it's looking good in F4" certainly is an understatement.
In FIA Formula Regional we welcomed Alessandro Famularo back in the car as teammate of Pierre-Louis Chovet, who already raced at Misano and Paul Ricard for round 1 & 2 of the season. After a podium finish at his home track Paul Ricard, Pierre-Louis scored this event a well-deserved 4th position in race 2. Despite not having raced for some months, Alessandro did exactly the same in race 3, securing P4. These results are a clear indication of the progress we have made in this highly competitive FIA Formula Regional European Championship, in which we race with a Tatuus chassis powered by Alfa Romeo engines.
Since our return in the EuroFormula Open F3 Championship, which we run with the Dallara chassis and HWA engines, we are competitive. We have secured podium finishes with Sebastian Estner and his brother Andreas. Unfortunately, Alexandre Bardinon was dealt some bad luck and became victim of circumstances on track while battling with other competitors more than once. At the Red Bull Ring both Andreas and Alexandre had to retire in race 3 after collisions. However, looking at overall performances, we definitely carry competitive speed and look forward to the remaining rounds in the Championship. 
Looking both back and forward, CEO Rob Niessink explains: "Of course, due to Corona we are experiencing the strangest season we've ever had. First, there was the wait during which our hands were tied to our backs and nothing could be initiated. Next thing we know, we run around from circuit to circuit doing nothing else than testing and racing. I am very grateful for the dedication and effort our staff put into the season so far. I am equally impressed by the drivers who are dealing with a format in which there is hardly time to recover before moving to the next pit lane and see the next starting lights go off!" 
Niessink continues: "Looking at the results so far, it is clear that we are very happy when any of our three teams end up on the podium, grab pole positions, register fastest race laps and of course, above all, win races! It will be a challenge to maintain sharp and stay focused, but I have confidence in our drivers and teams. In this weird season we will do everything we can to bring home results that we will remember for a long time to come and make it an historical year in more than one way!"
At the time we send this report, our F4 team is literally getting ready for the first race of the ADAC German F4 third round of the Championship at the Hockenheimring. The team moved straight from the Red Bull Ring, Austria to the famous Hockenheimring in Germany, only to move on to the Nürburgring (R4 German Championship) the weekend after, and Mugello (R4 Italian Championship) the weekend thereafter.
The remainder of the ADAC German F4 Championship is scheduled as follows: Round 5 takes place at the Red Bull Ring in Austria, after which the team moves to Zandvoort, located in the dunes of the Dutch coastline. The season finale takes place at the Motorsport Arena Oschersleben early November. 
The Italian Championship runs all the way through to early December. For round 5 of the Championship, the team visits the historic circuit of Monza. Round 6 brings the team back to Imola again, whereas the season finale is scheduled early December at the circuit of Vallelunga.