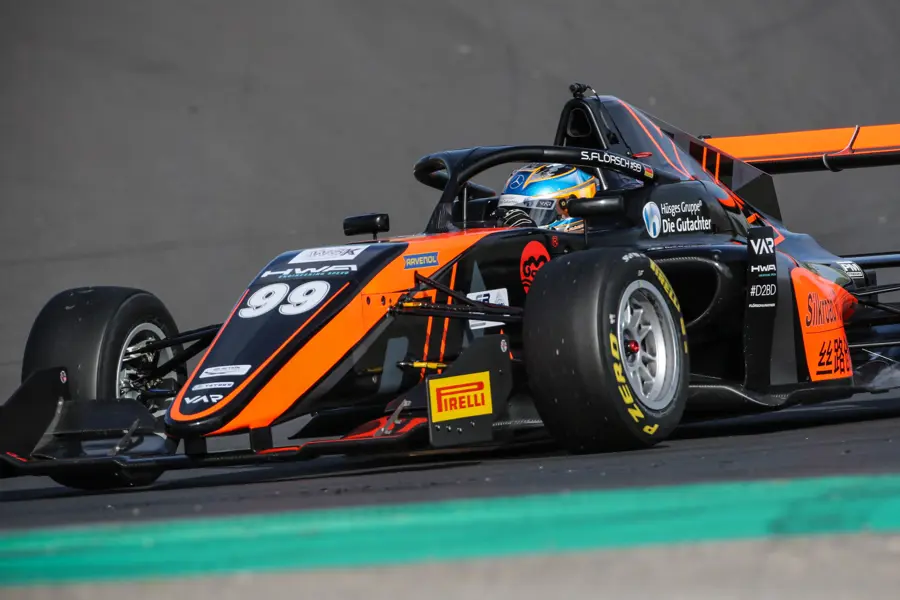 Boosting the learning curve at Vallelunga
07/05/2019
Apart from the first race, the second round of the Formula Regional European Championship at the Vallelunga circuit was all about surviving on soaked asphalt. Both Sophia Flörsch and guest rider Joey Mawson made good progress resulting in a double fourth place for Van Amersfoort Racing.
Water streams, aquaplaning, cloudbursts and hail showers. On the circuit of Vallelunga, located west of Lazio, it rained almost the entire weekend. It did however not prevent our team from making major leaps forward. For this round of the championship a VAR veteran, Aussie Joey Mawson made a guest appearance and crawled behind the wheel of a second VAR FR race car.
Joey Mawson won the 2016 championship in the ADAC Formula 4 with Van Amersfoort Racing and raced with us in Formula 3. By deploying an extra car, we were able to work more efficiently as a team. The data from two cars and input by two drivers helps us to get to know the details of the tires and car faster. In this case one plus one is three.
In qualifying we managed to convert the progress into results. On a wet track Joey took fifth place in the second qualification and Sophia followed in sixth. Rain tires were needed again for the opening race on Saturday afternoon. Joey used his experience to steam up from seventh to a promising fourth place.
Especially since the Australian driver managed to withstand the attacks of championship leader Frederik Vesti (who was racing F4 with VAR last season) up to the checkered flag. Sophia climbed up two positions, finishing ninth.
On a drying track the second race started on Sunday morning. Again, we opted for rain tires like the rest of the field, because the race line was still too wet for slicks. Both Sophia and Joey showed our competitiveness in the race over 17 laps.
After some hard-fought battles Joey finishes fourth again. Sophia started from sixth place and overtook former race winner David Schumacher some 2,5 minutes before the end taking 5thposition. By this strong move Sophia equaled her best performance of the season.
Following a new cloudburst on Sunday afternoon, the third race of the weekend was red-flagged already after a few laps behind the safety car. A 45-minute wait in pitlane followed before race control decided to suspend the race. Given the circumstances a wise decision, but also a little unfortunate because Sophia would start this race from third position followed by Joey in P5. The race didn't take place, but it sure had the ingredients to end up with our first podium(s) in this Championship.
Rob Niessink, CEO Van Amersfoort Racing: "Despite the difficult circumstances, the weekend was a good one for us. Joey did an excellent job as a guest driver and worked very constructively together with Sophia and team. Sophia also showed her speed and talent in both races. Our decision to bring a second car on the grid payed off in terms of increasing knowledge about the car and tires. We are looking into the possibility of a two-car campaign from the rest of the season. It is encouraging to see we are closing the gap to the podium positions." 
Race Weekend Summary:
Qualification 1:
Blomqvist P1, Schumacher P2, Siebert P3, Mawson P7, Flörsch P11
Qualification 2:
Blomqvist P1, Fittipaldi P2, Vesti P3, Mawson P5,Flörsch P6
Race 1:
Schumacher P1, Fittipaldi P2, Siebert P3, Mawson P4, Flörsch P9
Race 2:
Vesti P1, Fittipaldi P2, Caldwell P3, Mawson P4, Flörsch P5
Race 3:
Race suspended due to bad weather conditions.
Driver standings:
P1 Vesti 103, P2 Fittipaldi 97, P3 Schumacher 58, P7 Flörsch 28, P9 Mawson 24