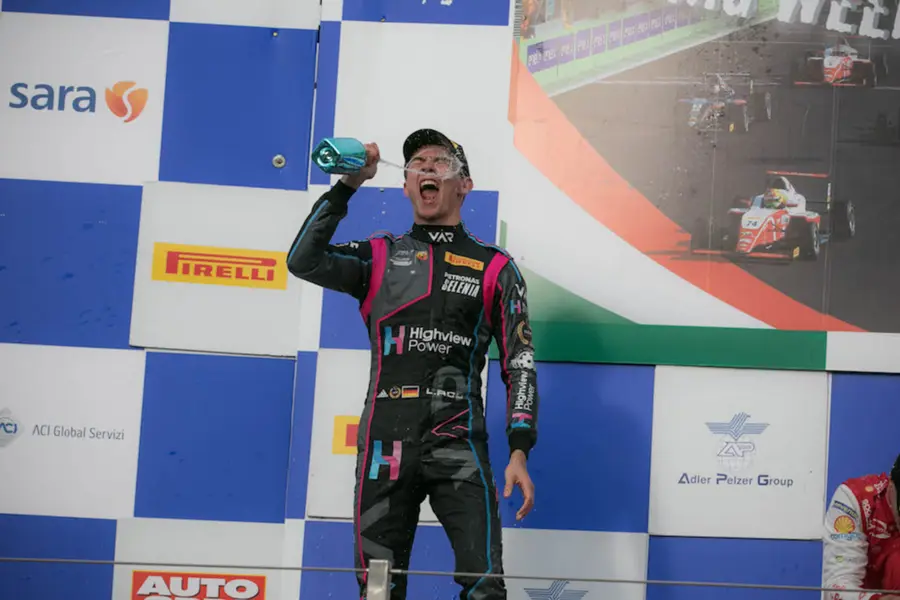 Action-packed Round 1 of Italian F4 Championship at Vallelunga
08/05/2019
Van Amersfoort Racing experienced one of the most contradicting race weekends in a long time. During the first round of the Italian F4 Championship at the Vallelunga race track, major disappointments were combined with new successes; a second place for Ido Cohen in race 2 and another second place for Lucas Alecco Roy in the final race on Sunday.
We've experienced a rocket start with three of our four drivers in the top 5 during the first free practice, with Dennis Hauger setting the fastest time. Both free practice sessions turned out to be the only outings on dry asphalt and the rain tires would prove to be an indispensable accessory for the rest of the weekend. Following the impressive free practice results, we had two strong qualifying sessions including a pole position for Niklas Krütten, a third fastest time for Dennis Hauger, a fifth for Ido Cohen and a ninth for Lucas Alecco Roy. 
Due to sudden rainfall, the majority of the first race took place behind the safety car. Unfortunate incidents during this race kept Cohen and Alecco Roy from making it to the finish line. Lucas' car sustained severe damage but with an incredible effort of the team, Lucas was able to make his appearance on the grid for race 2. On Saturday afternoon the second race marked a premiere for Ido Cohen; the young Israeli finished in second position, after Petecof and Stanek received a 10-second penalty for overtaking under yellow.
After the qualifying times of Niklas Krütten and Dennis Hauger were taken away, both impressed with a magnificent catch-up. Niklas started his race 2 on the penultimate 32ndstarting position but managed to finish in 8thplace at the checkered flag. An improvement of no less than 24 positions done in only 14 laps including safety car intervention. Dennis pulled off a similar show. The Norwegian fought his way up from 33rdto 10thin the rankings, including a penalty of 10 seconds for overtaking under yellow. 
On Sunday afternoon Lucas Alecco Roy provided us with a new high point. In a race under very wet circumstances, the driver from Monaco converted his pole position into a beautiful second place. It marks the first podium finish in the Italian Formula 4 with VAR. Dennis Hauger repeated his sensational drive of Sunday morning. The Norwegian gained no less than 22 positions in 14 laps, resulting in an eleventh place. Krütten was on the same high pace, moving up from 32ndon the grid to 14thposition going into the 10thlapof the race. In that same lap however, Niklas was unfortunately pushed off the track by a competitor, forcing him to withdraw from the race.
Rob Niessink, CEO Van Amersfoort Racing:"After one of the most surrealistic events in a long time, I want to make the drivers and the team a big compliment. We were confronted with a big set-back after qualifying, but we kept on pushing and the results are rewarding. I have to congratulate Ido and Lucas with their first Italian F4 podium. As for Dennis and Niklas: they proved to have a strong character both on and off track. In the end this weekend will make us stronger as a team."
Race Weekend Summary:
 
Qualification 1:
Petecof P1, Stanek P2, Belov P3, Cohen P5, Krütten P9, Hauger P12, Alecco Roy P17
Qualification 2:
Krütten P1, Stanek P2, Hauger P3, Cohen P5, Alecco Roy P9
Race 1:
Petecof P1, Belov P2, Famularo P3, Hauger P21, Krütten P27, Cohen DNF, Alecco Roy DNF
Race 2:
Durksen P1,Cohen P2, Belov P3, Krütten P8, Hauger P10, Alecco Roy P16
Race 3:
Petecof P1,Alecco Roy P2, Durksen P3, Hauger P11, Cohen P12, Krütten P30